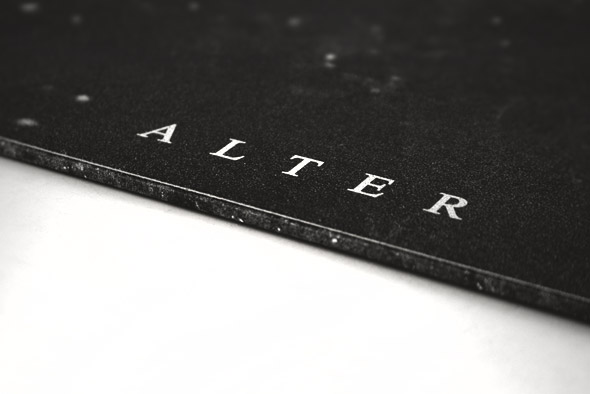 Luke 'Helm' Younger's Alter has been quietly trundling out work of exceptional quality since 2010. While the label's most prominent record may be Hieroglyphic Being's Electronic Belt 12", Alter has been responsible for a series of fascinating releases from artists as diverse as Damien Dubrovnik, Liberez, and Helm himself. Basic House, otherwise known as Opal Tapes founder Stephen Bishop, is the latest addition to the Alter stock. Oats, his third release of the year, consists of some of Basic House's most forthright work, and feels significantly less abstracted than, for example, Cryptid Binaries or his excellent recent split with Prostitutes on Opal Tapes and Blowing Up The Workshop.
Where Cryptid Binaries chugged ominously, at moments Oats positively swaggers. Opener "AR II" inhabits that strut impressively, coming on as the point of triangulation between a lost Anticon tape and MM/KM. Digital squelches pierce the kind of atmosphere that one imagines London had during the Great Smog of '52; the kind of exquisite filth that is so dark that it begins to take on its own, new colours. Meanwhile, submerged somewhere in the background, a circular melody wanders round seemingly of its own volition, as if the pump organ accompaniment to an undead fairground carousel.
"Child Confession", meanwhile, is an altogether stouter beast, looking askance at industrialism with mechanised, pseudo-militaristic kick drums. "I just want to tell you…", the vocal sample repeats, in a tone that suggests we would probably rather not hear whatever it is that he so desperately wants to share. That smog remains, but here, just discernible through the fug, is a low whistling sound that appears to have been piped in directly from the realm beyond.
The B side begins with a howl so elongated that it sounds midway between the end of a jack lead being pinched and a cow mooing, and it continues in that vein: disembodied animal voices abound. Here Basic House takes on some of the aesthetic that Helm has so successfully mined, but in Bishop's hands that panoramic, forlornly threatening feeling is stripped back to its barest constituents, at points consisting of little more than a metallic clang, woodblock-esque percussion, and a static hum. Indeed much of the B side sees Bishop in more familiarly abstract terrain, sculpting strange topographies that seem simultaneously metallic and alien.
The set reaches its pinnacle on "B.G. Feathers", Bishop's clearest overture to the noise-techno axis. The track seems to exist in a space beyond distortion, where clipping percussion begins to take on its own life unconstrained by the limits of red-lighting desks. It recalls Container at his most obtuse, but here the Providence man's kicks are all but removed, the track tumbling over itself, propelled by its own internal kineticism.
Oats feels like a watershed for Bishop; a more assured, demonstrative record than any he has made thus far. A worthy addition to the Alter canon.
Josh Hall
This review refers to the LP version of Oats.
LP tracklisting:
1. AR II
2. Child Confession
3. Interiors
4. Est Oan
5. B.G. Feathers
6. Dry Contract