Massprod & Herva – Technology Fail as a Birth Control for Unnecessary Recordings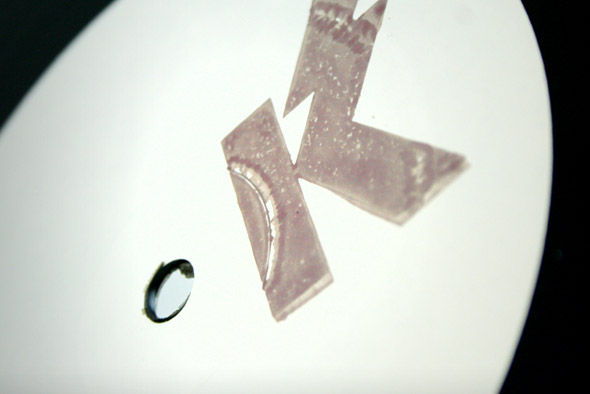 Where to even start with this one? Kontra Musik has been to the forefront of championing left of centre dance music acts like Frak and TM404, but this uniquely titled EP from Italian duo Massprod & Herva is so out there that it makes everything Ulf Erikkson's Malmo-based label has done to date seem staid and conservative. After all, even if you are twisting new sounds from vintage equipment as Frak and Andreas Tilliander have done recently for the Swedish imprint, it's hard to compete with titles like "Mike vs Speak And Overdub As A Weapon Against Modern Laptop Wanking".
And yes, it sounds every bit as Syd Barrett-batshit crazy as its title suggests. In essence, Massprod & Herva have used abstract glitches and steel bins being kicked over as a backing for an unidentified man to rant and rave ad infinitum (could it be Syd after he was locked in the cupboard?). Inevitably, the release gets odder as it progresses. "Fourth Dimension Opens Up To Show Invisible Boogie Maze" is a swathe of disparate, jarring sounds. Blasts of noise are interspersed with dense chord sequences, squirts of acid and a spindly rhythm teased out over surprisingly understated beats. Despite threatening to do so, it never descends into mayhem. That honour is left to up to "Rainstorm Consequences", which consists of wave upon wave of acid-drenched noise and tortured screeches.
There is some method to the duo's madness however, and "Everything We Know Is Wonk" has some semblance of dance floor appeal. That it is realised in such offbeat fashion is no surprise, but nonetheless the crashing snares, drum rolls and searing bass and the manner in which they are flung together sound so alien compared to techno/house compositions. Like the rest of this release, it's hard not to believe that this music came from a different dimension.
Richard Brophy
Tracklisting:
A1. Mike Vs Speak And Overdub As A Weapon Against Mode..
A2. Fourth Dimension Opens Up To Show Invisible Boogie..
B1. Everything We Know Is Wonk
B2. Rainstorm Consequences