Into The Light return with Vangelis Katsoulis retrospective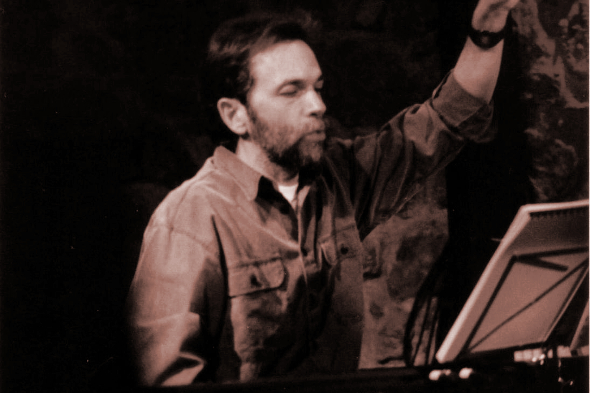 The 'king of Greek electronics' the focus of attention on forthcoming compilation The Sleeping Beauties: A Collection Of Early And Unreleased Works.
Founded last year by Echovolt Records boss Ilias Pitsios and celebrated digger Tako Reyenga of Redlight Records fame, the Into The Light label debuted in critically acclaimed fashion with the various artists compilation Into The Light: A Journey Into Greek Electronic Music, Classics & Rarities (1978-1991). Lovingly presented and replete with detailed sleeve notes, this compilation shone illuminating light on all manner of Greek musicians experimenting with electronics in a period that spans some two decades – the work of Lena Platanos being a particular highlight.
Details have now emerged of Pitsios and Reyenga's next release on Into The Light which narrows the focus to Vangelis Katsoulis, one of the artists featured on last year's compilation. Born in Athens, the composer and producer remains active today across numerous disciplines, and as the full title alludes, The Sleeping Beauties focuses on the late '80s period when Katsoulis was beginning to increasingly incorporate electronics in his compositions.
Material from the Tchaikovsky riffing 1988 album The Slipping Beauties features on the collection along with four unreleased works, two of which Katsoulis recorded last year. "Improvisation" is included once more having been selected as one of the tracks on last year's compilation, with its new age sound evocative of some of Daniel Lopatin's more poignant moments as OPN perhaps hinting at the direction of this potentially compelling collection. A brief promo video for the compilation is available to watch below.
Into The Light will release The Sleeping Beauties: A Collection Of Early And Unreleased Works by Vangelis Katsoulis in late November.
Tracklisting:
1. The Slipping Beauty
2. Earth Beat
3. The Eternal Return
4. Enigma
5. Touch The Sun
6. Longing
7. Improvisation
8. Living Colors
9. Light As Air
10. Imago
11. Epilogue