Tropic Of Cancer – Restless Idylls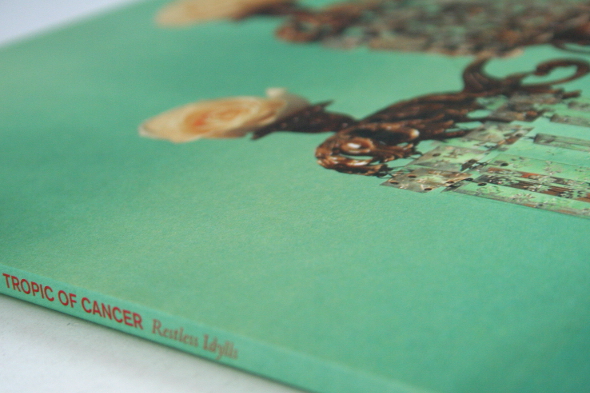 Bold and visually distinct, the artwork for Camella Lobo's long awaited debut album as Tropic Of Cancer offers the first hint at what to expect from Restless Idylls. The sense of romantic longing entrenched deep within the DNA of Tropic Of Cancer is readily portrayed with Lobo's own hand, replete with vivid red nail polish, hesitating over a bejewelled candelabrum hosting roses. Yet set across a backdrop of green that almost glowers if you spend too long staring, the cover art immediately strikes you as a departure from the deathly aesthetic that much of Tropic Of Cancer's music has been presented in.
As Lobo expressed herself in a prior interview on this site, Restless Idylls was her chance to demonstrate that there's much more to Tropic Of Cancer than a sense of impending darkness, a way to cast off the 'gothic' impression that people so readily associate with her music. Across the eight tracks this is achieved with aplomb, though this is by no means an album of complete reinvention. The themes that previously drove Lobo's song writing still remain as her creative impulse, and her lyrics by large never escape through the surrounding sonic fog. Early impressions might hint that little has changed; the opening suite of "Plant Lilies At My Head" and "Court Of Devotion" could feasibly have fit snugly on early Tropic Of Cancer releases for Downwards, but as the album unfurls there are moments that reveal Lobo's full scope of ambition with Restless Idylls.
The devious, skipping progression of "Hardest Day" is one such notable example; it feels all too suited to soundtrack that noirish twilight stage depicted in various generations of cinema which was taken to a garish, retina burning degree in Nicholas Winding Refn's Drive. Close your eyes as "Hardest Day" progresses and it's easy to envisage it soundtracking the opening frames of a film as a lone car burns through the empty lanes of the Hollywood freeway deep into the night. If Lobo's Los Angeles surroundings have played a more subtle inspiration in the past it's here where their presence is felt more overtly.
"Children of a Lesser God" follows and has become the album's centrepiece to these ears; over the course of listening to Restless Idylls, this track has taken on the kind of emotive power where I've become quite happy for it to remain lodged on repeat, willing it to coax me into another dimension. Originally composed as part of last year's I Feel Nothing EP for the Sleeperhold vinyl series, it was re-recorded by Lobo as part of the album sessions at Sunken Studios and the resulting difference is astounding. Little of the arrangement has changed; instead elements such as the strident motorik drum and despondent synth are given markedly more prominence whilst Lobo's vocal is plunged further beneath. It's the widescreen synth that sucks you up into its intoxicating sonic spell and delivers the kind of incandescence that Lobo was looking to implement.
It's here where the contribution of Downwards boss Karl O'Connor is most telling; Lobo herself has credited his hand in assisting the album's production, granting her the ability to "just think about the music and not have to worry about the end production and the mixing," and his years of production experience result in the sort of tweaking that greatly magnifies the emotional impact. At other times, O'Connor's input is more direct, such as on "The Seasons Won't Change (And Neither Will You)" where his piano playing lends proceedings a chilling iciness that remains distinct from the rest of the track. The rumbling proto techno of final track "Rites Of The Wild" bears certain hallmarks of a Regis production too, though the rattle of percussion is fairly consumed by Lobo's exquisite synth play – perhaps as one last reminder of whose vision drove this excellent album.
Tony Poland
Tracklisting:
A1. Plant Lilies At My Head
A2. Court of Devotion
B1. The Hardest Day
B2. Children of a Lesser God
C1. More Alone (album version)
C2. The Seasons Won't Change (And Neither Will You)
D1. Wake The Night
D2. Rites of the Wild