Second Treasure Hunting compilation due on Astro Lab Recordings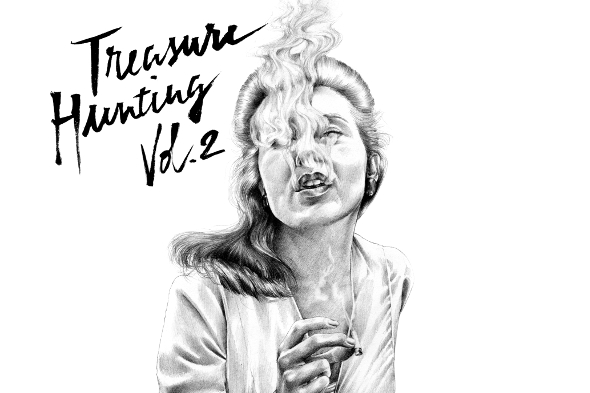 Crackboy, Pilooski, Ivan Smagghe and Marc Pinol feature on double disc collection due in November.
Founded in 2005 by Parisian Laurent Pastor, Astro Lab Recordings has served as an intermittent outpost for some delightful under-the-radar 12″ releases from a cast of internationally regarded artists such as Anthony 'Shake' Shakir, Ana Helder, Pilooski, Timothy J Fairplay and Photonz. This wide ranging approach was put to good use earlier this year with the inaugural Treasure Hunting compilation. The 18 track collection featured the aforementioned artists, along with contributions from Ivan Smagghe, Andrew Weatherall, Raudive and Daniel Avery, and was lauded in our review for its "ability to weave together disparate electronic music strands into one coherent whole that sums up all that is good about left-of-centre dance music right now."
News now arrives from Astro Lab HQ of a second edition of Treasure Hunting which seems to expand the remit; although still featuring artists already linked to Astro Lab, the 23 track compilation also draws from a pool of rising artists currently engaged in making raw and analogue machine music across all tempos; alongside the likes of Hivern Disc's edit weapon Marc Pinol, Justin Robertson's balearically minded project The Deadstock 33s and Ivan Smagghe, who all return having featured on the inaugural Treasure Hunting, the second volume takes in contributions from further established names such as Pilooski, Remain, Crackboy and Red Axes tucked in alongside rising talent such as Jokers Of the Scene, Morgan Hammer and People Get Real.
Astro Lab Recordings will release Treasure Hunting Vol.2 in double CD format on November 4.
Tracklisting:
CD1:
1. Canyon Cosmos – Fear Of Plastic (Pilooski Remix)
2. Hiem – Tokyo Night
3. Rodion & La Royale – Chamorro Tomorrow
4. David Shaw And The Beat – Sex Gang
5. Carreno Is LB – Pitch Housing
6. She Lies – Needed You
7. Remain – Noses, Claudine & Horses
8. The Deadstock 33's – Reverse The Role
9. Jimi After – Looking Glass feat Gina Olafson
10. Red Axes vs Moscoman – Wire Conflict
11. Vosper – Interstate
12. Javi Redondo – Lonely
13. VoX LoW – I Wanna See The Light (Ivan Smagghe version)
CD2:
1. Capablanca Vs La Mverte – Distortion
2. Marc Pinol – The Fix
3. Offset – Milky Polar Bitch
4. Eskimo Twins – Skraeling
5. Morgan Hammer – Moonshinning
6. Club Bizarre – What Is That About
7. People Get Real – Blurred Vision
8. Crackboy – Ride
9. Jokers Of The Scene – Jots Silencio
10. Monoblok & PSLKTR – Spooky