Kaleidoscope's Limited Dubs returns with tape from ALAK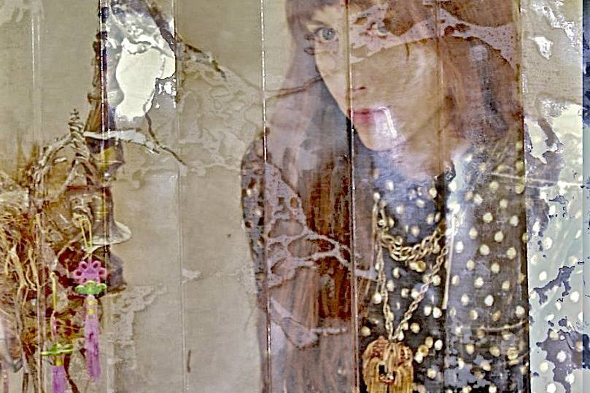 The conceptual label run by patten will turn to California for the Guardian Petted cassette tape next month.
Founded last year, the Limited Dubs series has offered the chance to indulge in improvisational electronics in their truest form, and has sometimes acted as a stepping stone for its contributors to achieve wider acclaim. Karen Gwyer is perhaps the most notable example, gracing No Pain In Pop and Opal Tapes with albums this year after participating in the Limited Dubs series with last year's I've Been You Twice tape. The forthcoming sixth edition of Limited Dubs again demonstrates patten's eye for spotting lesser known talent, with Northern Californian artist ALAK at the helm for the five track Guardian Petted cassette.
The psuedonym of Jocelyn Jade Noir, ALAK has just the one physical release to her name, a 7″ from 2011 called I Don't Feel Anything, but has a sizeable digital discography and a previous working relationship with patten, who remixed "My Love Is Best" from her 2011 album GRØUPS. Brandishing quite the distinctive voice, ALAK's song-based compositions represent a change from recent Limited Dubs transmissions, though her usage of drum machines and minimal acoustics on Guardian Petted apparently recall "the stark echoes of dub, post-punk, industrial and techno", with everyone from MIA and Salt-n-Pepa to Brian Eno and Captain Beefheart given as reference points.
As with previous Kaleidoscope releases, the finished tape editions of Guardian Petted are limited in quantity, wholly unique, and the end result of an elongated production process. The five tracks were produced in a master version – which will be available digitally – and subsequently recorded onto individually hand-lathed records. These records were then played with additional live processing through consumer FX boxes & recorded directly through to tape by ALAK, creating 8 unique C18 compact cassettes.
Kaleidoscope will release Guardian Petted by ALAK on October 21.
Tracklisting:
1. Pass
2. The Gorge
3. Ilial Clone
4. Gae Exton
5. I Pop Love