Citinite return with EP from No Wave icons Death Comet Crew
The Galacticoast EP features new material along with remixes from LV, Gifted & Blessed and Hieroglyphic Being.
It's been almost two years since the last release from Citinite, the London-based label overseen by designer Manny Zambrano, whose neon daubed output has artfully retained the forward thinking nature of the electro and first generation Detroit techno movements that so clearly act as inspiration. Along with original material from Gosub, Ad Bourke and Jimmy Edgar side-project Her Bad Habits, Citinite have also reissued solo material from former Prince & The Revolution guitarist Dez Dickerson and commissioned the likes of Dam Funk and Jimmy Edgar to remix Sexual Harassment for an EP.
Citinite's hiatus can in part be put down to Zambrano's design work as head of the Optigram agency, with his creative touch gracing numerous album projects from respected labels such as Warp, Hyperdub and Public Information in recent years – you might have spotted some Optigram efforts in our Best Record Sleeves roundups. News now reaches us of a new Citinite release that was first hinted at in Zambrano's excellent mix for our podcast series way back in 2011.
Due out in early November, the Galacticoast EP features all new material from Death Comet Crew, the rap/electro crew that grew out of the mid '80s arts scene in New York City. Consisting of Ike Yard duo Stuart Argabright and Michael Diekman, DJ High Priest, Shinichi Shimokawa of Black Rain fame and MC/grafitti artist Rammellzee, Death Comet Crew only released the one EP during their initial mid-80s life cycle with their impact made on the live stage. Embraced by Gomma for their electroclash-preceding Anti-NY compilation at the turn of the century, Death Comet Crew were later celebrated on a retrospective from Italians Do It Better precursor Troubleman Unlimited which led to the band reforming in 2005.
Evidently working on new material, the first fruits can be seen on the forthcoming Galacticoast EP which features two Death Comet Crew tracks described by Citinite as "the middle of an African street taxi jam". These two tracks are backed with remixes from Hyperdub troupe LV, the excellent Gifted & Blessed and the tireless Hieroglyphic Being – you can stream clips of the release below to get an idea of what to expect. The Citinite release from Death Comet Crew precedes a full album of new and unreleased material that's due for release on Powell's Diagonal label later this year.
Citinite will release the Galacticoast EP by Death Comet Crew in early November.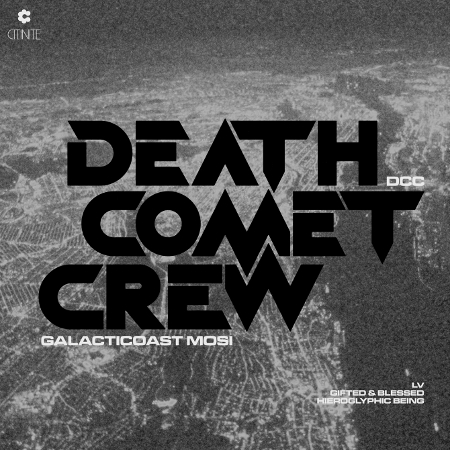 Tracklisting:
1. Galacticoast
2. Alpha Delta
3. Galacticoast (LV Remix)
4. Galacticoast (Gifted & Blessed Remix)
5. Alpha Delta (Hieroglyphic Being Remix)