The Synthetes Trilogy due for expanded release on Don't Be Afraid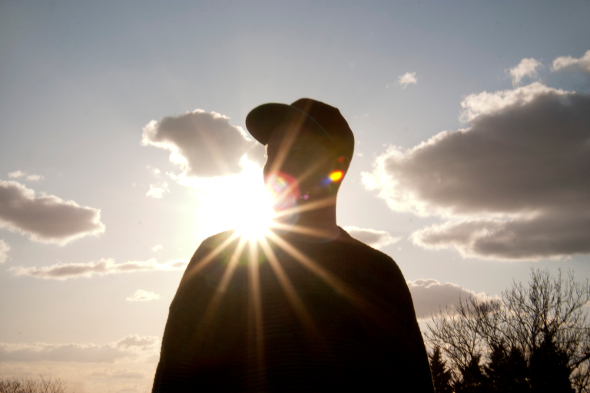 Tracks from Mr Beatnick's three 12″s collated with unreleased material for forthcoming CD release. 
Nick Wilson's profile as Mr Beatnick is currently at its highest yet; a debut performance at Sonar 2013 the self-proclaimed 'obvious highlight' of a year where his name has been seen with increasing prominence on event billings, his knowledge of music tapped by RBMA and FACT, with the New Jerusalem show shared with Cherrystones and Bullion a highlight of the NTS schedule. It would be hard not to argue that the success of his 12″ releases for Don't Be Afraid were not in part responsible for all this; conceived as the Synthetes trilogy, these records signalled Wilson's gradual progression from 'jobbing beatmaker' into a producer capable of a more diverse palette of styles, all seemingly informed by an inherent musicality.
Arriving at a rate of roughly one per year since the four track Synthetes was released in the summer of 2011, highlights have been numerous, with "Sun Goddess" and "Parallax Scroll" personal favourites here at Juno Plus. Don't Be Afraid have now detailed plans to compile the original material from these 12″s on a forthcoming CD along with four unreleased tracks of varying style that Wilson produced over the course of time they were released. The Synthetes Trilogy represents the debut CD release from the label, and ahead of its arrival we spoke to Wilson about the project and DJing with a room full of recycled speakers, amongst other things.
Hi Nick, so when did the idea come around to collate these 12"s on one CD?
Hello Juno Plus. I can't really nail a specific moment, but it's something that we started throwing around a while back. Certainly at the point at which Savannah EP was complete, the idea was finally cemented when we realised that the project had a kind of natural development to it, one that translated quite well into an hour's worth of listening, maybe more smoothly than flicking through 6 sides of 12-inch vinyl. My friend Alun sent me a cool photo of his home-burnt "Synthetes Trilogy" CD that he had in the car, which convinced me further. And there was also the matter of all the tracks that we didn't have space for on the vinyl, that filled in the cracks between songs, so to speak. I feel a bit like some people had heard one EP but not the others, and lots of people got confused about which EP is which cause all the titles deliberately started with "S". All in all, lots of reasons, but basically for the wider world, this is much easier to make sense of I think.
There's obviously a temptation to call this an album given the amount of tracks, how do you want people to view it?
Well I think it would be a bit cheeky of me to call it an "album" proper, I guess I see it as a document of the last three years of my work for DBA, a sort of "deluxe special edition" that brings it all together. Then again, if we'd not bothered releasing it as a series of 12″s it could have very easily been an album in this form. I guess that side of things is entirely up to the listener. It's an hour's worth of songs, some you might know, some you definitely don't, so call that what you like. We call it The Synthetes Trilogy.
Was there any specific thinking behind the track sequencing?
I wanted it to flow anti-chronologically – for different tracks from different periods to sit alongside each other in a way that made sense musically. It starts with the strings and then gradually flows through different styles. Hopefully as it plays through you'll be like, "hang on I don't remember that one?". And also if you've got the wax, or the individual downloads, we've not compiled everything here either – I want the EPs and records to remain special.
Is there one track on there that you're particularly proud of?
I'll turn that question around and say, I'm really proud of the artwork. Emily Evans is the illustrator behind it, we've been friends for a few years and always wanted to collaborate at some stage, I love all her sleeves for One Handed Music, Paul White and so forth. Emily and I sat down and tried to translate the ideas behind the songs into visual imagery, as you flick through the CD you'll see numerous objects which relate to different songs in different ways. It's abstract but it has meaning to us – I'm exceptionally thankful to her for coming up with something so unique and distinctive, we had a lot of fun working on it.
There are a few unreleased tracks on there too, can you tell us about those?
Yeah sure – 4 tracks to be exact – "Waning Moon", "Nuit Blanche", "Yacht On The Nile" and "Never Dies", different experiments in different styles, from sepia-faded blunted disco to hardcore and jungle-ish. Hard to describe, stuff that wouldn't fit in anywhere on its own terms but makes a lot more sense here. All the tracks on the CD are just experiments to me, they evolve in their own way and at their own pace, they are what they are.
From listening to the RA Exchange you did earlier this year, it's clear doing the trilogy of Synthetes 12"s has opened up a lot of doors for you, what's been the highlight of the last 18 months or so?
I guess the Sonar Festival show would be the obvious one – I was absolutely blown away by that experience. Never looked down from the booth and seen thousands of people losing it like that, a truly unforgettable moment. The whole year has been incredible though, the DBA Savannah EP launch at the Loft was mind-blowing, had great shows in Talinn, Manchester, at Soup Kitchen, in Paris a few weeks back… The list goes on and there's still more to come. This New Year's Eve I'm sharing the bill with Theo Parrish, Anthony Naples and Maurice Fulton for the Trouble Vision 5 year birthday celebrations at Corsica, I mean what a way to end the perfect year, playing alongside 3 all-time favourites. I never saw any of this coming, I'm so grateful to Semtek, and everyone out there supporting me and supporting Don't Be Afraid as a whole.
I'm intrigued by the recent Vamp x Design Junction event you DJed at – for those unaware of it can you explain what all those speakers were for?
In brief – The Vamp is a new invention that was a runaway success on Kickstarter this year, it's a way to recycle any old vintage speaker you can find lying around into a self-powered Bluetooth speaker, that sounds a lot better than your average big-brand Bluetooth speaker gadget for a much cheaper budget. You can check it out properly here. Anyway, I met the inventor, Paul, at a BBQ this summer and beta-tested an early Vamp prototype with a bit of late-night iPhone DJing, he was impressed and mentioned the Design Junction product launch, and I offered to lend a hand. That installation you saw photos of was piles of recycled speakers all wired up to create a giant hi-fi that I DJ'd on at the event. It was quite precarious working out how to get it sounding okay but I think we managed quite well, and it went down incredibly well with the audience that came down, we were thrilled by the response. Definitely a really unique project, glad we pulled it off on the day. I'm putting together a similar system – although quite a bit less ambitious – for my living room at the moment.
Subsequent to the release of The Synthetes Trilogy what do you have planned production wise?
There's a couple of remixes coming out I think – one on Bokhari records, a remix of Clarke Sawkill, and another for Fina records, a track by Rick Wade. I think that will be quite enough for 2013, I'll be back with some new material in the new year, I'm aiming to switch it up a bit for 2014, so as usual, stay tuned to the usual channels. Thanks a lot for this chat.
Don't Be Afraid will release The Synthetes Trilogy by Mr Beatnick on October 21.
Tracklisting:
1. Synthetes
2. Symbiosis
3. Beneath The Reef
4. Waning Moon
5. Casio Romance
6. Shifting Sands
7. Yacht On The Nile
8. Sun Goddess
9. Nuit Blanche
10. Savannah
11. Parallax Scroll
12. Never Dies