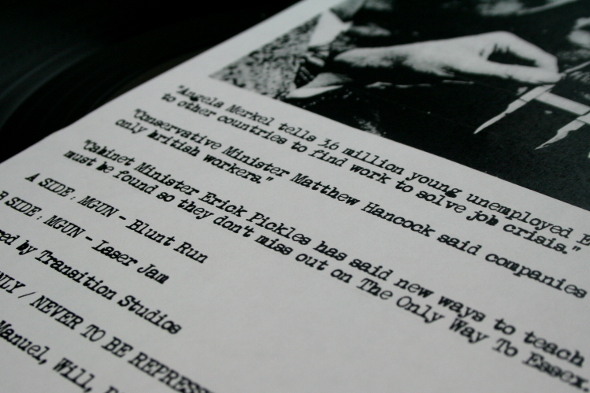 The sheer amount of tracks included on recent MGUN releases has been a unifying factor, with Don't Be Afraid and The Trilogy Tapes undoubtedly happy to indulge the Detroit based producer's prolific production rate, one which is seemingly unfettered by any possible drop in quality. Cramming six tracks onto a record always brings up the possibility of filler, but that's certainly not the case with the If You Are Reading This or The Near Future EPs released by the aforementioned labels.
The latest MGUN release arrives via Berceuse Heroique, a label in the running for this year's most impressive newcomers on the basis of what's been issued thus far from Ekman and Gesloten Cirkel and what's planned for the future – a cursory glance at their Soundcloud page will be revealing to anyone that's not kept up. The acerbic and opinionated individual who runs Berceuse Heroique adds to the label's charm too. Ever the principled operation, Berceuse Heroique has maintained a strict two track per 12-inch policy from the off in order to assure optimum club play, so Blunt Run offers a less expansive insight into Gonzales' range, yet both of his tracks here are primed for one purpose.
The title track sits on the B-side, commencing in the kind of high octane fashion that has you pondering for the first few bars what the correct RPM is (45rpm for those unsure) and sees Gonzales pit a sole dissonant chiming melodic element against a barrage of rhythms and stodgy low frequencies. In full flight "Blunt Run" tunnels through the similar kind of grit-addled rhythms that permeated "Gas Chamber," a highlight of The Upstairs Apt, MGUN's 2012 debut for Don't Be Afraid.
It would be easy enough to throw around names like Stingray, Drexciya and Underground Resistance as reference points (the latter especially given Gonzales' connections) yet this is still Detroit flavoured electro in Gonzales' own frame of mind, filled with the little details and charming production idiosyncrasies that have characterised his output to date; there's the errant snare that comes and goes, threatening to derail proceedings entirely when in focus, or the brief edits where the track turns in on itself completely before the sense of momentum snaps it back into place.
The length of "Laser Jam" will probably have some pondering the label's wisdom of only releasing two tracks per record and you get the feeling engendering this sort of reaction might appeal to the label. Regardless, to these ears the track feels like Gonzales is paying homage to one of his forbearers in his earliest incarnation. The 2 minutes and fifty one seconds of scuffed cut n' paste B-Boy electro left to rot in a basement is entirely the kind of thing you'd hear on a time-ravaged C90 recording of Jeff Mills performing a DJ set as The Wizard. Keeping up this impression, "Laser Jam" is the kind of track that demands to be slammed in and out of a mix, not caressed out with overzealous EQing by Theo Parrish wannabes.
It ranks alongside the unpronounceable "Jijijijij$ijijijiji" as this writer's favourite production from Gonzales thus far; the possibility that a label might choose to release some of the "strange and obscure" music Gonzales makes under the Savant alias would however change that.
Tony Poland
Tracklisting: 
A. Laser Jam
B. Blunt Run