Auntie Flo – Highlifedits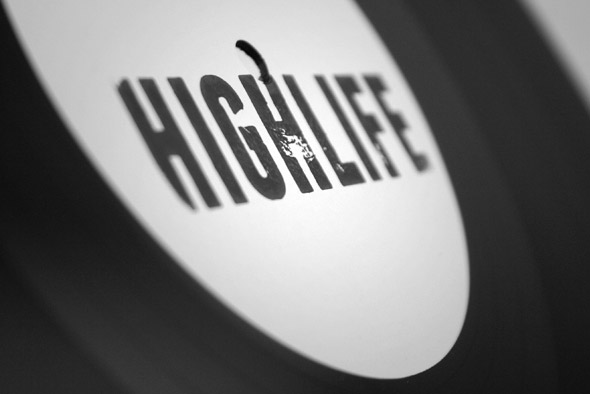 Auntie Flo's near-legendary Highlife night recently finished an 18 month residency at Sub Club, during which they brought "future afro-beat sounds from across the black Atlantic diaspora" to Glasgow and beyond. A London spin-off has also launched, guests at which include afro-futurist savant Jamal Moss, and now the night has spawned a label, an off shoot of Huntley & Palmers, with the inaugural release a set of two new edits from Brian d'Souza himself.
Although little information is available about the label, its first release suggests that it will adopt a similar ethos to the club night. Highlifedits sees Auntie Flo take elements of tracks from the Afro beat canon and reinvent them for dance floors, in a similar manner to that of his contribution to the second instalment of JD Twitch's Autonomous Africa project.
The two sides here share similar constructions: deep, thudding rhythm sections that seem to owe almost as much to a dubbed out kuduro as they do to afro beat; vocal hooks disembodied from the rest of the track from which they are drawn; and new sections marked by the appearance or disappearance of percussive ornamentation.  A side "Doodle" is ebullient. It hinges around a bacchanal vocalist singing about his "compañeros," who enact a response to his call. Offbeat cymbal splashes punctuate the instrumental sections, backed harmonically only by a warped tuned drum.
"Lumbalu," meanwhile, is a rework of the Calixto Ochoa y Los Papaupas track of the same name, the original of which can be found on Analog Africa's excellent Diablos Del Ritmos collection. This will be welcome news for anyone in attendance at Highlife's final night at Sub Club or who subsequently heard a recording on Radio Cómeme, as "Lumbalu" was one of the centrepieces. A snippet of Ochoa's vocal is looped incessantly, such that the intonation of his speech seems to become an orbital melody, articulated through a series of dramatically enunciated obstruents. The groove of the Los Papaupas bass here becomes the main attraction, stringing together thundercrack kick drum and the impertinent cymbal crashes that featured so prominently on "Doodle".
Highlifedits is another nugget from the rich seam of Afro beat reinterpretations that have proved such manna for DJs looking for imperiously danceable new takes on 4/4. It can be thought of as a counterpart to the latest Autonomous Africa, both of which should be considered essential purchases.
Josh Hall
Tracklisting:
A. Doodle
B. Lumbalu