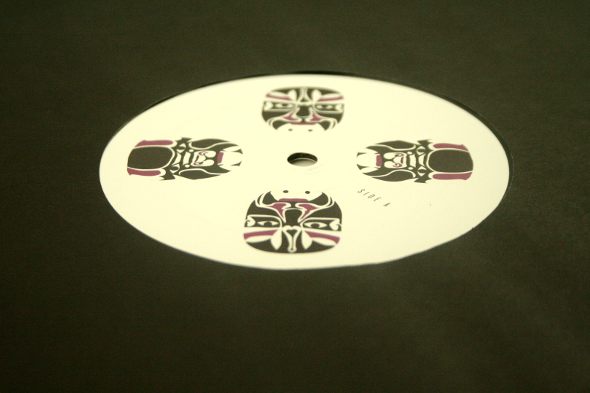 It's long overdue that the term "Bros" get reclaimed, or at very least distanced from connotations of keg stands, popped collars and borderline homicidal sports team allegiance. Thankfully, the London-based Brothers label is leading the campaign to reclaim the sibling-referencing word with their tag-team focused operation which pairs together two artists working in a similar vein for some fresh-faced contemporary techno jams. Sometimes, such as with the BROS001 collaboration between Truss and Tessela, the pairing are real-life blood brothers – which does make one wonder how far they'd be willing to pursue the idea of a techno label based on genetic collaboration, though we may be holding our breath for the Blawan collaboration with his great aunt for a while yet.
The point is that Brothers consciously represents a push towards family-building collaboration, and BROS003 is a high point in terms of familial synergy – the weird synapses that fire off between this round's collaborators are the most satisfying and body-shaking yet. Paired together on the A-side is a collaboration between Douglas Lee (who is no stranger to collaborations with his ongoing TBD project alongside Justin Vandervolgen and the short lived analogue grump-core techno endeavour Bad News with Ron Morelli) and Power Vaccuum label executive Milo Smee – an individual whose list of aliases stretches back fifteen years and across too many labels to list without some kind of reference library system. It's a natural fit, considering the way both artists seem to favour equal parts electro and dissonant psychedelia – the fact that they just happened to beBerlin studio neighbours likely didn't hurt either.
And the product of their labour, gruelling slab of hypnotic rave energy "The Verge" walks the line between their shared influences quite well – it's a hard-gnarled industrial dance floor tool that weaves in enough curveballs to keep ears consistently perked. Beginning with a rigorous, rumbling slab of bass that sounds like something heavy sliding around in the back of a moving truck, Lee and Smee weave an array of dissonant patterns overtop: Morse-code synth bleeps, screeching feedback, TV standby tones and something that sounds like a blocky cellphone from 1992 imploding in on itself. While the pummelling bass leads the track into a hypnotic rhythm, the two take great pleasure in laying down unpredictable sound after unpredictable sound hurdling past you, like incomprehensible transmissions from space.
On the flip, there are two cuts from NL/PW aka Forward Strategy Group's Patrick Walker and triumphant techno veteran Neil Landstrumm, whose extensive catalogue stretches back two decades. The two tracks that they work on don't have the immediate punch-in-the-stomach immediacy that "The Verge" sports, but "Miami Hydra" utilizes some gorgeous chords and fills them out with arpeggios that sound like cascading 8-bit waterfalls. When the track breaks down into a cowbell-led drum workout nearing the end, it's easy to see why Landstrumm once produced tracks with "Shuffle" as his middle name.
Coming in at just a bit over three minutes, "Red Burger Ripple" gets right to the business of spreading a seductively shrill flute sample overtop some tipsy drums. Wobble is a term that comes with a package of culturally loaded signifiers, but it's a fitting word to describe the way that Landstrumm and Walker destabilize the tune – while they're weaving their experimental synth-work and shrill, throughout the track, they're also adding rumbling bass buzz and wobble around the edges, which makes it feel like you're watching an action movie on a television that's becoming gradually unhinged from the wall it's stuck to.
Often, with releases on the analogue techno side of things, it's tough to figure out how much of the track's structure was planned out, and how much was the result of on-site improvisation. The tracks on BROS003 are expertly-paced enough to be long-laboured over creations, but it'd be even more of a testament to the skills of all parties involved if the tracks took form throughout some organic jam sessions – proof perhaps that family, or, your bros, are less who you're connected to hereditarily and more who you feel comfortable creating around.
Brendan Arnott
Tracklisting:
A1. DL \\ MS – The Verge
B1. NL \\ PW – Miami Hydra
B2. NL \\ PW – Red Burger Ripple