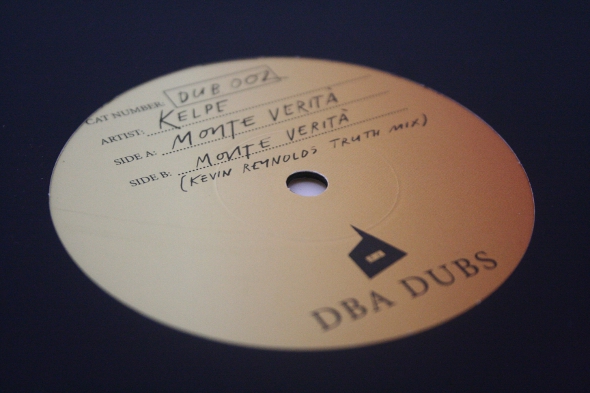 Semtek's Don't Be Afraid label has been consistently on-point in the last 12 months, delivering superb material from the likes of MGUN, Mr Beatnick and, most recently, Disco Nihilist. The North London DJ/producer has a good eye for detail, and consistently signs records that eschew obvious, over-produced thrills in favour of machine soul, raw emotion and guttural drum machine rhythms. Still, more than a few eyebrows were raised when Semtek announced that the next release on Don't Be Afraid's occasional sister label, DBA Dubs, would come from Kelpe, a man best known for his curious blends of live sounds and vintage synthesizers on DC Recordings.
Perhaps we shouldn't be surprised. The DBA Dubs debut, Claws For's warm, synthesizer laden "Profumo", was an off-kilter delight. Rich, melodic and dripping in emotion, it remains one of DBA's most potent and refreshingly upbeat releases. While dancefloor-friendly (the rolling, disco-influenced percussion, full of ricocheting hits, was particularly good), it offered enough to appeal to home listeners, too.
Kelpe, although a formidable live performer, has traditionally made music that appeals more to heads than dancers. That's not to say you can't throw shapes to his more uptempo creations – recent album Fourth: The Golden Eagle boasted several tracks influenced by techno, for example – just that his tracks are usually created to be savoured in the comfort of your own home, with good headphones revealing the sonic intricacies of his fuzzy productions. It's something of a pleasant surprise, then, to find that "Monte Verità" is, to all intents and purposes, a proper dancefloor track. Happily, though, it also sounds like a Kelpe record.
Stylistically, it takes house as its base, delivering a sturdy but sparse, left-of-centre 4/4 groove, a tumbling synth bassline that sounds like it was inspired by Maurice Fulton's work as Syclops (and particularly his DFA classic "Where's Jason's K?"), and the sort of fuzzy, crackly, vintage synthesizer chords that have become Kelpe's trademark. There are some nice touches, too, such as hissing, seemingly off-beat cymbals, long, drawn out chords and a spiralling build towards a pleasingly tactile climax, where the track drifts towards closure to the accompaniment of wonky samples of instruments tuning up. It's not a banger, by any means, but that's hardly the point; as a piece of warm, involving, perfectly pitched electronic music with a dancefloor edge, it's top notch. It's Kelpe for DJs, rather than home listeners; it's an exciting step forward in the producer's career.
Part of Semtek's grand plan for DBA Dubs is to accompany each original track with a remix from a heavyweight producer, usually one from the USA, which takes it in a totally different direction. On the first release, that task fell to Shad T Scott under his GoSub moniker. He turned "Pofumo" into a wide-eyed chunk of intergalactic electro. This time round, remix duties fall to Detroit producer Kevin Reynolds, whose fusions of techno and contemporary house are never less than fascinating. He excels himself on this remix of "Monte Verita", turning in a version that is in parts mindblowing, confusing and thrillingly eccentric.
In the same way that Norwegian nu-disco mentalists Mungolian Jet Set used to tease listeners with epic reworks that surprisingly changed shape and form at regular intervals, Reynolds delivers a version that performs great stylistic shifts throughout its eight-minute duration. There's a warm, fuzzy, crackling, dub-techno influenced opening, followed by a patient build section, where glistening synth melodies ride over a powerful sub-bassline and jazz-influenced percussion. Then, some two and a half minutes in, these alien melodies get twisted into a raging acid assault – all frantic electronic intensity and hissing drums. Then, somewhere around the five-minute mark, it shifts again, eschewing the acid in favour of rush-inducing chords, near-Balearic melodies and additional percussive elements. The first time you listen to it, it may not make sense. After a few plays, the penny drops. It might not appeal much to those looking for instant gratification, but it's a special remix that perfectly compliments Kelpe's shuffling, quietly pleasing original.
Matt Anniss
Tracklist:
A. Monte Verità
B. Monte Verità (Kevin Reynolds Truth Mix)