Various Artists – Mutazione: Italian Electronic & New Wave Underground 1980 – 88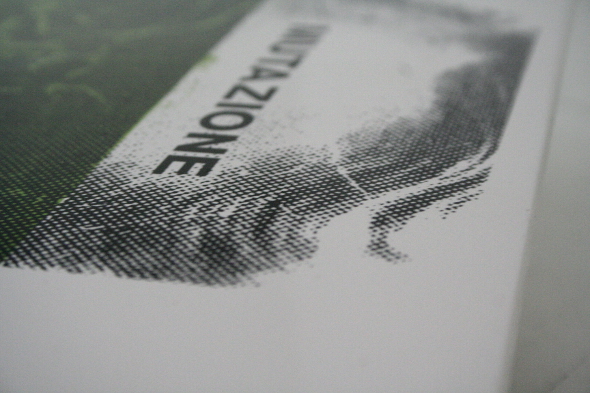 From the Italian electronic and new wave underground of the 1980s, Strut's new two disc compilation Mutazione focuses on the musical climate of Italy during a time of political unrest and change. Experimental Italian bands were devoted to a DIY ethic often inspired by English and American post-punk bands; with fanzines and cassettes playing a crucial role in political activism for both for the extreme left and right wings. In the same spirit as compilation series such as Minimal Wave Tapes and Metal Dance, the Alessio Natalizia curated Mutazione recalls often overlooked bands of the Italian underground, and the urgent messages of anxious times that spurred their creativity.
In addition to tasking the Walls producer with compiling the tracks on Mutazione, Strut have also enlisted the respected Italian journalists Andrea Pomini and Alberto Campo to draw up some rather extensive sleeve notes that present contextual back ground on all the bands featured, leaving you to feel this is a project that has required the utmost meticulous research and detective work.
With twenty six bands represented, this sense of ambition translates to the music which remains cohesive while channelling a vast range of styles; guitar-based new wave sits next to cold, hard electronics, catchier minimal synth next to far-out experiments. Largely picked from self-released curios that might otherwise be forgotten, Mutazione blends together in a bubbling cauldron of sonic delights. Vacillating sounds ensure the listener is kept engaged and hungry for more.
Many of the tracks on Mutazione are characterised by their strong percussive rhythms, denoting a time when musical equipment like drum machines and synthesizers were becoming cheaper and more accessible. The rapidly developing technology allowed bands easy access to instruments, without the same monetary constraints that existed in previous years. In turn synths were more common in the everyday household, encouraging DIY experimentation that pushed artistic boundaries.
The album's tracks are often dark and brooding, as seen in La 1919's "Senza Tregua" which relies on contorted synths that are raw, rugged and slightly unpalatable. Florence act Neon bring upbeat electronics to a frosty backdrop on the rare "Information of Death", whereas the velvety dark vocals of Deep Scanner's "La Bombola Del Dr. Caligari" is an unnerving ride on a dreary carousel. There is an overarching focus on rigid structure in many of the tracks, where drum machines remain stiff and uncompromising. This powerful drive might suggest a cold, harsh approach to music making, but it is clear that these bands employed an emotional investment that goes beyond the mere technological advancements of the time, revealing a stark sense of urgency that was marked by a time of political angst.
Chloe Frieda
Tracklisting:
CD 1
1. Die Form – Are You Before
2. Neon – Informations Of Death
3. Gaznevada – Going Underground
4. Carmody – Vulcani
5. Daniele Ciullini & De Rezke – Ancora Icone
6. 0010110000010011 (Cancer) – Naonian Style
7. Victrola – Maritime Tatami
8. 2+2=5 – Jacho's Story
9. Laxative Souls – Niccolai
10. La 1919 – Senza Tregua
11. Winter Light – Always Unique
12. Giovanotti Mondani Meccanici – Back And Forth
13. L'ultimo Arcano – 1984-1985
CD2
1. A.T.R.O.X. – Against The Odds
2. Doris Norton – Norton Apple Software
3. Kirlian Camera – Edges (Original Version)
4. Spirocheta Pergoli – Romero's Living Dead
5. La Bambola Del Dr. Caligari – Deep Skanner
6. Pale – The Livid Triptych
7. Rats – Please
8. Plath – I Am Strange Now
9. Tasaday – Crisalide
10. La Maison – Critical Situation
11. Suicide Dada – Waiting For September
12. The Tapes – Nervous Breakdown
13. Maurizio Bianchi – Auschwitz