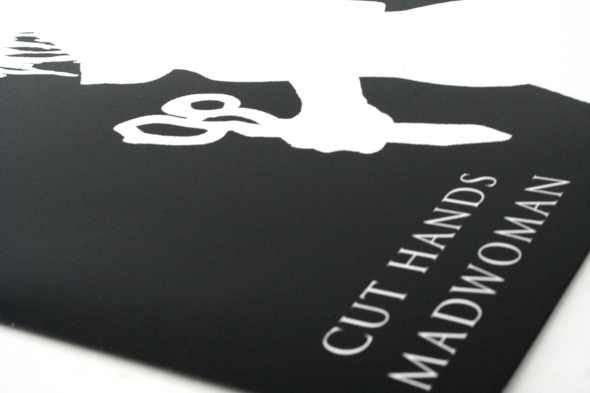 The past year has seen Karl O'Connor's Downwards label undergo something of a curatorial renaissance; following the issue of three retrospective Regis compilations and concurrent dissolution of Sandwell District in late 2011, the label seemed to find a renewed focus across the intersection of noise, techno and post punk also beloved of Blackest Ever Black. Of all the recent figures which have been skirting around this periphery of techno, William Bennett – under his Cut Hands moniker – is perhaps the most logical addition to the Downwards discography.
The project's sound, dubbed "afro noise" – which draws more from polyrhythmic African percussion more than it does the noise textures of his Whitehouse moniker – has much in common with the Birmingham school of techno, regularly pushing 140BPM and utilising the kind of precise, punishing beats that sound like they've been fired off from a gun battery. Bennett's Cut Hands material usually comes accompanied with African imagery, be it the videos of the results of human brutality that accompany his live sets or the tribalistic sigils that have adorned all of its records so far.
The Madwoman EP however suggests a break with this aesthetic – at least visually – with an inner sleeve sporting a silhouette of a female brandishing kitchen scissors in a threatening manner. It certainly seems that way on the title track, in which Bennett's music has never sounded so close to pure techno; distorted squalling tones are largely obscured by hollow snare hits pushed right to the front of the mix in a fashion that mirrors the '90s Downwards output of Female, with simplistic percussive tones designed quite simply to mesmerise a sweaty, crowded room.
The remaining three tracks have more in common with Bennett's relatively more sedate Black Mamba album from last year; the serene computerised vocal of the "River Mumma" interlude cleanses the previous track's aggression completely for "Eat Them Like Bread", whose half time rhythm and sweeping Vangelis-like orchestral pads are significantly less frenzied. The most intriguing track here may well be the short but sweet "Inchantment", whose dubby strings and excitable North African percussion offer a significantly more psychedelic take on the Cut Hands sound, but for those wanting to recreate the uniquely hysterical nature of Bennett's live sets, it's hard to see playing the title track resulting in anything other than complete abandon.
Scott Wilson
Tracklisting:
A1. Madwoman
B1. River Mumma
B2. Eat Them Like Bread
B3. Inchantment