Plaster invited to join Stroboscopic Artefacts' Monad series
The Italian duo are the latest to be brought into Stroboscopic Artefacts' digital-only Monad fold.
Stroboscopic Artefacts launched the digital-only Monad series in 2010, which initially invited techno artists such as Donor, Pfirter and Perc to explore a more experimental side to their productions. The series eventually branched out to introduce experimental acts like Raster-Noton's Aoki Takamasa and Kanding Ray and French electronic band DSCRD, with Irish duo Lakker providing the most recent entry.
The semi-regular series has since become a two way street in allowing the world of leftfield electronics to combine with Stroboscopic Artefacts' heavy and atmospheric brand of techno. The Italian duo Plaster debuted on Stroboscopic Artefacts last year as part of the Berlin-based label's four-part Stellate series, and now they become the 15th act to be invited to take part in the regular project. Monad XV sees the duo of Gianclaudio Moniri and Giuseppe Carlini at their most techno focused – with the one mandatory experimental track "Libra" – after output exploring the harsher ends of ambient and industrial since surfacing on a range of leftfield European labels in 2010.
Stroboscopic Artefacts will release Plaster's Monad XV digitally on August 19.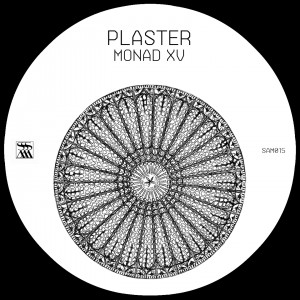 Tracklist:
1.Quasar
2.Uret
3.Tangle
4.Libra