Ventress debuts the Worn alias fully on forthcoming Mira release
The producer will showcase his experimental moniker on the Avian sub label next month.
Together with Shifted, Ventress has been responsible for guiding Avian into one of the UK's most interesting techno labels; although less prolific than his label partner, Ventress has been responsible for some finely crafted techno in the slate grey, minimalistic vein for both Avian and Edit Select, as well as remixing SHXCXCHCXSH and AD/S. The producer's next release will see light on Mira, Avian's 10″ sub label focusing on more esoteric and experimental sounds in the fields of techno, industrial, noise and drone, which has so far seen the bubbling techno miniatures of Bleaching Agent and frazzled post-punk electronics from Shifted's Covered In Sand alias.
Debuting on the label under the recently adopted Worn moniker, Ventress will offer his own take on leftfield techno with the four track Feminist release, which features a collaboration with shoegaze synth outfit The KVB. Such an endeavour makes sense given that Ventress unveiled the Worn alias with a fine version of the band's "Old Life" as part of the Immaterial Visions Remixes 12″ released on Cititrax earlier this year. Their collaboration "Feminist" promises to incorporate the band's atmospheric guitar textures, while the remaining tracks supposedly "take the sound into more drone based territory with an oppressive undertone".
It's the first time The KVB will feature on MIra but not the last; as we revealed last week, the new industrial-leaning Burma Camp side project from frontman Nicholas Wood will also be appearing on the imprint in the near future.
Mira will release Feminist by Worn on 10″ vinyl in August.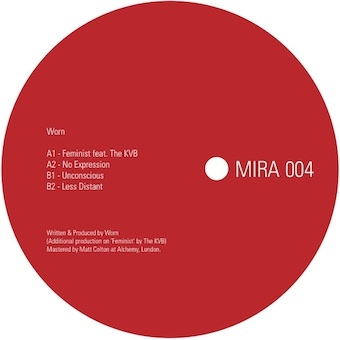 Tracklisting:
A1. Feminist feat. The KVB
A2. No Expression
B1. Unconscious
B2. Less Distant