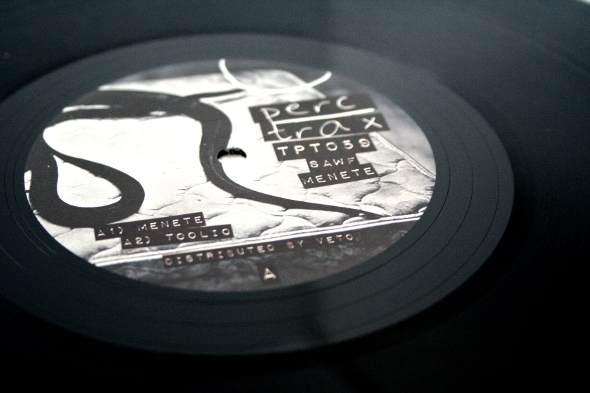 Sawf's Discogs entry states merely that he/she is 'devoted to techno'. As descriptions go, it is not the most expansive, but it does in broad terms sum up what Sawf is about and has seen the producer gravitate towards like a small number of minded labels such as M_Rec and Audio Assault since first emerging on Perc Trax back in 2009.
It's with Ali Wells' label that Sawf has released most, and the producer's latest offering comes via Perc. As Menete shows however, the producer is not limited to one defined sound or sub-genre. The title track is ferocious and unrelenting, as heavy kicks and a grinding bass thunder in. Buried deep inside this arrangement is a vocal loop, troubled and deranged yet also full of clarity. It's like a mixture of Terrence Fixmer and Ministry's scuzzy industrial shtick. "Menete" can only make the listener wonder whether Al Jourgensen was loitering somewhere in the background during the recording process, his addled features pressed against the studio glass.
"Toolio" is more functional; based on a rolling groove, its dark filters churn with a real sense of menace. But Sawf clearly likes to operate in an unpredictable manner, and "Toolio" moves into a stepping direction, under cover from bursts of percussion, before regaining its filtered balance. For the rest of the release, it's techno for the dance floor; Yuji Kondo's take on "Menete" is harder and more slamming, the vocals turned into a high-frequency screech as dense swathes of percussion are merged with a panel-beating rhythm.
Sawf's own "Diin" is less intense, but just as memorable. At the heart of the arrangement are dense, steely drums that pound and grind and a surging bass that builds and builds. It would be a stretch to call it catchy, but there is something about the bass tones that insinuate themselves deep inside your skull. Getting them out again may be difficult especially if, like Sawf, you are devoted to techno.
Richard Brophy
Tracklisting:
A1. Menete
A2. Toolio
B1. Menete (Yuji Kondo Remix)
B2. Diin