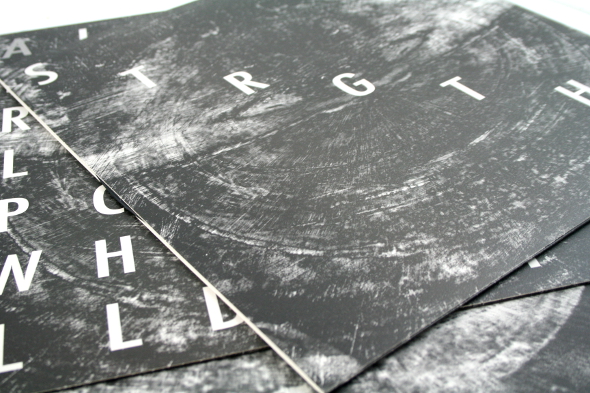 Sometimes it will be the artwork that marks out a release, and sometimes it will be the music, but this week's outstanding release had both in spades.
STRGTHS, the debut album from enigmatic techno duo SHXCXCHCXSH, has been mooted by Shifted's Avian label for some time, and today we were finally able to get our hands on a physical copy. The sleeve is the most beautifully designed artefact Avian have come through with to date, while the music – which combines the solid clatter of industrial techno with a depth of sound design that puts them leagues ahead of the warehouse wannabes. Complementing that album nicely was the second white label transmission from Manchester duo AnD, featuring three of the hardest techno belters you're likely to have heard for some time.
There was plenty of other techno to choose form this week; The Corner swiftly followed up that Fred P joint last week with the first of label chief Anthony Parasole's one-sided Quickstrike releases, with a tribally percussive drum tool that sounded as good at 33 as it did at 45, while UK techno veteran Mark Broom emerged on Bintus' excellent Power Vacuum label with the strangely titled Acid Dik providing some of the producer's finest 303-infused techno for some time. Hitting it just as hard was Ruffa, the new joint of weighty breakbeat techno from Randomer on Turbo's freshly launched Warehouse Series (check the distinctly Sex Tags-esque artwork and wonder what DJ Sotofett would make of it), and the second release on Moerbeck's Code Is Law, a various artists affair, with the droning, pitch shifting arpeggios of Sawf's "Know The System" a highlight.
Less monochromatic sounds could be found in the ever-populated forest of house, where this week's standout was the new single from Lone on R&S. Coming through with some more laid back material than he has of late, "Airglow Fires" might reference rave in its effervescent melody but the groove is pure house, more so on the pan pipe-led "Begin To Begin" which recalls early Chicago styles, a period cribbed heavily from by Kevin McPhee on Unwind, his second 12″ for Idle Hands, one which nevertheless contains all the genre-hopping elements we've come to expect from the Canadian. The new Skatebård 12″ on Sex Tags Mania was similarly wide-eyed, with "1979 Pace Int" feeling like two different house tracks bolted on top of one another, while Steve Summers and Bookworms returned for a second round of collaborative tracks on the Confused House label exploring the deeper, woozier ends of analogue house, something done to similarly lush effect by Steve Moore on the long-awaited Zen Spiders single on Future Times.
Bristol continued to show up almost every other city in the British Isles this week with another clutch of essential releases. The cheeky white label of Kowton's Jeremih edit promptly sold out, but the producer also featured on the first release from the Bristol-based Kelly Twins' Happy Skull label, in collaboration with Hyetal as Systems of Desire; sounding pretty much as you'd imagine, it combines Kowton's mechanical grime-inspired rhythms with Hyetal's radiophonic synth melodies.
Floating around the more esoteric fringes of house and techno this week were a number of fine releases, not least the new Various 02 compilation from 030303, which showcased a number of diverse artists including Jared Wilson and Dexter, who all proved that ingenuity is possible when relying on the humble Roland TB-303. The insanely prolific Joey Anderson proved sleep is obviously not a concern, as he returned with more of his distinctly hypnotic productions on the Act Of Speech EP on Anunnaki Cartel, a label who also hosted the fourth volume of the Vanguard Sound series, with Amir Alexander, Chris Mitchell, DJ Spider and Dakin19 making up the list of US house innovators on the VA release; Spider also appeared on an excellent EP on Instruction this week, with the mechanical yet deep sounds of Project Harmonics AD coming highly recommended. However, it was Antinote's contribution to leftfield house that was most impressive, with Geena's Surowych Utworow EP, displaying an obvious talent to construct lithe jack tracks with a paucity of elements.