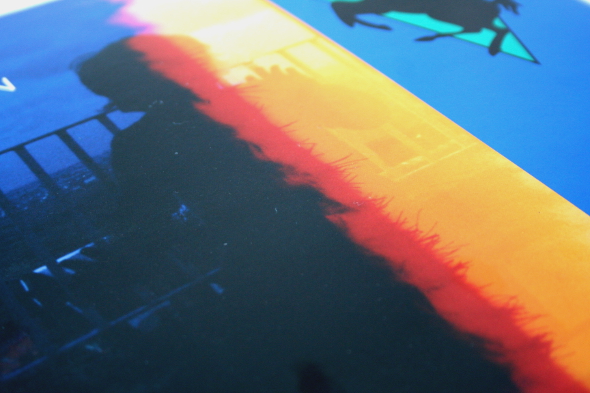 A glance at the cover of Airglow Fires and you can practically feel a wave of summer humidity washing over you. A photograph steeped in a sepia tinge shows a child decked out in an eyeball-laden t-shirt, covers one eye, immersed in some humorous knowledge that we're not privy to. That unknowable childhood grin is a fitting representation of Matt Cutler's approach to music for more than a while now.
"Blossom Quarter" from the 2011 Echolations EP had a vocal snippet of a child saying "safe place to play" amongst veritable crunchy 8-bit mayhem – unhinged, stunning, confusingly but brilliantly layered stuff that drew on the notion of "old school" music while simultaneously sounding solar systems away from it. Similarly, last year's Galaxy Gardens LP continued to tease out that sense of playful ravey bewilderment, with an album cover that looks like a neon-streaked kindergarten notebook sketch come to life.
While putting some nostalgic photographs doesn't ensure a feel-good vibe – the cover of Blawan's nightmarish His He She & She EP looks similarly welcoming at a glance – Airglow Fires finds Cutler in fine form. Slightly more relaxed and less hurried to evoke the ravey luminescence of Galaxy Gardens, it's an EP that takes its time fleshing out the Nottingham born musician's pop textures.
"Airglow Fires" flutters in like a breeze drifting through an open window, soft jazz drums and hummed vocal hymns, sparkling like a weird rock held up to the sun. When it heats up with its giant, heaving offbeat synth lurch, any resulting disorientation feels like spinning around in a circle until dizzy: pleasantly excessive. And though a deeply satisfying vocal drop sampled from J Dilla leads the track into a bouncy rave revival groove, the peak-time emotions are kept in check. In fact, the track's club-friendly fade out actually slows to a halt and cuts out completely, replaced by a woozy campfire piano ballad seconds later. Cutler's dedicated to the sound of the rave and raves past, but the outro for "Airglow Fires" is a sign that his love for Boards of Canada or Caribou burns just as brightly.
"Begin To Begin" works a different angle, carving out a hypnotic loop amongst rough, stoic synth bloops, the sound of pouring water, and intermittent taps of a woodblock. If "Airglow Fires" is diving off a cliff into a lake, "Begin To Begin" is exploring the darker cavernous depths beneath it. It's no less danceable though – despite Cutler's intentions to make subdued or laid back music, there's a shimmering euphoria that always seems to crack through, effervescently carrying the track to its finale. Even more impressive than crafting two tracks that can serve as uniquely heated dance floor cuts is the whimsically creative grin decked out on the face of the producer behind them.
Brendan Arnott
Tracklisting:
A1. Airglow Fires
B1. Begin To Begin