Tru West – The DOWC Part 1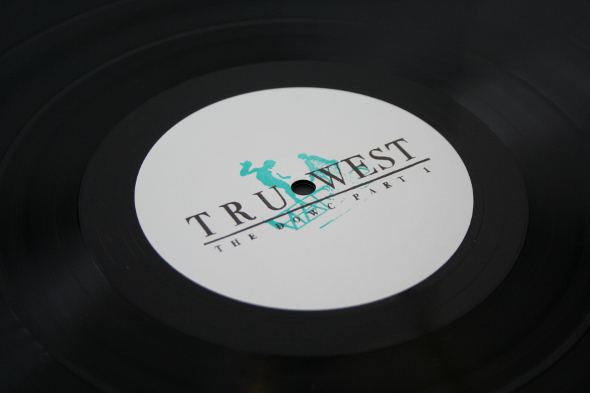 When dealing in the limitless climes of experimentalism, often the most memorable excursions into the outer reaches of sonic abandon have been the ones that kept one slither of sanity in amidst the madness, that one hook that saves the music from spinning off orbit and into self-indulgence. Not that such a control is always called for but in terms of more base listening pleasures, a familiar point of entry, whatever form it may take, can often encourage repeat visits. On this debut EP from the Berlin-based project Tru West, there is warmth concurrent throughout the three original tracks, but no more so than when Raffaele Amenta's clarinet comes calling through the mist.
There's an interesting cast of characters in this venture, with Martin Hopkins (better known as Mass Prod) on tape dubs, Rufus Niccolo on SP303 sampling, and Herve Corti on modular synths, all three of them closely affiliated with Italian house label Bosconi. However this release is a stout departure from what they have independently done before, and likewise Raffaele Amenta on clarinet and Matteo Tagliavini as the in-house medium are surely breaking into new and unpredictable territory here. There's a definite live jam aesthetic at work here, coming from the same murky depths as other analogue noise troubadours such as Ekoplekz, but with a distinct unique twist.
As mentioned above, the clarinet plays an important part in making this music come alive, although in fairness opening track "The Decline Of Western Civilization" bristles with enough kinetic energy of its own. Pulses come throbbing through an LFO in the extreme sub range, drum breaks call from a great distance, tense pads of drone swell in and out of ear shot, and through the middle of the melee the clarinet comes cavorting through its own encrusted processing, flailing around in a free jazz abandon that perfectly matches the apocalyptic surroundings.
After catching on to the sly locked groove at the end of the track, "It Looks Like Plastic" begins on a sumptuous clarinet solo that wastes no time in falling under the spell of grainy effects, but this quickly gives way to a haunting Far Eastern refrain that brings about a strange sense of calm, hovering in suspended animation before other members of the project start to filter back in to the frame. "This Is The True West" takes a less oppressive route, instead maintaining tension through a bass-less mix peppered with disorientating layers of loops and occasional whispers of snare. This uneasy set up shifts a gear towards something more optimistic with the low level hum of chord that lurks somewhere beneath, while increasing pulses of artistic feedback rear up at given opportunities. It's about as engaging and exciting a take on drone as you can imagine, but nothing prepares you for the adventure waiting on the b-side.
DJ Sotofett is an inspired choice for remixer, given his love of more experimental tones as proven in his Sex Tags Amfibia sub label, whilst also of course embracing the love of a good groove when it counts. Here, he manages to be anything and everything required, moving through dramatic scene shifts and constantly delivering the unexpected. The beginning of the remix is set adrift amidst a tribal wonderland of tumbling percussion and nerve-jangling flutes, placing you instantly in Sotofett's evocative sound world. This patters to a pregnant pause before a small looped fragment of the clarinet comes ushering in a rhythmic pulse which promises imminent action. With a perfect time stretched cymbal hit the remix begins in earnest with a chugging undercarriage of what sounds like guitars, and a limber live drum beat falling in a purposeful breakbeat. More of that ever-loving flute comes in around focused licks of the original modular synth, all the while rocking back and forth in the undeniable groove mashed into the ramshackle elements. It's as vibrant a remix as you're likely to hear all year, a living breathing mess that still wields the funk to perfection.
Providing a perfect balance to the freeform antics of Tru West themselves, DJ Sotofett's remix takes a great record and makes it an unmissable one; a startling blast of originality from every revolution the record goes through.
Oli Warwick
Tracklisting:
A1. The Decline Of Western Civilization
A2. It Looks Like Plastic
A3. This Is The True West
B1. DJ Sotofett's Dype Skoger Mix Part 1 & 2