Mind Fair – Downtown Nubian EP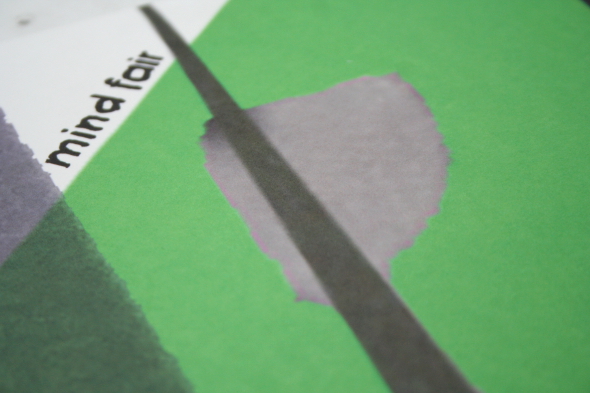 Dean Meredith is most widely known for his efforts as a founding member of the now seemingly dormant Chicken Lips alongside fellow analogue enthusiast Andy Meecham, with the group fluctuating between production duo and fully fledged band across five studio albums, countless singles and even more remixes. Yet Meredith's had his fingers on the buttons in so many projects before, during and after Chicken Lips that it makes him one of those producers hard to keep a proper tab on.
It's predominantly Meredith's recent work as The Rhythm Odyssey on a series of Golf Channel twelves done in cahoots with Eric 'Dr Dunks" Duncan that this writer has been following, so it was something of a minor shock to find out he's also responsible for this latest gem of a record from Phil South's label. In retrospect Meredith's aforementioned tireless creative endeavours mean it's hardly surprising to see him here as Mind Fair, one of several projects done in collaboration with fellow Brit producer Ben Shenton. The pair have also worked as The MEB as well as releasing together as The Rhythm Odyssey and Main Stem, and after numerous 12"s for Meredith's Rogue Cat label they debut on Golf Channel in sumptuous fashion with the Downtown Nubian EP.
Much like all Golf Channel releases, the Downtown Nubian EP slipped out a few months ago on ultra limited white labels (at that point titled So Strong) distributed to a lucky few for free and sold at premium price to Joe Public via record shops. Yet the dedication to presentation on the finished copies that are now on release (with cover art courtesy of Thomas Bullock) ensures it's been worth the wait, and the feeling that you get from holding the record sleeve in your hand is magnified as the opening track unfolds.
Whilst staunch Todd Terje advocates might disagree, to these ears "So Strong" is perhaps one of the finest examples of contemporary disco in recent memory. It's steeped in the vintage aesthetic of the era's defining period, so much so that it would be easy to mistake the track for a crafty edit, yet Shenton and Meredith's mastery of dynamic arrangements and clever usage of the vocal sample that defies furious bouts of Google searching are telling. You get the feeling Phil South might have fallen over himself to sign this up for a release as soon as that bassline swoops seductively into action.
What follows sees the Mind Fair pair deviate into weirder territory, which probably equally appealed to South (he did after all drop "A Band" from Powell's Death Of Rave 12" on a recent Beats In Space appearance) with the subsequent "Bloody Mary" unfolding into a series of processed synth waves subjected to pitch shift. Somewhere in the mix, squalling guitar riffs appear alongside intermittent vocal yelps, and suddenly it feels like you're stuck in the midst of magic mushroom infused jam session from a forgotten prog synth band lost from depths of the '70s.
The title track "Downtown Nubian" reigns in this experimentation in favour of some jazz-funk blessed disco dub; this being Meredith there's an abundance of delay in effect throughout which is executed with aplomb; this is not dubbing for the sake of it but an integral part of the groove that slowly builds and drops as the track progresses. You can tell Mind Fair have been schooled well in the masters of the art like Francois K and Walter Gibbons, whilst the final track "Wrong Wire" sees Meredith and Shenton doff their caps to the European forefathers of kosmische and Italo. Whereas the previous three tracks were notable for their rhythmic looseness, here Mind Fair remain rigid with the two dominant elements – a thick arpeggio and crunchy kick drum – never deviating from their plotted course, yet the results are no less thrilling.
Tony Poland
Tracklisting:
A1. So Strong
A2. Bloody Mary
B1. Downtown Nubian
B2. Wrong Wire