The Exaltics – The Rise & Fall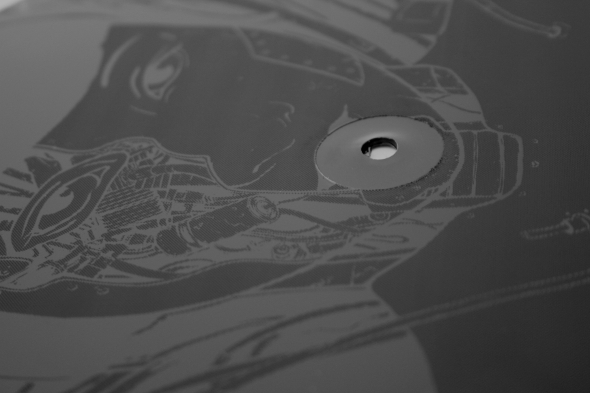 As his releases for Solar One Music, Bunker and Trust under The Exaltics banner demonstrate, Robert Witschakowski takes his inspiration from a variety of sources, including acid, electro and techno. Making a welcome return to Crème Organization with the etched one sided Rise & Fall 12", Witschakowski uses the opportunity to mark a shift in his approach; gone are the blasts of acrid 303s, the frequently claustrophobic drums and the swampy techno rhythms.
Instead, the German producer has focused almost exclusively on dreamy, synth-led sounds and a more esoteric approach. Despite this artistic digression, The Exaltics music could not be described as easy listening or uncomplicated, and Rise & Fall begins with "Downer", where a pitched down, slowly pulsing bass underpins an eerie synth line left on a loop. It's an atmospheric track, but it also matches any of the more complex arrangements in his catalogue in expressing a sense of foreboding, an unspoken menace. "Thought Buzz" is more upbeat and evocative as he manages to fuse ghostly pads from hard core's with the kind of futuristic, utopian acid squelches that prevailed on Kenny Larkin's classic release "War of the Worlds" (as Dark Comedy).
That acknowledgement of Detroit techno comes even closer on "The Place To Be". More dance floor friendly than much of The Exaltics' work, the track rides a groove that sits in the middle of techno's svelte pulses and the off-beat 808 shuffle of Detroit electro. To this backing Witschakowski adds rasping hats, mysterious synth lines and never too far away, a warbling acid undercurrent. It says a lot for his talent that the German producer can sound like more of a native than some of the city's own producers.
But just in case there was any doubt that "Place" was something more than a dalliance, the title track finds him in more familiar territory,  as a wall of bass slowly grinds to a climax, sound tracking the dislocated drums and bleak synths that flit through the soupy ether. Rise & Fall documents Witschakowski's willingness to embrace other styles and sounds, but it also shows conclusively that he plays by his own rules.
Richard Brophy
Tracklisting:
A1. Downer
A2. Thought Buzz
A3. The Place To Be
A4. The Rise And Fall