Juan Atkins & Moritz Von Oswald – Borderland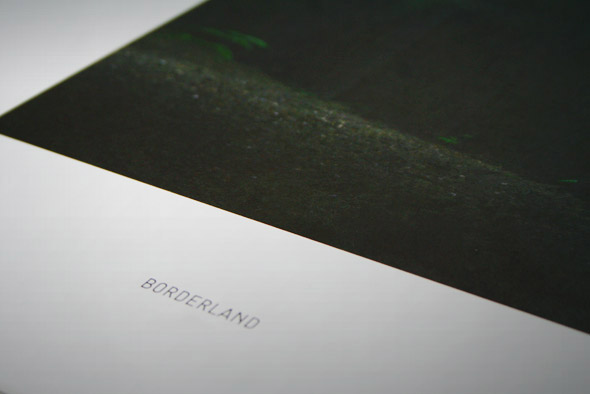 Time changes everything and everyone. That's the message behind Borderland, the first true collaborative release between Von Oswald and Atkins. It's exactly twenty years since these two iconic artists – surely they are among the very few electronic producers who are deserving of that description? – first appeared together on a record. It was an auspicious opening salvo too, with Von Oswald teaming up with Thomas Fehlmann as 3MB in 1993 to go head to head with Atkins' Model 500 project for the high paced, hyperactive rhythms and epic melodies of "Jazz is the Teacher" and the loose drums and lush electronic warbles of "Cosmic Courier", sometimes known by its German name "Die Kosmischen Kuriere".
Two decades later, and it is clear that time has lead to a slowing of tempos and a more considered approach for the studio sessions from which Borderland is derived. "Footprints" is powered by sharp drums and a metallic shuffle – it sounds like Von Oswald offering a restrained nod to his Basic Channel groove hypnosis – but on closer inspection it also features chords that bear some relation to "Starlight". "Treehouse" is less contemplative and positively cheerful as a subtle, detuned riff and an electronic whistle unfold over a woozy rhythm that contains organic drums and Germanic precision in equal measures.
On "Mars Garden", the duo teeter on the brink of sonic goofiness before descending into a psychedelic soundscape mapped out by a straight click track, while "Digital Forest" features a gradually accelerating electronic heartbeat underpinning subtle drones. The centrepiece of the album is "Electric Garden". In its original format, it's all atmospheric soundscapes and sombre, reverberating drums crawling through a 12-minute arrangement, while the "Electric Dub" pushes towards the dance floor, its clipped drums leading the way.
But it's the 'Jazz In The Garden Mix' of "Electric Garden" that maps out a new direction for this project. Trumpet solos ebb and flow over chiming guitars and sublime atmospheric flourishes, all held together by electro drums that have just enough edginess to leave the listener questioning whether they were played live or programmed. Atkins and Von Oswald are older, wiser and more considered, but out at the border, on the fringes, their collaboration conjures up a spellbinding sensibility.
Richard Brophy
Tracklisting:
1. Electric Garden (Jazz In The Garden Mix)
2. Electric Dub
3. Footprints
4. Electric Garden (Original Mix)
5. Treehouse
6. Mars Garden
7. Digital Forest
8. Afterlude