Juno Plus Podcast 63: DVA DAMAS
Twilight Californian vibes abound on this mix from Downwards act DVA DAMAS.
Taylor Burch and Joseph Cocherell are the creative force behind DVA DAMAS, a Los Angeles-based band who delivered one of our favourite albums this year in the shape of Nightshade. The inaugural release on the newly minted Downwards America offshoot curated by Juan Mendez, this eight track album expanded perfectly on the themes of Brand New Head, their 10″ debut from 2010; namely creeping cinematic references filtered through the processed sounds of late '70s industrial acts and given that extra edge by Burch's distinctive vocal delivery.
The Juno Plus team is prone to leave Nightshade on repeat on the office stereo some evenings, as its jagged Morricone riffs and doom laden basslines meld into one. This led us to ponder the sort of music Burch and Cocherell listen to themselves in the Los Angeles smog; their subsequent self-styled Funky Emotions mix offers some respite from the four four thud of recent house and techno focused efforts, and much like the album itself, it feels like the product of their surroundings. Listening to it unfold, it's hard not to feel like you're playing pool in a LA dive bar on a Thursday night whilst Burch and Cocherell lay down some of their favourites to a nearby inebriated dancefloor.
Despite the excellence of their album, it's clear DVA DAMAS become electric on the live stage, and we're excited to hear they will be joining Camella Lobo's Tropic Of Cancer on a European tour later this year that includes a performance at the upcoming annual Blackest Ever Black showcase. That and more was discussed in a series of questions the pair were kind enough to answer over email.
Hi Taylor and Joseph, how are things in Los Angeles?  
J: Hello. At the moment things are fine, it was really hot today…
Thanks a lot for doing this mix, where and how was it done?
T: I put the mix together in my room, using the computer and thinking of George Clinton.
There's a real twilight road trip vibe to it.
T: I agree, it turned out to have a sense of destination to it.
Thank you for including my favourite Prince track!
T: Of course, it's hard to do a mix without including Prince.
What's the reception to the album been for you?
T: The album sort of flew under the radar, people are still asking 'When does the LP come out?'  But it has been mixed emotions, some receive it well and others don't.
J: You can't please everyone. Whenever I make music either alone or with Taylor the goal is always to make something that I would like, or that I would listen to, if other people respond to it that's great, but it's not the objective.
Personally I like that it's quite short as you can get lost in it on repeat plays…
T: Thank you, that's the idea, it cuts to the chase.
J: We didn't want it to be drawn out or aimless, we just wanted to get the point across.
Was there a conscious decision not to include "Brand New Head"?
T: It never crossed our minds, to use "Brand New Head" on the LP. I've always thought "Brand New Head" should stay where it is.
Are you both fans of Repo Man? Sometimes when I listen to Nightshade that film comes to mind, there's a sense of punkish nihilism that evokes the spirit of Otto.
T: Yes, I like that.
J: Never seen it.
I've watched a few of your gigs on YouTube and its clear there's a spiky energy to your live performances. Do you find it hard to translate this to your recorded material?
T: It's impossible to get the energy from a live show onto recorded material, because for me, that energy relies on the audience. You're reacting to all the people. When you record you're not really reacting to anyone. There is also less control with the live performances, everything, as it happens, is final.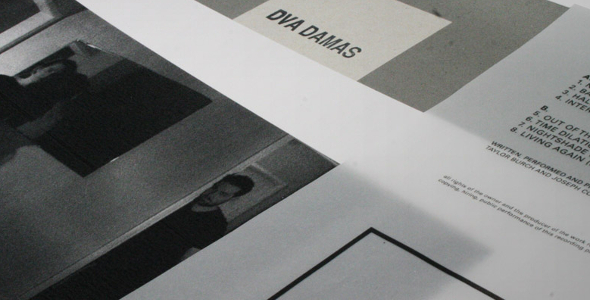 From the outside, LA seems the perfect place for DVA Damas to exist with the Part Time Punks events and radio show, and the pool of bands around you – would you agree? 
J: LA is sort of having a renaissance right now, lots of good parties happening around the Mount Analog record store in Highland Park, various other after hours things and of course Part Time Punks. But even outside of music there's a lot going on with art and design and fashion right now in LA that's fresh and exciting.
Downwards is enjoying its 20th anniversary this year – how does it feel to be part of this iconic label in its current manifestation?
T: Feels like home.
J: It's great to work with Downwards, and rare to find people who aren't afraid to do what they want.
You're participating in the upcoming Blackest Ever Black showcase – will this be your first show in London?
T: It will be our first show outside of Greater Los Angeles, actually.
Will you be playing elsewhere in Europe?
T: Yes, we will be all over Europe this fall; Greece, Sweden, Germany, Belgium, the Netherlands, Austria, Italy, Spain and the UK so far.
What else is coming up for DVA Damas this year? 
T: I'm not quite sure to be honest. We are recording, always recording.
Joseph, you've release a couple of 12"s for the Frozen Border label, any plans to return to this solo work?
J: Of course, I'm always working on new stuff.
Finally where's the best spot to go digging for second hand records in LA?
J: Mount Analog.