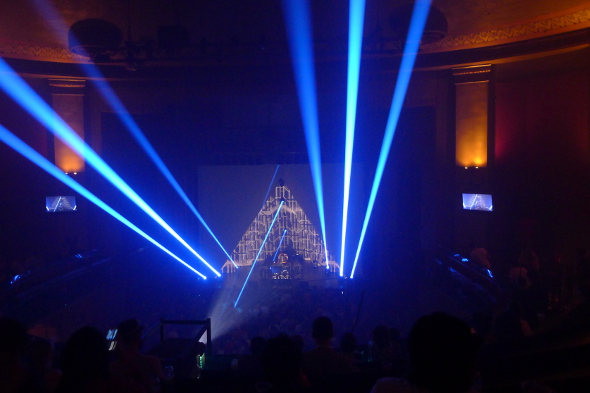 For the last 14 years, The late May/early June weekend means one thing to every serious minded or fun-loving techno head within a 1000 km radius of beautiful Montreal, Quebec, Canada – MUTEK!  Once again Juno Plus' Canadian correspondent Steve Phillips was dispatched to cover all the action. With 76 performances by 140 artists in five days, it was impossible to catch everything – but highlights included Pantha Du Prince's mesmerizing Bell Laboratory performance in a symphony hall; Robert Hood's live set and Boiler Room throwdown; as well as stunning performances by Andy Stott, Boundary, John Roberts, Efdemin and Âme (pictured above).
Thursday May 30
Nocturne 2
Frivolous, Jamie Lidell, Brandt Brauer Frick, Wishmountain, Pulses, Lee Gamble, Andy Stott, Deadbeat, Martyn
Feeling a bad case of latent FOMO (fear of missing out) for not being able to catch the Kompakt showcase (Michael Mayer, John Tejada, The Field and Saschienne) on night one of MUTEK, I was super excited about making up for it at Nocturne 2. After a tasty plate of pork, shrimp, and coriander steamed dumplings I arrived at the spacious Metropolis where half of the Nocturne events took place.  From the flick of his laptop switch perched beside a lone red rose in a vase, quirky Canadian via Berlin  tastemaker Frivolous got the early arrivals dancing with his uniquely zany electronic carnival techno swing sound which caught a groove that didn't stop until the end.
Charismatic crooner Jamie Lidell entertained the Metropolis crowd with his signature falsettos over fat funky R&B laced beats. As I was leaving for the next venue – the Société Des Arts Technologiques (SAT), I swear I heard the opening drum fills and beats to Bel Biv Devoe's "Poison" – quite the 180˚ contrast to Andy Stott's performance around the corner.
Andy Stott has been solidifying his name in North America recently with the warm reception here of his 2012 full length Luxury Problems along with his stellar live show. Death metal growls pitched down to a flat-out evil scary tone slowly gave way to sub-120 bpm beats that had the front centre crowd engaged in a slow motion body throbbing frenzy – quite an amazing task to pull off at such a tempo.  For those not already dancing, Stott corrected that when he busted out "Up the Box", the knackered amen track from his latest album. I love it when techno "purists" are able to pull back some layers and get down to different shades of electronic beats – Stott precisely reminded us that techno breathes and lives in many forms.
Brandt Brauer Frick – darlings of MUTEK 2010 – brought a new stripped down live show sans ensemble. The trio, forging a new direction with their recently released LP Miami showcased a rougher sounding style with a full drum kit. It was refreshing to hear Daniel Brandt's amazingly steady kick drums and snare patterns set the upbeat template for the other two to complement him with their live, often jazzy electronics. Jamie Lidell joined the trio for a couple of vocal numbers to the delight of the crowd. While dancing, I noticed that the good 'ole human time keeper can battle any machine, any night if done right. Brandt Brauer Frick did it right as they put on a masterful clinic of professional techno performance – that's not pretentious talk – that's truth!
After the BBF affair, I had to rush back to the other venue to catch the last quarter of Deadbeat's set. Mutek veteran and one time Montrealer, Scott Monteith crafted a fierce set of techno further removed from his dubbier tech side. Despite some system sound glitches, Deadbeat kept on trodding as the crowd kept on dancing. Around the corner at the Metropolis, Deadbeat's set perhaps would have been a better suited as a prelude to Matthew Herbert's Wishmountain set.
Having recently revived his Wishmountain alias last year with the Tesco EP on his Accidental label, Matthew Herbert took us back to the '90s with an all vinyl set that included techno classics like his own "Radio" and Luke Slater's remix of Joey Beltram's anthem "Forklift", which had the front of the dancefloor old schoolers loving every minute of it. Herbert's ability to throw down a quirky floor filler DJ set miles removed from his experimental and politically charged artiste side (he had two other performance pieces at MUTEK including One Pig, the life of a pig from birth, to death, to dinner) is why we love him so much. Fulfilling a moral techno obligation to stay the length of Wishmountain's set meant missing the entire performance of Martyn, the Dutch producer who always puts on a well thought out set. However, my Juno Plus dancing partner extraordinaire, Helen took in his techno, two-step infused bass set that veered into his own D&B past towards the end.
Friday May 31
Nocturne 3
Ryoichi Kurokawa, Emptyset, Jon Hopkins, Robert Hood, Looper, Lukid, Boundary, Onra, Graze
Arriving in time for British drone-loving duo Emptyset, MUTEK attendees were treated with heavy buzz saw, "ratatatatat" machine gun spray-sounding textures behind a slow beat Andy Stott would be comfortable with. Fuzzy, moody visuals were projected onto triangular back drops that framed the dark bodies of Paul Purgas and James Ginzburg (pictured above). As the tempo slowly climbed and climbed, the intensity thickened as the visuals vibrated to the density of sound. Intermittently, Emptyset straddled more conventional 4/4 sounds, but kept pulling them away in favour of the dark, abstract, industrious sounds that worked effectively in the big room Metropolis venue. Stepping up next, Jon Hopkins proceeded to tear the roof off the Metropolis with his live set of hypnotic tones punctuated with melodic bursts, at times contrasted with aggressive beats. His live show had progressed above and beyond his last MUTEK performance in 2010. After resetting the vibe half way with an atmospheric pause, Hopkins got right back in there with his WTF beats that provided one of the larger crowd reactions of the festival. I danced away from that performance seriously wondering why I had not yet listened to his new album Immunity.
Meanwhile back at the SAT, Montreal and world ambassador for all things electronic and eclectic Ghislain Poirier premiered his new live act as Boundary. Mirroring a recurring MUTEKism of using a live drummer, Poirier went head to head with his drummer Chris Olsen drawing connections between dancehall and electronic music on the track Expo '67. Boundary's closing track "Long Story Short" was an absolute tribal percussive stunner that showed great interplay between man and machine. Boundary was one of MUTEK's hidden gems and a personal surprise favourite of mine. The Graze duo of Adam Marshall and XI – recently transplanted from Toronto to Berlin – also set the dancefloor ablaze with their dark hybrid techno-infused bass live set, proving that they are definitely ones to watch this year. Their second last track was a dirty sub bass bone rattling number off their self-titled EP on New Kanada that definitely got everyone's attention.
The Friday headliner was the master minimal techno icon and co-founder of Underground Resistance, Robert Hood. With a minimal live set up including a Korg Synth, Korg Kaoss Pad and a 909 drum machine, Hood played a memorable mix of old Minimal Nation/Internal Empire tracks along with newer cuts from last year's heavyweight release Motor: Nighttime World 3 as well as his brand new Floorplan album. Hood's 45 minute set had the crowd calling for encores which he answered the call with a couple improvised drum machine heavy numbers. Hood's set encapsulated everything vital about modern techno's origins: a minimal aesthetic, and an underlying soul and power to make the masses simply get down.
Saturday June 1
Nocturne 4, Play 4
Laurel Halo, John Talabot, John Roberts, Ame, Efdemin, Emika, Tokimonsta, Nosaj Thing, Leatherette, Slowpitch
After a much needed recharge of a gourmet peameal bacon and egg breakfast sandwich, double espresso and mimosa from the Food Lab at the top of the SAT building (with Frick of BBF DJing house music on the patio), I physically prepared for the genre bending and eclectic nature of the Saturday night ahead. Having played a much talked about set at MUTEK Barcelona, Laurel Halo made her Canadian debut with a bubbling, chugging set of complex, bleak structures and acid undertones. Her challenging beats and geometric rhythms demonstrated that electronic music for the dance floor doesn't necessarily have to be uplifting and four to the floor. The somewhat sedate crowd were more of in a head nodding state but came more to life upon hearing the opening piano lines of "Throw" from her acclaimed recent Hyperdub EP Behind The Green Doo. In sharp contrast to Halo's seriousness, the all smiles Tokimonsta was rocking a different vibe at the Red Bull Music Academy stage as she dropped a hip hop/trap/LA beatdown on the appreciative crowd whopping her up beat by beat. Nosaj Thing played to an equally hyped crowd who were delighted with him weaving Burial's Archangel into the set.
In between the electronic madness of the two large venues, I headed to the Monument-Nationale to sit down and re-balance myself by taking in a captivating live turntable/AV affair by Slowpitch (Cheldon Paterson). His performance called Emoralis scored the life and times of snails as envisioned and morphed to trippy effect on a screen behind him. Paterson used a turntable, percussion sequencer and various creative effects to score a delicate dreamy sample-laden piece that allowed everyone to sit back and indulge in the psychedelic sounds and images before returning back to the booming beats of the MUTEK main stage.
Back at the Metropolis, John Talabot brought his big pop electronic sound with album and live collaborator Pional on electronic drums and various other instruments. Most of Talbot's polished, clean vocal songs took on a celestial vibe that saw them bathed in turquoise colours and other bright lights.  Perhaps some of his more tech-house orientated fans would have preferred more dancing flow and less of a concert-like spectacle, but those who loved it really loved it. Having opened for The xx last year, I can see the definite cross-over indie appeal to Talabot's live show, which reminded me of a more upbeat version of the band M83 (it's OK to curse and disagree with me here).
Berlin-based American and Dial Records artist John Roberts scaled things back with a stellar emotional performance consisting of tracks from both his Glass Eights debut and his recently released Fences as he transformed them into a floor frenzy of no nonsense techno business. Âme's Frank Wiedemann continued the dancefloor parade with a crafty live set that started with a shimmering steel drum sound that exploded into a house-meets-techno set climaxing into the all time underground anywhere anthem, Rej.
Highly underrated producer Efdemin aka Phillipp Sollmann capped off the later portion of the night with a thunderous 3:00-6:00 am DJ set expertly delivered with all the hand gesturing and expressive confidence of a man who knew exactly what impact his track selections and mixes would have on the wobbly kneed, still going strong MUTEKers in the early morning. Continuing with my tradition of picking a MUTEK artist's "surprise non-stop dancing, they rock" award, I'll go this year with Berlin native Efdemin (previous MUTEK winners have been Krause Duo, Electro Guzzi, Pezzner and Kode 9).
Sunday June 2
MUTEK Piknic
Axel Boman, Dewalta, San Proper, John Talabot
BOILER ROOM x MUTEK Montreal
Robert Hood, Onra, Nils Frahm, Deadbeat, Ghislain Poirier, Prison Garde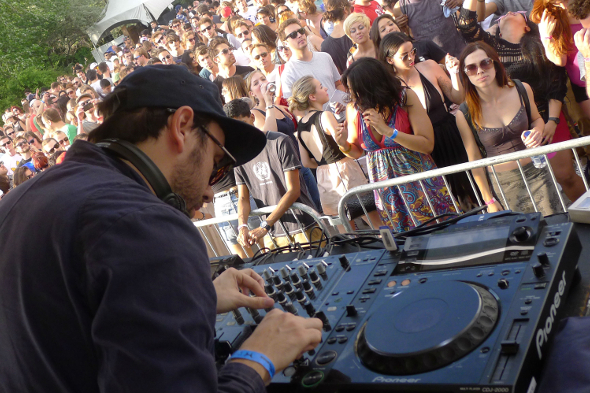 The last day of MUTEK is always one of the busiest. After quickly recovering from the previous evening's Nocturne 6:00am workout, our three person crew headed to Parc Jean Drapeau on an island south of downtown Montreal to catch some sunny outdoor performances. Summery sets by Axel Boman and John Talabot had the beautiful crowd dancing with the picture perfect cityscape backdrop across the water. The singular Amsterdam producer San Proper brought his kooky, anything goes/sometimes disco sound to the island, highlighted by his dropping of Marlena Shaw's soulful 1969 hit "Woman of the Ghetto"'.  San enjoyed narrating over songs and interacting with the crowd like an eccentric mad man clearly having a good time.
Attending the Piknic meant that I'd be missing the highly anticipated Boiler Room session. Friends and social media were talking and posting about Nils Frahm's organ and Boundary's (Ghislain Poirier) live sets. Special props also went to Deadbeat for going out on a limb and playing a reggae 7" set for the headz who appreciate all good music. I arrived in time to catch Robert Hood's Boiler Room set at the SATosphere – the domed top part of the SAT building. With visuals projected 360˚ all around and dancers encompassing him, Hood proved to all once again how just how phenomenal a DJ he is. Playing many of his own tracks including some uplifting gospel cuts from his new Floorplan album Paradise, Hood also unearthed timeless classics Blue Monday by New Order and Plastikman's Spastik. Hood delivered a raw, emotional heartfelt set that had everyone smiling – including his proud daughter who supportively stood by his side the whole set (hey, not everyone can claim to have one of the world's best, DJ/producer as a dad!)
A/visions 5
Pantha du Prince & the Bell Laboratory, Nils Frahm
The A/visions programs at Mutek usually consist of more experimental, serious audio/visual elements with the chin stroking, docile crowd quietly seated in comfortable chairs. Pantha du Prince & the Bell Laboratory blew that all away with the perfect performance of a lifetime that left EVERYONE in absolute awe. Taking place at the elegant, acoustically sound Maison Symphonique, six figures each in long white work aprons filed onto the dimly lit stage clanging hand bells in a haunting delicate pattern. They soon took their positions behind all kinds of chiming and percussive instruments imaginable – Pantha du Prince (Hendrik Weber) behind an ordered row of electronic gear – and proceeded to clang, chime, tap, toll, rattle and ring out beautiful rhythms arranged flowingly between the six man ensemble.
About halfway through the performance, I saw one of the bellsmen look up to the crowd flashing a quick smile of approval.  It was then that I turned around from my third row centre seat to see people on the sides and in the middle full-on dancing. This inspired a cascading effect that elevated everyone from their cushy seats to break etiquette and dance in the symphony hall with a spontaneous unfetteredness that was truly a delight to be a part of. After a standing ovation, they slowly entered the audience with their handbells. A moving melodic encore followed to an audience who did not want the performance to end. The Bell Laboratory's performances demonstrated the ingenuity and creativity in merging hi-tech modern electronics with low-tech ancient instruments that have been around ever since we leaned to cast metal (definitely old school). By squeezing every drop of emotion from their electronics and instruments, Pantha du Prince and his henchmen were able to make that connective reciprocal exchange with the audience which really is what MUTEK has always been about.
Nocturne 5
Pheek & Diagraf, Dictaphone, Borderland (Juan Atkins & Moritz von Oswald), Juju & Jordash
The closing Nocturne event at MUTEK each year is usually a chilled, deeper affair programmed to wind down the craziness of the past week. Esteemed techno pioneers Juan Atkins and Moritz von Oswald reconnected their Detroit-Berlin alliance to introduce their new Borderland project. Atkins and von Oswald were seated next to each other in front of computers and controllers like calculating NASA technicians as they churned out deep, swirling, sometimes spacey techno compositions from their ground control positions. Their intent was not to boom and blast their music on us but to warm the crowd with their even-keeled, echo-heavy chords, and subtle variations of what seemed like an endless cosmic ride – much like MUTEK itself. When it comes down to thoughtful programming; boundary-pushing live performances; world class venues; digital creativity, immersive visuals, and a charming city with an arts-centric infrastructure – one might be hard pressed to find another electronic music festival in the world that out-Muteks MUTEK.
Festival review by Steve Phillips
All festival photography by Helen Luu apart from Robert Hood photo which is by Shingo Shimuzu