Helena Hauff: A Certain Energy
Scott Wilson speaks to the resident DJ at Hamburg's Golden Pudel club and recent signing to Actress' Werkdiscs label about electro, stagediving and her unconventional musical background.
"I want things to fit together properly, but on another level, I really want them to make sense together." Helena Hauff is explaining her DJ style, one that has won her the admiration of many, not least Actress, who recently signed her up to his Werkdiscs imprint for her debut release. "I want tracks to relate to each other – that could be a Detroit house track from 2012, together with a wave track from 1981 – but the most important thing for me is the energy. It's all about a certain energy that I want to create when I DJ. It's funny, sometimes – especially at the end of the night when people get more drunk and when I'm getting more drunk – I have the feeling I'm closer to being punk than being a techno DJ."
Considering Hauff is a resident DJ at Hamburg's Golden Pudel club, her punk approach to DJing seems quite apt. Occupying a 200 capacity basement underneath a tiny house by Hamburg's docks, the Pudel is a club where people go not for the DJs on the bill, but for the experience; music writer Philip Sherburne recently quipped on Twitter that his trip to the Pudel was the only gig where he'd "ended up in the emergency room afterwards". "It is small, it is smelly, it is sticky – it's quite a fucked up place," Hauff chuckles, "but in a good way. It actually works."
Although not particularly well known outside of Hamburg, to the regulars who frequent the Pudel Hauff is something of a fixture. Since 2010, she has helmed Birds and Other Instruments, a monthly night which occasionally sees guests like Morphosis, Mike Huckaby and Luke Eargoggle play, though it's undoubtedly Hauff that provides the glue that holds everything together. Her claustrophobic, challenging DJ style, which leans heavily towards electro, but incorporates acid and minimal wave amongst the rougher ends of house and techno, has been heavily influenced by the club's space and audience, who Hauff explains are particularly open-minded: "I basically learned to DJ at the Pudel, and the good thing is that you've got all the freedom to play whatever you want to play, because people go there for the place and not so much for the music. You're not in the position where you have to deliver all the time, and that was really helpful for me to develop my style – it just gives you the opportunity to play whatever you want to play, experiment and see how people react to that."
Despite her growing reputation as a selector, Hauff admits that she only began DJing in her early twenties in 2009. After seeing a DJ spinning records for the first time at a warehouse party, Hauff made the snap decision to become a DJ, and a few years later she bought turntables and began to DJ in clubs and bars in Hamburg. However, her path to becoming a DJ followed a somewhat unconventional musical background to say the least. "I bought my first record in 2009, and that was Talk Talk's Spirit of Eden," Hauff explains. "Before that I never had access to records or CDs, or a computer even, because my mother always used to tell me it was a waste of money to buy records, as you listen to them once and then you will never listen to them again."
"It's funny, sometimes – especially at the end of the night when people get more drunk and when I'm getting more drunk – I have the feeling I'm closer to being punk than being a techno DJ."
Hauff was forced to discover music in a different way, borrowing CDs from the local library and listening obsessively to the radio for songs she liked the sound of, recording the results of both to cassette. The disparate sounds of Stockhausen and The Cure featured amongst her homemade collection of music. "It was basically everything I could find," Hauff explains, "I had no idea about any bands or names or whatever, so I just picked random CDs and had a listen to them."
For someone growing up oblivious to the digital world of file sharing and YouTube, it goes some way to explaining Hauff's wide ranging style. Although not by any means the only DJ to emerge recently with interests in more raw forms of club music, Hauff's isolation, not just from established scenes, but from music in general for such a long time has gone on to influence her way of digging for records as well. "I just started to buy loads and loads of stuff from different styles of records," Hauff explains, "whatever came into my hands and I thought was good, so basically the same idea of digging stuff (as before)."
But electro is the genre which Hauff obviously has most enthusiasm for. A 12″ by Drexciya was one of the first records she bought, something that led her to the catalogue of Bunker Records; she also cites artists such as Interr-Ferrence Communications producer Electronome and Stilleben boss Luke Eargoggle as a particular inspiration. "Electro is as important for me as acid techno or cold wave, garage punk or cosmic jazz or art noise. The only difference is it seems to be the most danceable music ever – there is nothing I can jump around and bang my head to more easily than electro!" Hauff exclaims. It's also electro that provides the focus for the A-side of Hauff's first commercially released mix, the Obscure Object cassette which was recently put out on Blackest Ever Black's Krokodilo Tapes imprint, a tightly focused set which shows her innate understanding of how effective the genre's rhythmic mechanics can be when sequenced with precision.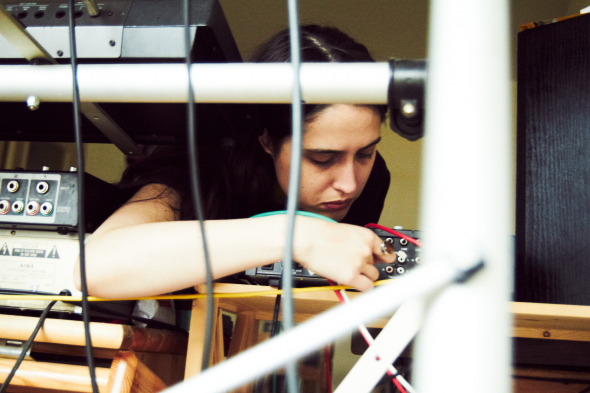 For Hauff, her love of the genre was central to starting Birds & Other Instruments, which took its name from a '90s electro track by Third Electric. Although by no means the only music played at that night, it was the unique energy of the genre that inspired her to start a night in that direction. "I think after a year of DJing I kind of started to get bored of all that – I don't want to use the wrong word – but all that 'normal' house music. I thought it could be more extreme, and there weren't that many people playing electro during that time – I just wanted to hear more of it and I thought house or techno music could be rougher, more extreme – or more exciting perhaps."
Although primarily known for her DJing, Hauff has also been producing music for the past few years, and like her DJ style, Hauff's music has a propensity towards darker, rougher sounds. Starting with a TB-303 which she bought from a friend, Hauff has since collected a vast arsenal of synths and drum machines, funded partly with a frugal diet of "white bread and cheap cheese." Hauff's production shares the exploratory approach of her DJing, avoiding computers because she "can't handle them", and recording everything in one take to a reel to reel tape recorder. "I don't arrange things, I just play and record them live," Hauff explains, "so my way of making music is kind of like the same as way of DJing is – I just like standing up in front of my machines, and if I have the feeling there's some energy, if I have the feeling there's some interesting sounds, some roughness, or if I have the feeling that there's a sound, a track, or a pattern that I'd actually want to play myself DJing, and that I can see myself or other people dancing to then I just press record."
Given Hauff's love of darker, more extreme tones, it makes sense that she should count Actress – a producer who has been inspired heavily by Drexciya in his own productions – among her fans. About a year after supporting him in Hamburg, Hauff received an email from his label manager inviting her to play the R.I.P launch party in London; his respect for Hauff's approach has in turn led to Werkdiscs putting out Hauff's debut EP, Actio Reactio. It's a strikingly harsh trio of tracks that, surprisingly, owe more to the raw hardware techno of labels like L.I.E.S. and '80s minimal wave than they do to electro. The title track is a ten-minute flurry of 808 cowbells, claps and rolling toms and subtle 303 bass, while "Break Force" sees an acid line squealing amongst occasionally cavernous reverb with a melodic quality that's more inquisitive than it is alienating or aggressive; the beatless collision of two synthesisers in "Micro Manifesto" meanwhile comes across like the stripped back productions of '80s artists like Das Ding or In Aeternam Vale.
Although this kind of production style is particularly in vogue at the moment, there's something uniquely primitive about the tracks on Actio Reactio that mark them out; rather than slavishly trying to recreate genres, it seems as if Hauff is trying to get some of the energy of her DJ sets into her productions in a more basic manner, with "Actio Reactio" itself being almost completely rhythmic. The EP's name comes from the idea in physics that ever action has an equal and opposite reaction, something that seems particularly appropriate to the idea of the DJ's role in controlling a dancefloor; in a sense, Hauff's music could only have come from being predominantly a DJ for so long, creating tracks that seem tailor made to fit in with her connection to the practice of playing records in a dark, grimy, claustrophobic space.
Despite the fact that her debut record has yet to be released, Hauff has already collaborated with other producers; whispers of a release on Wild Oats came out of a studio session she had with label boss Kyle Hall when he was in Hamburg last year, though she is keen to stress that these tracks may not see the light of day. A more concrete collaboration is a project called Black Sites, which is a partnership between herself and Hamburg producer f#x, the first fruits of which should be seeing a release on Bill Kouligas' PAN label in the near future. It takes a more considered approach then her solo productions: "He works a bit differently," Hauff explains, "watching him exploring sounds, it seems like he spends much more time on it than I do. We've still recorded lots of tracks within a short time, but also spent whole days on tracks as well. That's great, but I find when I record myself I only spend a couple of hours on a track and then I seem to know if it's worth recording, or if it's better to start from scratch. It was the same working with Kyle (Hall), after a couple of hours it felt like the track was finished. I can't say that one's better than the other, I'm just really quick person, I always want to get things done quickly and I'm a perfectionist in that sense," Hauff laughs, "but I lose my energy and I lose my perfection when I take too much time on things."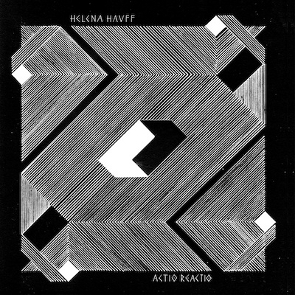 Given Hauff's forthcoming appearance on Actress' label, I ask if she feels an affinity with his style of DJing and production, which is marked out by a similarly dark, and wide-ranging approach, especially in terms of mixing tempos and styles in unexpected ways. Does she see herself as confounding expectations in a similar manner? "Well, there's always those few people who don't get it, but I don't really want to play for them. I just really like the idea of playing – just like you said – with expectations, but on the other hand I must admit that people expect me to surprise them as well. But what are the expectations in the end? I think it's the same with Actress, people kind of expect him to play with their expectations."
Perhaps the starkest example of Hauff's approach can be found on the B-side of her Obscure Object tape, an impressionistic patchwork of monolithic industrial noise, squalling feedback and disembodied voices. However, those that might see this as an accurate reflection of her personality would be much mistaken. "I can enjoy really happy music as well; I can't just DJ happy music. Maybe it's got a nice melody to it, but there's that rough heart, a nasty bass drum under it or something like that." It seems that no matter what kind of music Hauff is playing, it has to provide an extreme energetic reaction: "The most amazing compliment I ever had was when someone told me 'your DJ set was so amazing you made me stage dive," she laughs. Hauff may be the latest of an increasingly crowded generation of analogue hardware and vinyl enthusiasts, but it seems clear that the unique energy of The Golden Pudel will be flowing through her veins for the foreseeable future.
Interview by Scott Wilson
Header image by Ilaria Pace, from a photograph by Fabian Hammerl and artwork by Alex Solman
Studio photographs by Kathrine Uldbaek Nielsen
Helena Hauff is playing with Frak in London for BleeD on Saturday July 13, and will be appearing at this October's Unsound festival in Krakow.