Of Basements and Buckfast: The Dixon Avenue Basement Jams story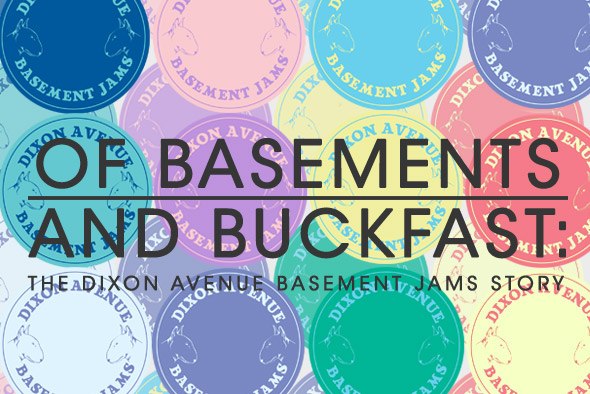 We dispatch Oli Warwick to chat to the two Glaswegians making some noise as the heads of Dixon Avenue Basement Jams – they also provide us with a 75 minute mix of all DABJ material, much of it unreleased.
Having only emerged in August last year, for a label as sprightly as Dixon Avenue Basement Jams they sure swagger with the reputation and well-oiled consistency of a seasoned stable. In truth, Dan Monox and Kenny Grieve have already put in plenty of hours in the service of techno, most notably with more than a decade's worth of parties under the Monox banner and the subsidiary MNX label, but their latest venture stands out as something new and vital, which has seen that most highly prized "buy-on-sight" accolade firmly planted on their Discogs page.
It's not hard to tell why, even just looking at the DABJ records they have put out so far. (It must be noted that in the hands of the management Dixon Avenue Basement Jams is instantly shortened verbally to "Dabj", which rolls off the tongue much easier if you say it with a Scottish accent). Across a lurid spectrum of coloured vinyl, the consistent design makes the records instantly identifiable, while the music contained within focuses on artist releases uncluttered by remixes and other such detritus.
"We wanted [DABJ] to have its own signature," Dan explains as he and Kenny kick back at Kenny's house in Glasgow. "Obviously the music on it, that's the most important thing, but we wanted it to be recognisable, we wanted it to jump out, and we wanted it to be slightly collectible as well."
"You know the labels you want to have hanging out when somebody comes into your room so your record collection looks a bit cooler?" Kenny chimes in. "We want to be one of them!"
Despite their protests that they are not cool guys, recent experiences at the Pleasure Principle weekender in Cornwall saw them receiving praise from punters purely off the back of their freshly minted DABJ t-shirts. The success of the label has certainly had an air of runaway about it, not least for a curatorial policy that favours unknown artists (bar Jared Wilson's opening gambit), and the sales and critical reception have far outshone the expectations either Kenny or Dan had in the beginning. "Even the first pressing was more than expected," says Kenny. "The plan was to do really short runs, we were even thinking about doing 300 maybe, and seeing how the label went from there."
"We were surprised at how quickly it picked up," Dan adds, "and that's what spurred us on to keep it pretty regular as well." With three releases under their belts already for this year, team DABJ are certainly not slacking in their output. "After this interview tonight we've got more tracks from [Marquis Hawkes] we're just sifting through," Dan continues, "trying to work out what we'll put out on his next release."
Marquis Hawkes has already become something of a hallmark for the label, having notched up two releases with them which also count as the unknown producer's only officially-released output to date. As it turns out, Hawkes is a long-time friend of Dan and Kenny who had been sending them tracks long before DABJ even came to fruition as an idea, until one day he passed over the tunes that would become the Cabrini Green 12". This convivial engagement with their artists whereby they're friends first and associates second is a fundamental building block of the way DABJ is run. "We felt quite strong about keeping it as a family unit," Dan explains, "so me and Kenny are best friends, and most of the guys that are on the label are all friends of ours, and have been for a long time. We wanted to keep it quite a tight little community."
"I pushed him," Kenny states of the time leading up to Hawkes delivering the right kind of tracks for DABJ. "He'd done other projects which ended differently, but there was a particular project which sounded like what we were into. I don't think it could work if we were doing it with people we don't know. I don't think people would work with us because Dan's a nice guy and I'm an asshole. I'll tell people like I don't like it, and if it was somebody we didn't know they may take offence."
Kenny and Dan must have known they were onto a winner when the right tracks came through, as Hawkes' sound seems to embody the spirit of what they want to capture with DABJ, albeit a marginally nebulous concept that could only be described as 'freaky'. It's a tag Dan is happy to embrace. "Anybody out there that knows us, we're pretty freaky individuals anyway," he admits.
"We wanted it to be recognisable, we wanted it to jump out, and we wanted it to be slightly collectible as well"
Throughout the conversation, there's an allusion to long nights stretching into long days, and the wilder end of the techno scene in Glasgow where Kenny and Dan have been doing their thing since the early days. Even Monox, which they started in 2000, was named as a technofied tribute to vintage Danish porn mag Rodox, which Dan once had a sizable collection of. Prior to the party starting, Dan had been the vinyl buyer for Glasgow's branch of HMV, ensuring there was a healthy choice of techno compared to the average high street record store. As such, his department became a meeting point for Kenny and the other characters that would go on to start a party which has since welcomed a dizzying range of DJs and live acts, including Alexander Robotnick, K Alexi Shelby, Tyree Cooper and Adam X.
It was around this time that Dan lived in the flat on Dixon Avenue that would become the namesake for their new label, as well as an essential hub for the Monox clan. "There was a bedroom in the basement," Dan explains of his former pad, "and we just turned it into a club. Tiled floor, black walls, DJ booth, lights, a strobe and a smoke machine." Kenny takes up the slack, stating "it's just one of those party flats where all sorts of crazy shit happens. When we're all drunk the stories always go back to Dixon Avenue."
As well as their private parties and after-parties, there were times that the flat became a failsafe, such as when Monox's former venue the Soundhaus lost its private members license at the eleventh hour. "I had to stand there at the venue with a bottle of Buckfast and a baseball bat directing people!" Kenny proudly states.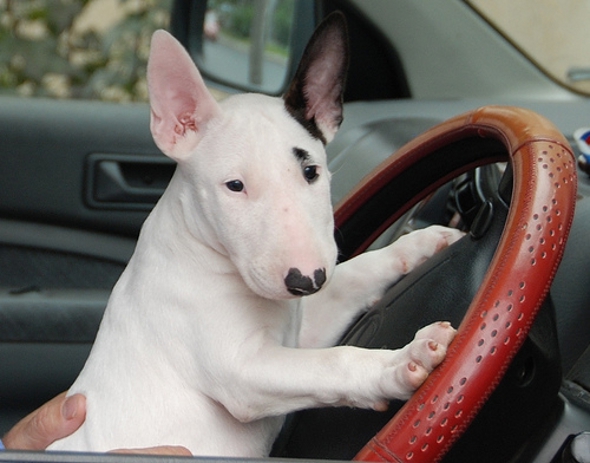 Even the logo for DABJ, a profile drawing of an English Bull terrier, comes from the fact that the owner of the flat used to breed the dogs, and one in particular, Reggie, was a regular fixture in the time they spent there. Beyond the aesthetic of the label, the community ethos that Dan and Kenny operate on goes back to the role Dixon Avenue played in bringing like-minded heads together. Bar the Soundhaus and its private license keeping the early Monox parties going until 5am, the club scene in Glasgow has always strained against the leash of 3am licensing hours, which of course gave rise to a stronger contingent of private bashes once the official venues kicked out.
"Because of the afterparty culture," Kenny explains, "we managed to make friends off the back of Monox, cause everybody comes back to the party and you get time to chat and get to know people, and it's been good for DABJ as well."
"It's been good for people to make their minds up about us a bit more!" Dan jokes. "I think in the end they did kinda like us!"
"Aye, I just plied 'em with Buckfast!" Kenny adds.
With the Monox parties slowed from their monthly outings to sporadic events, DABJ represents a new era for Kenny and Dan, where they can focus more on the creative development of their label and get busy in the studio as well. Between them the pair are working on as-yet-unannounced remixes as well as their own material, both at Dan's studio in his home outside of Glasgow and at Kenny's. Dan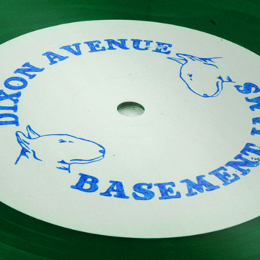 already has a handful of releases behind him under the Dan Monox and Faustian Pact names, as well as the brief The Flying Lurinskys project with Michael Forshaw. Somewhat surprisingly, he also announces that he's had another under-the-radar project on the go, operating independently of the Monox / Dixon Avenue pack.
"I've been working on another couple of secret alias things that are actually released," Dan admits. "He doesn't even know it," he continues, pointing to Kenny. "I told him when I was drunk on my stag do but I wouldn't go into any more details. I want to send a demo to DABJ and see if he signs it but never tell him it's me! I've put a couple of records out on a label that I'm doing, but I want to keep it so no-one will know it's got anything to do with us. You never know though, some of it might come out on DABJ!"
"I won't fucking sign it!" Kenny protests, although there's always the risk that he already has. With the anonymous, analogue, straight-to-tape cuts selling out in two hours, Dan is clearly onto a good thing, and the success of the venture neatly mirrors the no-nonsense appeal of DABJ as well.
Looking to the future, both Kenny and Dan seem confident in where DABJ is heading, with an increase in DJ bookings for the pair and a game plan that instantly pips the past days of running MNX. "We'd never have thought about planning this far in advance in the beginning," Kenny admits, and yet the very evening we're talking they plan to pick out the tracks for the next three releases and beyond. Thus it would seem that years spent getting freaky in a basement were actually all part of a bigger plan, even if the protagonists couldn't blink through the Buckie mist to see it at the time.
Interview by Oli Warwick