Optimo Music prime second Golden Teacher release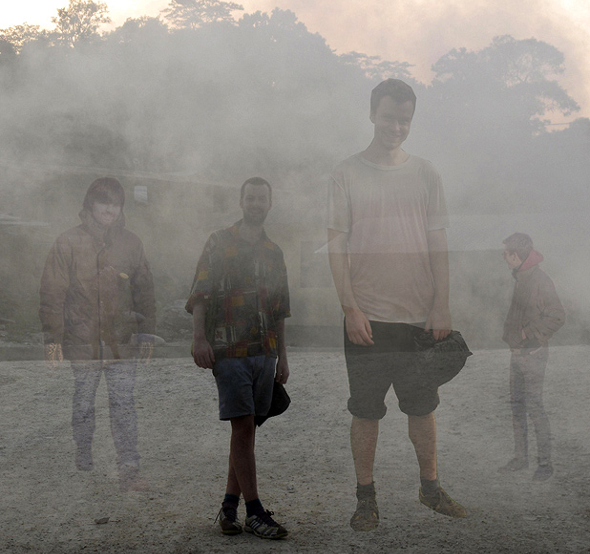 The 'fourth world freakouts' of Do Not Go Gentle Into That Good Night are due in mid July.
The Golden Teacher collective's dedication to analogue authenticity and self styled "hypno-psych voodoo groove" manifested itself in Bells From The Deep End, a sublime sounding (and looking) debut release on Keith McIvor's Optimo Music earlier this year. Signed to the label off the back of one listen, Golden Teacher's unhinged, irreverent stomp through analogue dance music still stood out at a time when everyone is downing laptops and scouring eBay for vintage synths and Roland drum machines in a quest for authenticity.
This looks set to continue with the release of the Dylan Thomas-referencing Do Not Go Gentle Into That Good Night 12″ next month, with the four tracks originating from a recording session at Glasgow's Green Door Studios only a few weeks after they laid down the material for their debut release. The respective influences of Golden Teacher's band members (the experimental trio Ultimate Thrush and house duo Silk Cut) are on display once again, though at times there's a notable nod to African rhythms which justifies the label's description of "Arthur Russell's Dinosaur L and Liaisions Dangereuses, mixed with a Shackleton edit of West African drumming".
The four cuts are being dubbed as 'fourth world freakouts,' which is a pretty apt description on the basis of lead track "Like A Hawk", which is available to stream below.
Optimo Music will release the Do Not Go Gentle Into That Good Night 12″ on July 15.
Tracklisting:
1. Like A Hawk
2. Dringhouses
3. Sweat Bath With Saturn
4. In Stoney Sleep