Separate Mind: Going Your Own Way
Richard Brophy covers recent and forthcoming releases from LIES, R Zone, Terrence Dixon, Rodhad and more in his latest Separate Mind primer.
Go your own way. It seems like obvious advice, but few electronic music labels, producers or labels follow it. Even for those who do their own thing, it can mean many lean years in the wilderness, exiled by their refusal to play or engage with the game. TLR knows all about this, having founded Crème Organization when Chicago house and acid trax influences didn't enjoy the same cachet as they do now. Now his understated empire-building continues with the second R-Zone release. With no information about the artist involved – the release is simply called R-Zone 02 – the Dutch DJ's unpredictable A&Ring focuses on tracks inspired by the sound and aesthetic of early 90s rave and techno. The series is cloaked in anonymity; it's name is similar to Derrick May and Darryl Wynn's R-Tyme project and shares the tendency during the rave period towards hyphenation – remember K-Klass, N-Joi?
What about the music itself? This second installment is like a composite of nuances from that period.
On "Hair Down", the process of re-imagining the past is facilitated by its bleepy tones, which recall the ponderous atmosphere of Warp acts like Nightmares on Wax and LFO. There are flashes of rave euphoria as the track progresses to reveal a spacey synth line that could have been borrowed from a hardcore record which now sits over a mid-tempo groove. On "Rosa Luxemburg", chiming chords lead into a spacey coda which heralds the introduction of lazy break beats and shimmering Detroit synths. The high point however is the seductive diva vocal which flits all too briefly past; it's impossible to figure what record or source material the pre-orgasmic moan was lifted from. In any event, it proves more rewarding to marvel at the skill with which the unnamed producer pieced together these disparate sources into this compelling new patchwork.
There's a similar approach at play on DJ Overdose's The Future of the Planet EP for Lunar Disko. While he doesn't mine the same path as R-Zone 02, it's clear that the Dutch DJ has brought his considerable knowledge of electronic music to bear on the record. Overdose's recent album, Bizarro World, was more cohesive than this release – and in this writer's estimation it's one of 2013's finest long players – but that shouldn't detract from the diversity that Planet offers. It begins with "Housing the House", and finds Overdose in uncharacteristically mellow form, with a plunging, resonating bassline providing the basis for a tapestry of warbling melodies, like UR at their most atmospheric and ethereal – "Journey of the Dragons" springs to mind.
The spirit of Bizarro World also appears fleetingly, as "Sandokan" arrives to a flurry of horror soundtrack synths. It conjures up the sense of urban decay and society's step into the unknown that the album embodies, but it's a brief distraction, as Overdose's focus is elsewhere. On "141 Gates" and "Nibiru", he takes influence from Detroit electro. In essence, on the former, Overdose has created his own vision of Drexciyan electro funk, replete with disorienting rhythms, 808 drums that flail and double up on each other, a flaccid, flabby bass and by way of counterbalance, mysterious textures. By contrast, "Nibiru" is deeper and more esoteric, its teased out groove coming across like a reflective Model 500 – a universe away from the mean streets of Bizarro World.
Since their appearance a few years ago, Skudge have inhabited their own space. Like a refined, sophisticated take on late 90s loop techno, their releases realised much of the potential that this earlier form hinted at, but never delivered. This was partly because Skudge's production is crisper and more defined, but it also has a lot to do with them operating at a slower tempo, which allows the vocal snippets, samples and drops the space to breathe and shine. Fishermen, who previously released on Skudge's White series, appear to be following a similar trajectory, albeit with their own take on heads down, loopy techno. For their latest release, Delerium Tremens on Kontra Musik, they prove themselves to be stiff competition for Skudge. "Palmistry" is a formidable arrangement; though it is realised without recourse to a kick, its chiming bells and percussion are cacophonous, gradually encroaching on the listener and taking over the entire audio spectrum, while "Port Strays" achieves the same effect by its rumbling bassline and chiming bells. But both tracks are merely a hint of what is to come. The aptly named "Six Pounders" does what its name suggests and follows with blustering drones and malignant acid lines, leading up to a dramatic finale. The release also shows that Fishermen are capable of subtlety and "Black Haze" starts off with fragile synths and gentle back beats. It's only a temporary arrangement however, and all to soon ominous rivers of bass wash in to engulf the arrangement.
Like Fishermen, Rodhad is gaining currency in techno circles, thanks to his stints at Berghain and releases on his Dystopian label. Spomeniks EP is his first venture outside of that community and into another tightly knit collective, Kr!z's Token imprint. It's not hard to understand how the Berlin DJ has made this connection and this three-tracker shows that in common with Token, he also likes to fuse dense, wayward rhythms and eerie melodies with references to classic techno influences. This vision is audible on the title track, where a linear rhythm reveals pitch-bent percussion, layered tones that sound like they are folding in on themselves and an unexpected progression midway through as these elements give way to allow cold bleeps to dominate the track. "Spomeniks" is pure DJ-inspired music, inspired by performances that peak, ebb and flow, sometimes cut to new, unexpected narratives.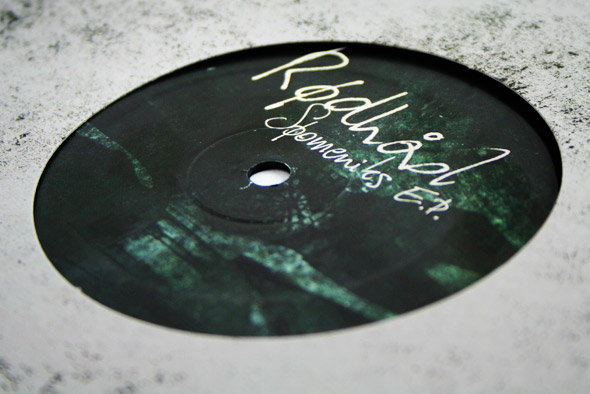 The same can be said about "Energomash"; tougher and more full-on than "Spomeniks", it combines contemporary lead-weight percussion with the visceral howl of Hood-style minimalism, as jarring analogue riffs screech over the backing track. One again however, Rodhad supplies a surprise and he eases the intensity with a solemn synth riff that marks out a mellow end. It's on "Buzludzha" that he provides the most compelling display of his production skills; a dense rhythmic framework provides the backdrop for Rodhad to deliver malfunctioning tones that knock about the arrangement before he introduces a wave of freakish synths that sound like someone has unlocked the door to a million troubled souls. It may sound disturbed, but if this is a taste of things, then great things await Rodhad.
A cynic could easily say that electro has a great future behind it, but as the recent Bass Invaders article on Juno Plus showed, there is no shortage of talented producers joining the ranks of established artists. On the upcoming third volume of World Electronix on Cultivated Electronics, the new school hooks up with a veteran, while an established producer also gives his take on electro. Tadd Mullinix's James T Cotton/JTC project is best known for a searing and belligerent take on Chicago house, but he
veers off on an alternate route with "In Transit". Tough 808s roll in like thunder and waves of mystical synths well up through the arrangement. Like his house productions, "Transit" stands out because Mullinix focuses on the primal – in this instance it's the simplistic, speak and spell electronic riff that he weaves through the arrangement. Label boss Sync 24 and DeFeKT team up for "Pulse Effect"; there, a surging, grainy bass provides the backdrop for menacing acid licks. It's not as clubby as DeFeKT's recent release for Signal Code and is more informed by classic Detroit electro, but the eerie riffs that hang like a shroud over the track will ensure it gets noticed. On "Ionization", Boris Bunnik has returned to the more emotive sounds that his Nighttime Activities series showcased, as dreamy pads are merged with mellow acid warbles. However, he has not disregarded the direction of the Vantage Points album and his drums have the same concrete-hard quality, shot through with an accompanying bassy bleakness.
The release highlight however comes from Gosub. Shad T Scott is one of the most inventive electro producers and anything from his back catalogue as Gosub is essential – Watchers from the Black Universe being this writer's favourite. The mood on "The Blue in Blackness" can only be described as menacing; Scott has stripped away any hint of melody and instead has focused on a gloomy sub-bass that runs in parallel to tight 808s, otherworldly voices and a synth that shifts up and down scales. There's not much else to "Blackness", but it proves conclusively that just a few elements coupled with an attention to production techniques trumps any other concoction.
In the case of Blacknecks01 by Blacknecks, simplicity is also the key. Apparently the work of a former UK garage production duo who briefly tasted chart success back in the early 00s, this back-story is only convincing if said act spent the intervening decade binging on crystal meth and spending all their free time attending gnarly free techno parties. The only link to their past is the mangled vocal sample on the untitled "B1" track, which is framed against a more stepping rhythm than the other contributions – but it's a tenuous connection.
If anything, this release is divorced from any narrative, unless it is possible to identify with bursts of scorched earth feedback and white noise, distorted beats and screeching, tortured riffs. The only contemporary reference point is Truss' now defunct MPIA3 project, but even it sounds restrained compared to the mangled beats and discordant riffs of "B2" and "A2", where a distorted rhythm track houses demented bells and rickety metallic percussion. Blacknecks deliver the sucker punch on "A1" where beats are slamming and edge into gabba territory, the deranged steel foundry works riffs clank away and midway through it feels like the whole thing is about to fall apart. On the evidence of this release, Blacknecks can claim a closer relationship to industrial noiseniks like Ministry rather than a Ministry of Sound UK garage compilation.
On a radically different tact is Keith Worthy's latest release on his Aesthetic Audio label. Released under the Lamar guise, Guilty Pleasures is low on surprises but high on quality. The title track does what Worthy has become known for, namely creating deep, atmospheric house music.
He achieves this on the title track through the interplay between ethereal pads and atmospheric whooshes, making it sound like "Guilty Pleasures" is constantly in motion; the musical elements cascading as opposed to unfolding over understated beats and a plucked bass that sounds like it's borrowed from an obscure electro funk track. Maybe these elements explain why he is working under the 80s funk-sounding name, but later on the rhythm gives way to the kind of ominous rumble that made his "Rockit Science" track so compelling. As "Guilty Pleasures" reaches its denouement, Worthy throws a curve ball in the form of some jazzy keys, but it's a short distraction from his spacey journey. On "Karma", he appears to mine a more conventional US house sound; the beats are fuller and the chords ponderous, but Worthy stamps his identity on the track through the use of loose percussive parts and fragmented, spacey melody lines. It's like he's hitched a ride to a different galaxy and all that's left in his wake is a scattering of space dust – not even the mournful "Forever Monna" style hook he throws in at the end can bring him back down to earth.
Another Detroit producer who inhabits his own plane is Terrence Dixon. Last year's From The Far Future Part 2 was a worthy successor to the first instalment and consolidated his reputation as the prime purveyor of space techno. Lost at Sea, his new release on Nick Dunton's Surface label, favours a different approach. Tougher and more dance-floor focused throughout, the first untitled cut dispenses with Dixon's trademark micro beats and pointillist-riffs in favour of maximal tribal beats and rasping percussive licks. "Untitled 3" also follows this hard-edged approach, with heavily filtered drums and discordant stabs set against insistent Morse code blips. But clearly old habits die hard; there are traces of his signature sound on the range of outer space sounds that inhabit "Untitled 1", the subtle tinkling drums on "Untitled 2" and the spacey, acid-tinged "Untitled 4", where sirens accompany a typically introspective arrangement. The key difference on both on "Untitled 2" and "Untitled 4" is that the Detroit producer has embellished the tracks with booming basslines that have more in common with vintage Reese than his normal, ultra-reduced approach. As its title implies, Lost at Sea finds Dixon still in his own world, but one that is more grounded in the realities of dance floor techno than before.
One of the reasons why L.I.E.S. has received such recognition is partly down to Ron Morelli's determination not to define the label. Sure, some of it has a lo-fi sensibility, but countering this is the sublime, melodic "Pacific House". The other endearing factor about L.I.E.S. is its willingness to release music by unknowns. Florian Kupfer is a new name for this writer, but his Lifetrax release on the label is one of the best testimonies to Morelli's A&Ring yet. In the broadest terms, it shows two sides to the producer's sound; "Lifetrax" and "Lifetrax (Version 2)" unfold over steely, skittish 808s and a warm electro-bass. Instead of sounding like generic revivalist tracks, Kupfer breathes new life into the form with off the wall jazzy tinkling on the former and epic synth builds on the latter. The fact that both tracks are delivered in a coat of lo-fi tape hiss is the only connection to some of the L.I.E.S back catalogue. Meanwhile, "Feelin" returns to familiar house territory, but with a twist. In its original format, the track boasts pounding bass drums, mellow Rhodes keys and the killer element, a Minnie Mouse on helium vocal that keeps on stating, 'I can't stop this feeling'. Could it be that L.I.E.S, which has gone its own way for so long, has finally delivered a house anthem?
Richard Brophy