Giegling: Rustic Tales from Weimar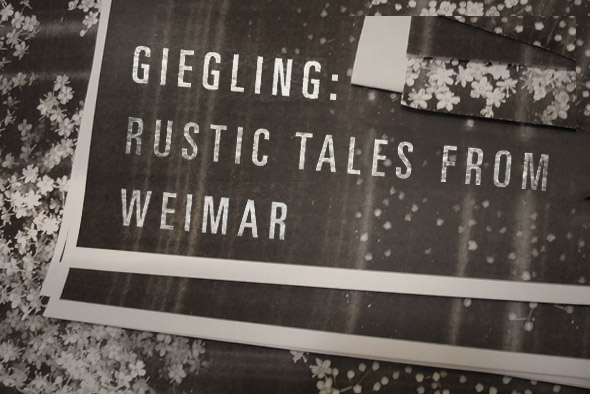 Since 2009 Weimar-based label Giegling has constructed a micro-assembly of orchestral kinetics and thunderhead techno that's forging new pathways through a forgotten wasteland of minimal decay and lost dub. James Manning tracked down label co-founder Konstantin to discuss Giegling's distinctly rustic charms – we also procured a mix from Konstantin that adds some flavour to what the label are doing. 
When Levon Vincent was asked to explain why Giegling was one of his favourite labels of 2012, he was hard pressed picking a favourite. "There wasn't any one release that stood out," he said in reference to the German label's Staub series. "Their entire approach is nice." This comment neatly encapsulates the allure of Konstantin and Dj Dustin's label – the sum is consistently greater than its parts. The Giegling sound is a deeply alluring blend of micro house, dub techno and leftfield electronics, with artists like Dwig, Ateq and Kettenkarussell using minimal elements to create something grand.
After four years Giegling is now up to its 13th release. Konstantin and production partner Rafael make up Kettenkarussell and their emotionally charged thicket of adventurous minimalism that was the label's first EP – I Believe You & Me Make Love Forever – set the tone for Giegling.  "The first releases are really related to the spirit of this small town," Konstantin says of Weimar, birthplace of the Bauhaus movement. "We have architects, visual communication, music and media studies, so it's full of creative people from all over Germany who don't want to go to Berlin, it's a special kind of people and vibe". The track "You N Me" from that debut was a production that had Konstantin feeling "this is forever, this is a track that will hold its value even if music changes…it has a nice resonance to how we live here, because it's quiet and sensible, but…fucked up."
Konstantin is now home in Weimar, after spending six months in New York. Over Skype he is quick to introduce himself via video-link with a friendly wave – he's a friendly guy. In the background stands a familiar white Expedit unit storing upstanding and left-leaning records, with some indoor plants resting on top. "It was funny that people knew Giegling (in New York)," Konstantin says with a transatlantic surprise. By way of promotion "we don't use the internet," he adds. Giegling has only just created an internet presence, and it's a basic one; a website simply made for gig listings and a place to host its podcast series – now two mixes deep courtesy of Dj Dustin and Prince Of Denmark with his live set.
Without the internet, the Giegling label and sound has traversed the world. So how did the Giegling story begin? "In a small town which is far away from the techno scene," answers Konstantin. "We really had a reason to create something, because where we are from, there was nothing – except for what we did," he says, adding "we really had our own universe". Before the label, Giegling was a sticks and stones throwdown in a post-GDR abandonment rented to them by a former Weimar rocker, lending the young collective use of his high-end sound system for an otherwise low budget set up.
It was a place and time that brought the Giegling family together, Konstantin remembers. "There was a techno room and house room, and a room for experimental, electronica and more dubstep," he explains. Martin Hirsch aka Deer hosted the experimental room, and his 2010 Projectionist's Nightmare EP was the label's fifth release. It's a sound example of Giegling's abstraction toward the EP format; one track for the club context, while the others "should show what the artists can do for themselves," Konstantin explains. "One song could be really dysfunctional and playful so it (the music) earns a certain spirit," he says.
"Nightmare Tool" from the EP encapsulates this spirit Konstantin is talking about. It sounds like a ticking grandfather clock from a black and white Hitchcock film, with Deer adding horrific flashes of blurred double bass and contorted strings. It acts as a reprise to the EP's title track, which provides the same unsettling sounds, only loosely structured within a varied arrangement of swung clicks and drummed pops. Although still distanced from the dancefloor, "Shortlisted Orchid" shares a dubby and instrumental cadence to Rhythm & Sound's "We Been Troddin", ultimately setting up Benjamin Brunn to supply the EPs 'dancefloor' track with his remix.
This isn't to say however that Giegling rely on remixers to invent some kind of danceable juncture for the label – far from it. Giegling's eighth release Res by Ateq is a case in point. Admittedly it's still a downtempo release, but the saturnine hum of "6.9", syncopated wood block percussion of "7.0" and the minimalist rhythmics of "Lil" make for a very danceable EP, only steered toward the earliest and latest hours of the day or night. "Levitas" suggests the EP's "certain spirit", which contrary to the dour composition of the other tracks, has Ateq manipulate glittery and love-drunk arpeggios that burst with a happy and playful warmth.
If there are two brands of electronic music to receive most criticism, it's micro house and dub techno. But Giegling has succeeded in simultaneously lifting both genres to new heights of appreciation. One of the bigger proponents of micro house is Perlon, and for Konstantin, "they really hit the point in the way they present themselves, the way they don't promo and their music stands for itself," he says. Giegling shares many parallels with Perlon, be it sonics, a provincialism from Berlin and a tight-knit family, but they have steered their brand of minimalism left in the fork in the road, where Perlon have gone right.
 "We have architects, visual communication, music and media studies, so it's full of creative people from all over Germany who don't want to go to Berlin, it's a special kind of people and vibe"
The first artists outside of the Giegling family to release on the label found a home on Futur II, a celebratory album spread across three 12"s to commemorate the label's tenth record. It featured tracks from all of Giegling's artists, but also handed label debuts to familiar names such as Ferdinand, Monkey Maffia, Sebastian Peter and Jaq whilst introducing new artists such as Leafar Legov and Stroboyouth. "When I meet people that like the music, I find that I really like them on a personal level," says Konstantin, explaining it takes more than an impressive demo to become a part of the family. "We would like to get to know the artists…we want to know who we are doing this with and who supports our passion and time."
Futur II was the second long player from the label following Doppelgänger from Session Victim's Matthias Reiling, yet it has so far been the most expressive and momentous release from Giegling, representing both their past and future. This tenth release represents as much a milestone as it does a turning of a corner, with Giegling deciding to scale down the operation behind creating its homespun record sleeves, each of which pass through the hands of Konstantin and Dj Dustin. "We wanted to invest more work into it (Futur II) than we've ever done before, we wanted to make something we wouldn't want to do again because it would be too much work," Konstantin says.
As much as it's a labour of love, Giegling's individual sleeve designs have proved an arduous task, and on occasions impinged on the label's seasonally-inclined release schedule. "Sometimes we had in mind to release a record in the winter time, because it would be nice to listen to when it is cold, but then it would come out in the spring and it's not the same". To get an idea of Weimar's winter and autumn months, Konstantin sends through pictures of the city's leafy and tungsten coloured streets.

It's visual imagery like this that bleaches the music with some aesthetic sense, like Edward's A Piece Of Us EP, released in October, or Dwig's Feige Dattel EP, released in March. It also characterises Giegling's rustic charm, which ties the label to dub techno's fascination with nature, or in Giegling's case; twiggy forests, burnt inner-city florescence and nostalgic paint chipped homes in need of repair.
Inside Futur II is a sleeve note; a photocopied cut out of a makeshift musical instrument built especially for the album with the help of Giegling's architectural and design friends. Its inspiration comes from a children's book called Seraphin and his Miracle Machine written by French cartoonist Philippe Fix, explains Konstantin. "We always involve a lot of people in the building process because it's nice to have people that aren't making music – a part of the music," Konstantin says. "We wanted to build this instrument to signify our collective memory," he continues, "We thought 'what is it that holds us together?'" The cover art is also representative of this. "We decided we would print all the things you need when you put together an installation, so that's the motif; nails and screws and things that stick together."
The label is no stranger to assembly, building stages and installations at the Fusion and Ø festivals in Germany, as well as others in Amsterdam and at home in Weimar. Earlier this year, Giegling's intertwining relationship with (de)constructive design and music surfaced in Paris, holding their biggest label showcase since those undocumented Weimar parties. Kettenkarussell, Dj Dustin, Vril, Prince Of Denmark (aka Traumprinz) and Ateq were all present. No longer in a German dereliction, their stage was the glass-walled La Villette Enchanté, a former abattoir located in the 19th arrondissement. The cast-iron building sits in one of Paris' largest parks – Le Parc de la Villette – which underwent an urban redevelopment in 1987, allowing Swiss born, French architect Bernard Tschumi to give it a Deconstructivist overhaul – a post-modern style of architecture influenced by "non-rectilinear" shapes.
Nearing midnight, and with Kettenkarussell's dub-tinged and off-kilter micro-instrumentals in full swing, La Villette Enchanté filled with the vogue trimmings and dirty-chic dress of a Parisian crowd, with comically hallucinogenic visuals and videos of Andy Warhol eating a cheeseburger projected behind them. After an energetic Dj Dustin set, Giegling's marquee act Prince Of Denmark unveiled his live show. Prince Of Denmark is the techno alias of Traumprinz – and vice-versa; he surfaced in 2010 with the highly sought Soulfood 12", released on Giegling's techno offshoot Staub, and has subsequently intrigued with five further twelve inch releases under both aliases. "He is one of the most interesting artists I know," Konstantin says of Prince Of Denmark. With just two releases to the POD name, his music is met with a hushed fervour – same goes for Traumprinz. His first EP as Traumprinz, Freedom, hints at a POD alias through the crown and sceptre adoring artwork and all three tracks push jacking, deep and dubby house sounds – sampling Linda Clifford and Roland Clark along the way. "He has a lot of fun when he produces music and I think when you use vocals of other tracks, there's a kind of freedom…I think when he makes music he has a lot of fun and I think you can feel that," Konstantin says.
Only one Traumprinz track has so far been released on the Giegling label with "Shall I Say It Again" on Futur II – a scrambled bustle of electronica-tipped house music. Traumprinz's material didn't quite fit in with the Giegling context explains Konstantin at first: "he did an edit of a track by D.A.F called "Traumprinz Close To Heaven edit" – it's a track we still want to release – but it has very sexual vocals and at that time if we had put it out (on Giegling), it would have been so strange," Konstantin says. So, the Traumprinz sub label was born. "He has his own dream about American house music, about how things were when he wasn't around, so I think that's where he gets his inspiration," Konstantin adds.
Another artist to play the Paris showcase was Vril. Originally a hip hop producer from Hannover, Vril's introduction to Giegling came from "a trippy night's recording" in 2003. It reached the hands of Konstantin and resulted in Staub's debut missive 1-4, an EP of funky, boomed-out dub techno that wasn't released for another seven years. Vril makes up the backbone of Giegling's Staub label – opening the imprint, providing the middle release, and subsequently closing the series. The hip hop head turned dub techno anchorman's three EPs centred in and around four other 12"s from Christopher Rau, Prince of Denmark and the mysterious Zum Goldenen Schwarm.
Vril's Staub story is one of bravado and sooty sound design explains Konstantin – but also one of perpetual motion. The stamp on Vril's 5-7 EP is a blueprint design of a perpetuum mobile, an apparatus which once physically motioned, will forever power itself because of physics. Musically a
perpetuum mobile is pieces of music – or parts of pieces – characterised by a continuous steady stream of notes, usually at a rapid tempo. Sound familiar? "Techno loops are really reduced with little elements, and you just have to position this correctly and they get this energy," Konstantin points out.
"The whole draw to dub techno is about infinity and about limits of science and the melancholic aspects of joyfulness – and it's all in this series," Konstantin says. "We wanted to keep Staub a little mysterious – we wanted to create an old book or archive that's like something you'd find in dust, something you have no idea where it's comes from," Konstantin says, explaining "but after you hear all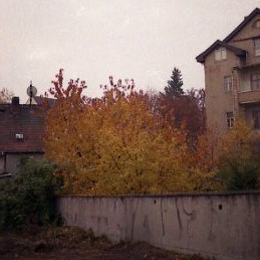 of the records it makes sense." Which they do. "At the beginning (Vril's music) starts very heroic, but in the end it's just noise – just dust," Konstantin says. Perhaps the most heroic of sessions is Vril's "V3" from Staub's opening EP, a surging cut of dub infused rave; while "V5" and "V7" from the following 5-7 release are less scathing, they're equally charged with overcast chords rolling like waves through blustery atmospheres of dust and wintry landscapes. Placed either side of Vril's first two EPs were Christopher Rau's evaporative The Blessing and the hazy Die Wolke by the mysterious Zum Goldenen Schwarm. Vril's 8-10 EP provides the end for the Staub series, with its crowning track "V10" slowly veering into port like a sunken and battle scarred dredge.
Now the Staub circle is complete, Giegling will commence a new techno and electronica focused imprint called FORUM, which this time will allow for melodies, unlike Staub. "Ateq, Prince Of Denmark and Vril have music that is techno-y but it wouldn't fit the Staub context, so we are creating a new label that can feature other techno from our artists, as well a platform to feature other artists we like," Konstantin says. "Giegling is kind of a family thing and Staub was narrowed down to just a few artists, so on the new techno imprint we are going to release music from people we like and respect," he says, adding: "I hope the product we put out is more than just music and has a certain kind of value – I mean it's still in a capitalistic system that we sell this product, but there is a certain kind of value that multiplies through that. Maybe it's dysfunctional – but hopefully it has more heart and less business."
Interview by James Manning
[nggallery id=24]