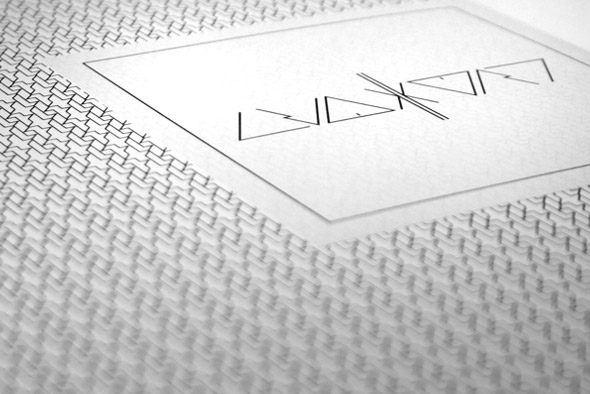 As the Houndstooth label starts to positively hit its stride after the sterling debut from Call Super, it's interesting to try and ascertain the curatorial slant Rob Booth (of Electronic Explorations fame) is aiming for with the label. There's a definite sense as this EP from Akkord unfurls that the quest is for the new and unconsidered in electronic music, which is not the easiest of remits to meet in these cross-pollinated over-saturated times.
The collective that make up Akkord come out of Manchester in a mist of self-released gems and little-to-no background information, with this four-tracker providing the most tangible handle on their sound thus far. It certainly follows a logical stylistic path from the previous Houndstooth releases, steeped in a murky tension and positively digging into the legacy of UK rave culture without hesitation. However the standout feature, which it seems will characterise the label and most likely Akkord themselves, is the intense level of sound design which goes into the productions. At a time when lo-fi methods are in abundance, the visceral resolution of Akkord's vision is terrifying in its precision.
In taking the dread of original dubstep and the evocation afforded by more experimental strains of electronica, truly immersive soundworlds are created through every chilling section of swelling reverb, pad, drone and rhythm. On EP opener "Navigate", the drums sit positively front centre, twitching in a slow, fidgeting rhythm neither stepped nor four to the floor. It sports a whisper of electro somewhere in its elemental structure, but each hit flutters with complexity that renders it difficult to pinpoint by conventional means. Meanwhile, behind these dizzying layers of percussion, the spacious drops of metallic hum come drifting in and out of your near-field senses, perhaps giving the largest indication of the depth to which the production reaches.
If there is one track that truly shows off what Akkord can do with studio trickery, it must be "Destruction". From the first proper drop of rumbling drums (if they can accurately be called that), it's clear that this goes a step further than a pack of 808 samples with some extra layering. Between stereo placement, depth in the mix and sheer unconventional sounds, the beat is a magnificent beast to be hold, punchy and immediate just as it is slippery and indecipherable. With just a relentless sub tone and the decay of reverb to fill the mix, it's the perfect example of when music doesn't necessarily need to be musical.
While the first three tracks may all exist in a wonderfully bleak, merciless headspace devoid of warmth in favour of sonic prowess, last track "Title Sequence" is on hand to show the more sensitive skills of these dark side Mancunians. Coming correct with a dub techno study with the techno removed, it's yet another chance for the team to demonstrate their fearsome grasp of production values, while in the process laying down a sumptuous bed of mournful organ chords filtered into the distance with an easy stepping riddim.
It might be easy from this review to get an impression that Akkord's first major release is more about the method than the end result, but it really isn't. That the quality of craftsmanship shines through so clearly is simply the effect of such starkly impacting music; the kind that on a big system will suck the air from your lungs and claim your mind for the track duration without having to resort to any of those tried, tested and worn-out tricks of the trade. As such, there is much promise lying in the Houndstooth quest for top end production and forward thinking ideas, especially if this is the kind of start the label is making.
Oli Warwick
Tracklist:
A1. Navigate
A2. Compound
B1. Destruction
B2. Title Sequence