Neville Watson – Songs To Elevate Pure Hearts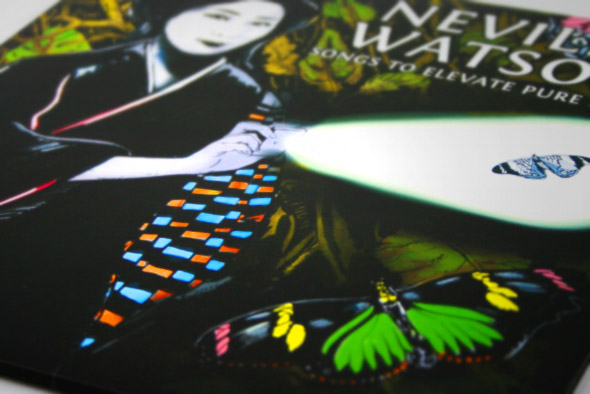 Neville Watson seems to be a man with a keen grasp of dance music history. While it would perhaps be a little churlish to call him a veteran, he was making deep house under the Protein Boy alias as far back as 1996. Even then, he'd been around the block a few times as a DJ, and had experienced at first hand the vivid explosion in house and techno throughout the late '80s and early '90s.
The depth of his knowledge has been demonstrated across solo releases on Dissident, Clone Jack for Daze and, of course, World Unknown (the sublime "One Four Green", recently reissued by Teng) and the raft of productions and remixes done over a prolific four year stretch with sometime studio pal KiNK. Within these recordings, he routinely displayed a penchant for touching on club music from simpler times, from the sharp analogue jack of early Chicago house releases, to the deep bass and alien melodies of Yorkshire bleep, via the synth futurism of Detroit. While the releases themselves sounded fresh – despite their classic influences – it did feel like Watson had been beamed down from another time.
Whether or not he uses vintage drum machines and synthesizers – and by the sounds of it, he does – Watson has revealed an ability to join the dots between the early days of house and techno and today's analogue fetishism, all the while retaining a grasp of melody and atmosphere so often lacking from many contemporary attempts at hardware revivalism. His drums may be raw and powerful, but there's a warmth and colour to his productions that lifts them above the soulless jack-by-numbers currently clogging up record store shelves.
Given these qualities, it's perhaps a little surprising that Watson is only now releasing a debut album in the shape of Songs To Elevate Pure Hearts for Crème Organization – a label whose dedication to vintage synthesizers, crackly electronics and battered drum machines is legendary. Whilst not exactly revolutionary, sticking closely to the 4/4 pulse of classic drum machine house, Songs To Elevate Pure Hearts is nonetheless as entertaining, enjoyable and well produced as any electronic music album you're likely to hear this year. Furthermore, its' 50-minute duration and the swathe of sub-five minute tracks suggests a desire on Watson's part to make a proper album, rather than a simple collection of extended club tracks.
It undoubtedly works, because the eleven tracks are paced just right, boasting both raw, balls-out jackers such as the track title of the year/decade/century "Everything I Know About House (I Learned on Facebook)" and sublime moments of becalmed deepness like the hypnotic, subterranean "Against The Tide" and the yearning "A Better Life". In between, there are inspired forays into atmospheric, synth-laden early IDM; the spaciousness of "The Only Path" evokes similar feelings to Selected Ambient Works Vol 1-era Aphex Twin, whilst "Rough Side" unfurls at a brilliantly slow pace.
Then there are occasional scene stealers that elevate Watson's album towards greatness, such as "Axiomatic", a thrillingly wide-eyed concoction that builds superbly, with waves of melancholic synths, woozy pads, bongo-boasting rhythms and delay-laden, Chi-town snares sparring with out-there African vocal samples. Like the rest of the album, it doesn't outstay its welcome, but it feels like it would keep building, morphing into something else, for eternity given a chance. Even more thrilling is "Son of House", a distant memory of early '90s British deep house with knowing winks to early ambient house (the tipsy, delay-laden spoken word vocals and rising and falling melodies recall the Orb's finest early moments) and, of course, the best of Larry Heard. It's almost breathtaking in its beauty.
Like any keen student of classic albums, Watson leaves the best until last. Sitting somewhere between mutant acid and hard-edged Italo, "Never Alone" is a triumphant conclusion. Its synths are relentless, while the bubbling electronic melodies that drop after a minute or so are almost rush inducing. Crisp and raw, yet deep and involving, it delivers a brilliant climax to an already impressive set.
Listened to from start to finish, in sequence – the way all great albums should be enjoyed – Songs To Elevate Pure Hearts is thoroughly impressive. It actually feels like a long-long classic, perhaps recorded in 1991 on dodgy equipment after too many legendary nights out, and there's a frisson of excitement throughout that's thoroughly engaging. It may not have been recorded 20 years ago, but it recaptures the essence of what was so exciting about great albums of that period. Those albums sounded like the future. Despite its classic inspirations, Songs To Elevate Pure Hearts does, too. As debut albums go, it's pretty darn good.
Matt Anniss
Tracklisting:
A1. Dark Star
A2. Songs To Elevate Pure Hearts
A3. Stronger Than Before
B1. Against The Tide
B2. Rough Side
C1. Everything I Know About House
C2. Axiomatic
C3. Son Of House
D1. The Only One
D2. A Better Life
D3. Never Alone