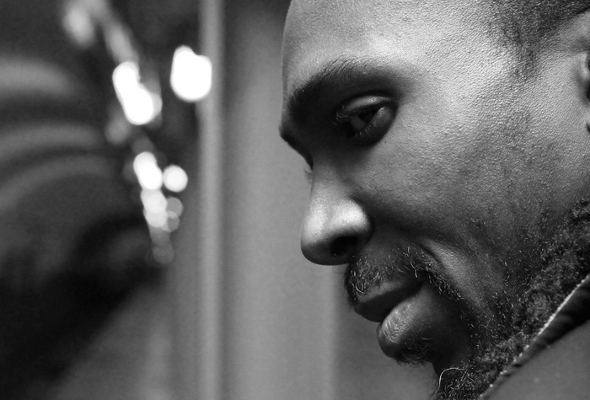 In a recent interview with FACT, RP Boo – otherwise known as Kavain Space – explained how the purchase of a Roland R-70 drum machine provided the pivotal moment in his production career. A model used by many of the Dance Mania artists, Space's particular unit was the store's one remaining display model, and as such came with a unique set of sounds programmed into it over the factory default settings through years of showroom demonstrations.
Space's choice of drum machine seems particularly important when listening to Legacy. Although Legacy represents the producer's debut album, Space has been producing footwork since the tail end of Dance Mania's heyday, and it shows; from the opening strains of "Steamidity" – whose snares and rimshots seem clouded in the same dust as a warehouse haul of lost Dance Mania 12″s – its clear that Space eschews any kind of high resolution, overly thought out attempt at constructing a "sound" over simply making the best of the tools he has at his disposal. The connection is only subtly audible, but the construction of Space's productions certainly seems to have something of the same rickety charm of classic ghetto house – even if the style is completely different.
However, to say that Legacy is simply a raw collection of tracks for the floor would be to do Space a disservice; even within the context of footwork – which as a genre is about as far out as it gets – this album is a pretty alien collection of tracks. The frantic trumpet loop and truck reverse alarm combination present in "Red Hot" make for a surreal combination, as do the chipmunked vocals of "There U Go Boi" and Tarzan sample in "Battle In The Jungle". Put amongst the recognisable pop samples – Aaliyah's "Try Again", Justin Timberlake's "Cry Me A River" and Queen's "Flash", the album as a whole has the disorienting effect of channel surfing through the past fifty years of popular culture and half-forgotten melodies. It should be an unlistenable mess, but in Space's hands, it's never anything other than completely thrilling.
However, what really makes Legacy such a unique listen in a footwork context is Space's use of his own vocals. Something nestled in amongst the samples, Space engages in dialogue with himself and a number of imaginary characters; on "Invisibu Boogie!" the lyric "you used to know how to/burn up the floor" is comprised of Space's interplay with a disembodied female vocal, turning the line into something between a taunt and a command. On "Havoc Devastation", a sample of "minister for death/ praying for war" is paired with Space's own reply: "It's havoc on the floor/devastating"; together they give Space's dancefloor imperatives a sombre, political dimension that most footwork's sample use rarely engages with. But it's the sheer power of Space's voice that overwhelms; on "Sounds (Speakers R-4)", it may be the R70 creating the thunderous drum hits, but it's Space's laid back calls of "BANG/BANG/BANG/BANG" that really seem to command the sounds into existence.
Even putting Space's vocals aside, it's unlikely that any collection of footwork tracks has ever sounded so alive as those on Legacy; the genre's irregular rhythms are its most notable trait, but Space's beats positively writhe themselves around stuttering half-melodies, drifting around each other in subtly concentric loops that play havoc with your internal metronome, be it in the drunken toms of "No Return" or the punched in snares of "Robotizm". In the few short years since footwork has been brought to the wider attention of the world, its unpredictable traits – rhythmic or otherwise – seem to have been increasingly quantized out by software, genre-mashing and a lack of engagement or knowledge of the genre's roots.  Whether it's Space's Roland R-70, his experience, or something else entirely that gives his music this signature is unclear, but there's more considerably more life in his oddly constructions than that of pretty much any other footwork producer operating right now.
Scott Wilson
Tracklisting: 
1. Steamidity
2. Invisibu Boogie!
3. Red Hot
4. There U'Go Boi
5. Battle In The Jungle
6. The Opponent
7. 187 Homicide
8. Speakers R-4 (Sounds)
9. Havoc Devastation
10. No Return
11. Robotbutizm
12. Sentimental
13. What'Cha-Gonna Du
14. Area 72