Marco Shuttle – The Vox Attitude Remixes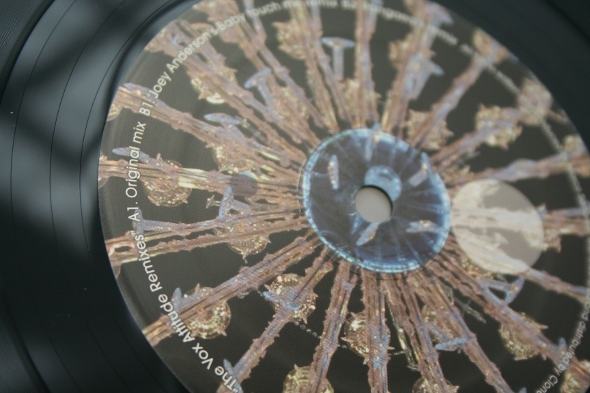 In the hands of large scale labels, remix EPs rarely come across as anything but transparent attempts to milk a track's popularity for all it's worth, with the licensing of FCL's ubiquitous 2012 cut "It's You" by Defected accompanied by any number of unnecessary reworks the most overt recent example. At the other end of the scale there are 12"s such as this one from Eerie Records, a label founded by London dwelling Italian Marco Shuttle last year with the intention of loosely mirroring the Jeff Mills model with Axis Records.
The focus here is the producer's own "The Vox Attitude", originally released on the Vidd offshoot of Swedish loop techno imprint Färden in late 2010, a production that swung heavy with booming warehouse rhythms and nerve jangling cut up vocals gleaned from a 1970s disco track. It might be too early to submit "The Vox Attitude" to the canon of timeless works, but the track certainly still sounds as vibrant today in a climate where contemporary techno is swamped with any number of productions that are built from a similar blueprint.
Given his own thoughts expressed in a recent interview on this current dilution and an apparent lack of interest in further exploring the sound, it might seem strange for Shuttle to revisit the track here. But the fact the original pressing is being hawked for some adventurous prices on Discogs means this 12″ offers a welcome second chance for some to indulge, and the calibre of remixers involved, not to mention how they've turned out, make it a record that's hard to find fault with.
Leading the way is Joey Anderson, a New Jersey born producer who seems on the precipice of greater things having successfully served a house music apprenticeship on US labels such as Strength Music and Underground Quality. It's no disservice to Anderson to say that the pair of tracks Levon Vincent first licensed for his Fabric mix last year and subsequently issued as a 12″ on Deconstruct Music have opened many people's ears to the humble producer's charms. 
These charms are in full effect on his self styled 'Baby Touch Me' remix where deep analogue lines flirt  acidically with the relooped and reprocessed vocal amidst rising beds of misty textures and bristling, layered percussion. The mood never escalates beyond meditative trippiness despite a sense of foreboding implemented by deep set orchestral strains towards the tracks conclusion, and you feel the remix has been executed by Anderson with the murky depths of an extended DJ set in mind.
Pangaea also wisely retains the distinctive vocal loop and distorts it for his own means, melding it to a ruff, itchy metal plated framework of punishing drums that fall within the patronage of the Hessle artist's recent jungle influenced productions. Where Anderson's effort builds with poise, Pangaea opts for thrusting urgency, almost willing you to ram the remix bluntly into your set to break up what came before.
Tony Poland
Tracklisting:
A. The Vox Attitude (Original Mix)
B1. The Vox Attitude (Joey Anderson's Baby Touch Me Remix)
B2. The Vox Attitude (Pangaea's Remix)