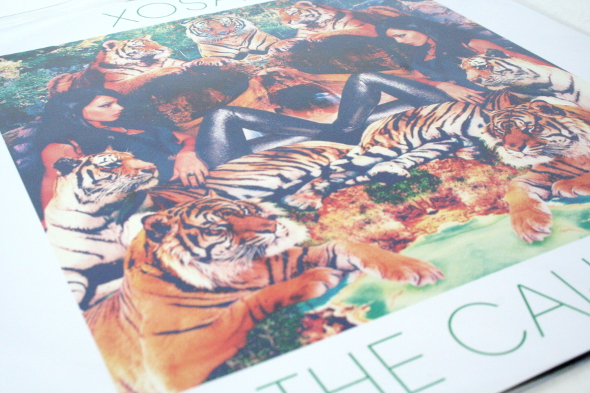 While her previous releases have stood strong on their own, when listening to Sheela Rahman's music it's hard to avoid that connection she has to her regular partner-in-sines, Danny 'Wolfers' Legowelt. Beyond the simple fact that they are a couple, with their continued touring together and shared outings as Trackman Lafonte & Bonquiqui and Xamiga last year, it's perhaps not surprising that Wolfers' extensive back catalogue is the most logical point of reference when mentally placing Rahman's music in your own internal musical shelves.
There's no denying that the two of them have a very compatible love of the dreamy and ethereal in electronic music, where the drums come second to the synths and the mysterious vibe is the best one. Let the association be what it may, as it is plain for all to see and judge as they see fit, but it would be a short shrift to write Xosar off as standing completely in the shadow of Legowelt. With each of her releases thus far, we've been able to get a better handle on what Xosar is all about, and it's becoming apparent through this third instalment that her series for Rush Hour is tapping into a particular aspect of her sound.
On the L.I.E.S release Tropical Cruize which dropped early last year, there's a more arcane chemistry at work in the tracks, sporting darker dynamics and coming on a little wilder. That may be reflective of the label policy as a whole, but of course that is not a sound constrained to one particular style or even genre. Likewise there isn't much of an obvious sound Xosar could be aiming to achieve to satisfy Rush Hour, and yet The Calling follows on perfectly from the preceding Ghosthaus and Nite Jam twelves.
The specific vibe in question is one of wistful, shapeless synths that seem to spiral ever upwards in a glorious swathe of positivity. Where dance music is largely weighted by minor keys, Rahman has those major progressions nailed where they count. This is not to say the music is saccharine or irritatingly chirpy, far from it. Expressed through graceful pads and offset with purposeful discordant notes from other synths, this is spiritually uplifting business that doesn't fake it for one second.
"The Calling" may start off in slightly moodier territory, but by the time the beat is fully jacking and the chords can start working their magic, the only way is up. There's a spirit in the track that recalls the loved-up and overwhelmingly musical nature of early 90s rave and breakbeat, helped in no small part by the snatches of vocal that worm their way into the feel-good times. It's just that in this instance that feeling is communicated through an ethereal house construction.
Operating in a similar way, "Rays Of Babylon" reaches ever skywards, but there's plenty of detail in the mix to delight the mind, not least from the sharp delay and feedback tricks Rahman runs her vocal through. At that point where you start to drift into an exalted state and all around is fluffy white clouds and rainbows; it's hard not to think of the other analogue-machine driven producer that can tease such heightened states through sheer melodic wonderment. At that point though, turn the other way and head further into the imagination of Xosar, for she has just as much to share, albeit with a few years and about one hundred aliases to catch up on.
Oli Warwick
Tracklisting:
A1. The Calling
B1. Rays of Babylon