Svengalisghost – Vicious Circle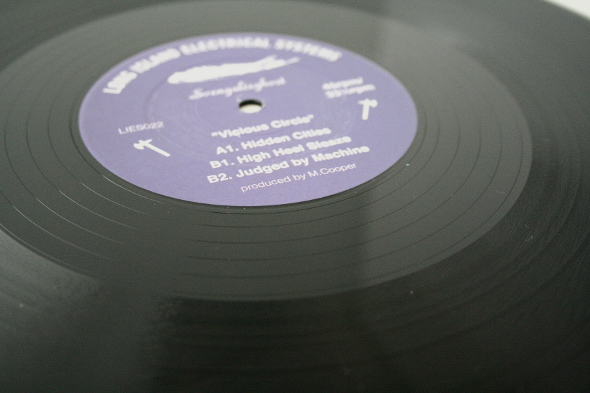 Anyone who may have seen Svengalisghost performing live recently will probably have been surprised at just how unremittingly savage his performance was, especially if they were expecting the comparatively gentle analogue house he displayed on last year's debut record for L.I.E.S. The fracas of monochromatic, jutting rhythms and serrated, mulched up synth lines that blasted out from his decrepit table of hardware seemed the antithesis of the Mind Control EP's more vivid, rolling take on jacking hardware house.
Like his thumping, paranoia-inducing live presence, Svengalisghost's new EP Vicious Circle fits in with a general trend of the L.I.E.S. camp's recent output – particularly from Steve Summers, Delroy Edwards, and the projects label boss Ron Morelli himself has a hand in – to move further towards extremes of texture, velocity, or sheer mass. The resonating kick drum on opening track "Hidden Cities" is proof of this, cutting sharply through the sludge of rattling corrugated iron synths and garbled acid lines which circle menacingly around stiff, untreated snares. Unlike his previous EP, which seemed very much focused on forward momentum, rhythm feels incidental on Vicious Circle to the enveloping sonic assault.
"High Heel Sleaze" takes things to even greater extremes; its central motif is a gristly, detuned synth that cuts through the rattling hi-hats and morphing pad with all the discomfort of a razor slicing an eyeball. It channels the same lumbering, gurgling lunacy of Hieroglyphic Being's recent Morphine track "The Lost Transmission", something that seems particularly apt given that the record's press release cites the "traditional machine experimentation of the early pioneers" as an influence on the producer.
But like the productions of Jamal Moss, the idea of house music seems almost inconsequential to what Svengalisghost is doing on Vicious Circle, instead using the genre's tools to create his own shapes. The angular bassline and half-mumbled vocal which lurk behind the furious acid of "Judged By Machine" both have something of an Ike Yard feel to them; like the 80s electronic outfit there's a significant punk energy cascading through Svengalisghost's primitive electronics which manifests itself in forms that sit outside the realm of simple analogue house music.
Scott Wilson
Tracklist:
A1. Hidden Cities
B1. High Heel Sleaze
B2. Judged By Machine