TNT Subhead – Ecstasy & Release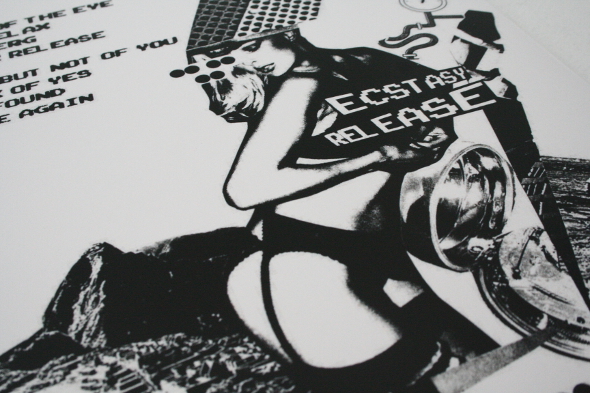 It's fair to say that to the world at large Tiago Miranda is not yet a household name. He is undoubtedly an incredibly well loved and respected DJ & producer amongst a well informed cadre of music lovers, not least the people of Lisbon where he has been the resident of Lux, the city's pre-eminent house & disco institution for over a decade. Yet Miranda's not at the level of say a Fulton, Terje or Lindstrom. However, when you considers the sheer volume of Tiago's musical output in recent years under a myriad of aliases then a picture begins to emerge of an artist who is not simply seeking personal fame, but who is instead more focused on ensuring his musical projects retain definable identities separate to his own.
TNT Subhead is Tiago's latest creative concern – Sea Power and Change, T&K (with DJ Kaos) and Mendes & Alçada are just three of his previous endeavours – and has come exclusively through Groovement. The Northern Portuguese label unveiled the TNT Subhead project in 2010, before returning last year with a Ecstasy and Release 12″ that displayed a less than straightforward, yet undeniably House-centric feel. Miranda develops this approach further across the eight tracks that form this TNT Subhead album (also called Ecstasy and Release) which, whilst certainly not lacking in personality or schizo moments, still moves to a four-to-the-floor throb throughout its entirety; an observation that holds true even on moments such as "Arp K Found" when kick drums are not present.
Album opener, "The Story of The Eye", sets the tone rolling through swelling moments of evocative and emotive electronics, with syncopated jazz drums disappearing as quickly and as randomly as they arrive. In a lot of ways it feels like the abstracted breakdown from another track, but as an album opener it serves to perfectly display the sonic palette that Tiago is working with, as well as providing an early statement that his first album will be more than a mere collection of club tracks. 
From this lilting opener we are immediately met by the harsh, crunching bass of "Can't Relax" which as the title suggests, is a more frenetic affair that provides a textural counterpoint to the previous track, while mirroring its absence of melody and structural rigidity. After this "Icelberg" sees us in more familiar territory, chugging in from open to close as a straight up electro-disco workout, albeit one that still retains sonic touchstones from the opening two tracks. Having now established his voice as TNT Subhead, Tiago treats us to the previously released title track, which now seems more relevant and nuanced when taken in context with a larger body of work.
The superbly titled "Thinking of Sex But Not of You" demonstrates Tiago isn't afraid to show off his roots as a DJ, it being a fairly straightforward, but brilliantly executed track that sits snugly between disco and house. Tiago may be speaking to us as music producer on this album, but at heart he is primarily a DJ, and this would represent the peak of his set. After this Tiago slows us down with the warmer, joyous strains of the "Book of Yes", before taking us to the weirder codas of the aforementioned "Arp K Found" (essentially a freak out with a refrain of the bass line from his 2010 release "Motorcycles) and "It's Time Again" which ends the album similarly to how it began, with an almost free-form piece of music which, in this case, somehow manages to be simultaneously itchy and soothing, and which perfectly draws the musical proceedings to a close.
With Ecstasy and Release, Tiago isn't merely stringing together a loose collection of his music, but is giving life to one of the facets of his musical identity in the form of TNT Subhead. The whole album represents a defined musical path but remains a compelling and evocative listen, mainly because of the deft way Tiago still manages to craft a wealth of recognisable motifs from such a reduced sonic template.
Geoff Kirkwood
Tracklisting:
A1. Story Of The Eye
A2. Can't Relax
A3. Icelberg
A4. Ecstasy & Release
B1. Think Of Sex But Not Of You
B2. The Book Of Yes
B3. Arp K Found
B4. It's Time Again