Parris Mitchell first on Dance Mania relaunch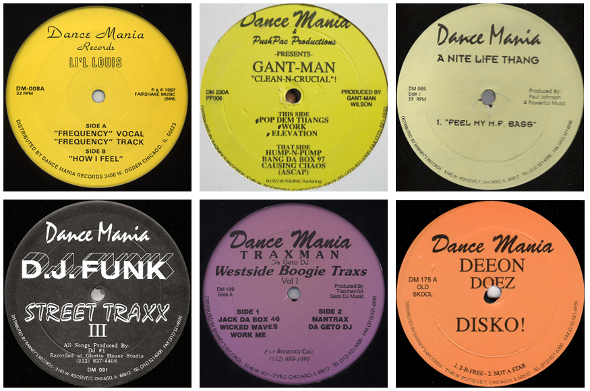 Iconic Chicago house label Dance Mania return with an extended reissue of a Parris Mitchell classic. 
Founded in 1985 by Jesse Saunders, Dance Mania pioneered the raw, percussive end of the Chicago house spectrum from the off, with an intimidating discography full of classics that reads like a who's who of Chicago dance music history. As FACT recently reported, Dance Mania is relaunching with Ray Barney – the man who oversaw the label's initial rise after taking over from Saunders – and label mainstay Parris Mitchell at the helm for a series of reissues of Dance Mania classics, as well as new material from the label's roster of artists.
The first release sees an extended 'Classic Edition' of Parris Mitchell's classic Project 12″ from 1995, and is set to arrive in the next few weeks featuring a reprise version of "Bitches & Money", and an acapella version of "All Night Long". The original version of that latter track has woven its way back into the contemporary lexicon after being liberally sampled on Bakey USTL's Unthank 10″. More recently, the track was licensed by Ukrainian label Wicked Bass for a 12″ release together with a pair of Bok Bok remixes – Brendan Arnott describing the original as "an unhinged ode to getting it on, sung with an R&B influenced earnestness, a stark contrast to the multi-syllabic repetition of popular Dance Mania tracks at the time" in his insightful review.
Subsequent to this, Dance Mania plan to release some all new material from Traxman with Westside Boogie Traxs Vol. 2 providing a belated follow-up to the 12″ that the producer released on Dance Mania under the Traxman Da Geto DJ name in 1996. Full details on this new release are not yet available.
Dance Mania will release the Parris Mitchell Project: Classic Edition 12″ by Parris Mitchell in late May.
Tracklisting;
A1. F___N Da Drums – Featuring Terrance Robinson
A2. Ghetto Shout Dub – Female Shauntashia Giles
A3. All Night Long Featuring Derrick P. & Giz (Acapella)
B1.Ghetto Shout Out!!Featuring Waxmaster
B2. All Night Long Featuring Reggie Hall
B3. Bitches & Money
B4. Bitches & Money(Reprise)