Born Free: The Sling & Samo Story
Brendan Arnott traverses timezones and continents to speak with Daniel Isling and Samo Forsberg, the Swedish duo better known as Sling and Samo.
"Hang on a minute – I just saw Daniel in my Skype window, he's still in his underwear" Samo Forsberg informs me, at the crack of dawn.  Admittedly, organizing the current intercontinental Skype session with the two enigmatic Swedes responsible for the Stockholm-based, genre-defying, left-field dance label known as Born Free isn't easy. We're spread over three different time zones, a total of twelve hours apart– I'm sleepily Skyping at 7am on Easter Sunday morning in Toronto, which is noon for Sling (Daniel Isling) in Stockholm, and 7pm for Samo (Samo Forsberg) out in Hong Kong.
It's evident both label-founders still seem to be somewhat in the process of recuperating from the night before. Sling has been working with a nightclub in Stockholm that's exclusively open in the wintertime, and Samo is joining our discussion after a night of playing Patrick Cowley records until sunrise at a small gay bar in the nightclub district of Hong Kong. Fortunately, being split on different sides of the globe doesn't affect their cohesiveness. The Swedish duo have a natural, easygoing chemistry when talking to each other, filling in bits of each other's stories like old friends. It's probably because they are – they met as teenagers through a mutual love of DJing.
"When we were 16 or 17 we had a mutual friend who also was a DJ, and he put us together." Samo informs me. Sling takes up the slack – "So through this friend we started a DJ crew together, and since I was still a teenager, I had to sneak into the club at lunchtime and stay until whenever we started, like 10pm, so they didn't discover that I was underage." "Yeah, it was a really shitty club" Samo adds, "but they were really nice there, you could do whatever you wanted. I remember the first night there, and the place was packed with all our friends. When I got home, I remember feeling euphoric; like 'Yeah man, this is what I'm going to do with the rest of my life.'"
Both producers benefitted from an early start of immersing themselves in music; Sling received a DJ Qbert and DJ Shadow mixtape from his cousin on his 13th birthday and was instantly hooked. "I could not think of anything more cool then scratching" he evokes. "At the time, it was even cooler then graffiti or being a skater." In a similar vein, Samo's first gig was at a basketball tournament DJing alongside some folks from his neighbourhood, including the teenage incarnations of Swedish House Mafia members Sebastian Ingrosso and Steve Angello. Searching for sarcasm in his voice, I probe whether he's joking or not. "It's true" he insists. "They were from the same neighbourhood, just outside of the city centre of Stockholm. They got into DJing and music really early, because Sebastian's father used to run Loop Records, which was a techno label in the 90's. So I remember from around the time that they were 12 years old or so, you never saw them in class, they were always going to work on music."
After becoming fast friends and DJ partners, Sling and Samo continued throwing parties together, at the time specializing in hip hop and reggae, closing out nights with Errol Dunkley's uplifting "Peek-A-Boo" and Junior Reid's conscious reggae jam "One Blood". It wasn't until 2006 when they traded dancehall riddims for cosmic disco edits on the duo's first label, High Feeling, named after a Trinita song that the duo admired. Still, their recollection of that era remains hazy:  "It was kind of like left-field edits, disco label. I don't know how many singles we made, but a couple… that was when I started to get involved in the music making process, but I really didn't produce anything then either, it was basically Sam producing stuff while I was taking care of the business." Sling mentions.
"Born Free is not about succeeding, I mean, we will never make money out of it, so it's basically just important to us because it's our output"
If their current label Born Free seems effortlessly cohesive with its strong visual identity and consistent stream of out-there dance anthems, it's important to note that things didn't pan out immediately– before the two Swedes hit their stride, they suffered some unexpected setbacks. After the moderate success of High Feelings, Sling & Samo decided to put more of a financial investment in to their projects. Sling's nervous laughter as he relays the story to me is a foreboding sign. "So we thought 'Yeah man, this label stuff is something we could do full time maybe', and we talked to the bank and we borrowed some money, and we made like three 12″s, and we made a LOT of them, and we had a distribution company then, and suddenly… they just disappeared." Samo repeats Sling's statement, deadpan. "We had two thousand records, and then they just disappeared. The guy who was supposed to promote them also just disappeared, but after two years, we finally found out where the records had gone, and we got all the records back, and then we filled Sling's car with them, and the car was so heavy that we were basically almost riding on two wheels. And after those two years, most of the records were water damaged, or mouldy, I think they'd been in a flooded basement."
Years later, there's still a bit of bewilderment in Sling's voice as he tries to shrug it off – "Then we had to pay off our debt to the bank, so we started working as cleaners, and we did that job every Sunday for a year, or two years." Despite a tough introduction to the business of label-running, this setback wasn't enough to permanently deter either of them. "And then I said, I'm never gonna do a label again, this is taking away all the fun of the music stuff, I don't wanna do this – you do everything and no one cares" Sling continues, only to pause for a minute… "But then, we couldn't resist… it's too fun not to do it."
If there's one benefit to the catastrophic loss that Sling & Samo withstood in the past, maybe it's that their Born Free has been hitting its stride since its debut in 2011: The label's first release alone is like immersing yourself in a gigantic sweaty room full of good friends, from the screaming horns of Axel Boman's Michael Jackson drumline homage "Driller", to Sling & Samo's own "Synt B" – a twangy bassline backed by blistering synths, blaring alarm clocks, and the disconcerting noise of someone falling from a skyscraper. The record is full of DJ tools designed to thrill and disorient, five cuts of verifiable chaos packed into a few brief minutes. A consistent theme stretching throughout Born Free's catalogue is a carefree, joyful weirdness that isn't afraid to represent myriad genres at once – it's simultaneously dance, pop, experimental, house, cosmic, boogie, but always informed by a gleeful disregard for tradition, and a desire to move bodies.
It's convenient then that uncertainty seems to motivate Sling & Samo more than scare them: Producing a number of independent projects apart from each other, they also share several flexible identities depending on what genre they're tackling, such as their Kate Bush-referencing Hound Love project; a collaboration with vocalist Kicki Halmos that's stuffed with forlorn vocals, shimmering synth patterns and quietly hypnotic pop rhythms. It's a formula that gets perfectly accentuated by Japanese act Cos/Mes on Born Free's third release, as they weave the source material into a Balearic epic; the soundtrack for crossing windswept wheat fields under the moonlight.
"The reason we started Hound Love was because we wanted to feel really liberated to work with really poppy melodies" Sling tells me. "Y'know, the borderline cheesy stuff. As a DJ, I really enjoy playing Italo disco, and even the late Italo stuff, from around 88, and 89, those really corny records… so it felt like fun to start a pop group, so we can put all those ideas that have a pop ethos or feeling behind them… songs that could be on the radio, even though they're not… yet. Sling & Samo showcases more the DJ side of our work, it's stuff for the clubs."
Looking at the constantly overlapping collaborations and remixes that take place in the Born Free family of releases, I get the feeling that the Stockholm scene is driven by collaboration. Sling concedes: "Yeah, it's a small city. We're only like, a million people, so, if you're in it and you do your thing, you'll eventually meet up with everyone, and you basically know who's doing stuff." Does Isling and Forsberg's geographic separation pose some challenges when it comes to making collaborations?  "I mean, of course it's easier if you're both sitting in the studio at the same time, and it's fun if you're together, because you can jam and stuff like that, but I think with the internet it works pretty well." Samo responds. "Correspondence becomes shorter" Sling adds. "We have more cryptic communication usually, we basically email each other every day, up to five times a day." They quickly run through a back-and-forth gauntlet of stock email responses to illustrate their point: "yes," "no," "maybe," "I hate this," "this is good," "work on this."
As Born Free's tendrils keep twisting and expanding across the globe, it seems that Sling & Samo have a versatility to take their music in whatever direction they like. One of the biggest challenges that they currently grapple with seems to be deciding just what direction that should be – or, if there should be one at all. "Well, we talk about this sometimes" Samo tells me introspectively, "because in a way, we're super inconsistent from release to release. It was kind of a thing that developed back with the earlier labels like High Feelings… one single could be proto-house, the other could be boogie rock, and customers in stores can get confused as a result of that. But mainly to us, when we DJ, we naturally mix styles – house, techno or whatever. But I think the key to success is being very consistent – finding what you like the most, and trying to do one thing, and then you can build a fan
base around that. But that will never be the way that we work… unfortunately…" Sling picks up where Samo trails off – "But Born Free is not about succeeding, I mean, we will never make money out of it, so it's basically just important to us because it's our output, and our ability to commit to the stuff we wanna do. I agree though, if we were completely different people running a label in 2013, there's something to be said for doing one thing right, consistently, I guess."
Consistency may build devoted fan bases, but there's something to be said for the element of surprise. Born Free's mystifyingly beautiful gold-embossed Karaoke Band cassette tape takes full advantage of the unexpected – limited to a scarce 50 copies, it's a cornucopia of oddness, including Frank Ocean covers, bird calls, and throbbing grainy house recreations of pop classics. For Isling & Forsberg, blending recognizable songs with more esoteric material was one of the goals of the project.
"I think that the idea was kind of like, playing records in a random bar, and you want to play some early 80's weird stuff, but the people who are at the bar aren't really into it, or… maybe they don't mind it, but they would feel more at ease if you can repeat the same sound that you're playing, but with a melody from a Lil Wayne song, or something more immediately recognizable." Sling explains. "Does that make sense?
Samo adds in his own global perspective: "This idea also comes from this phenomenon in Hong Kong, with these Filipino bands who play cover songs – they're excellent, and I think they must play like, eight hours a night, five days a week, or something like that. It's mostly in the sleazy part of town.  Most of them are versatile enough that they can sound like exactly like Britney Spears when they need to – they can fool you into thinking it's the actual song." The internet was also essential to the formation of Karaoke Band, Sling admits. "When we made those tracks, we really wanted to do the melodies right, and if you go onto YouTube and type in "Lil Wayne – Lollipop Tutorial,"  you can find out how to play those songs chord by chord for you. So people on the internet are like "Yeah, this is how you do it"
Karaoke Band is just one example of how the duo's affection for pop music bleeds out into almost every project they carry out: On Born Free's fifth release, Baba Stiltz creates an organic 90s house tapestry around the sample recently popularized by Avicii's omnipresent "Levels" track. Stiltz's revision is a paradox of sorts – it celebrates the cheesy catchiness of the original while remaking it with enough dissonance to turn off those expecting anything resembling EDM, occupying a weird middle space that acknowledges and rejects the hyper-poppy Avicii version. Considering that the EDM explosion in pop culture is quite different in North America than in other parts of the globe, I probe Sling & Samo for their thoughts on it. They remain un-judgmental:
"EDM… That's supposed to stand for electronic dance music, right?" Sling questions. "I feel like that's a North American label for putting all different types of electronic music in one bag… I mean, there's a tradition in Europe where we have what I'd call euro-house, or euro-pop or something, and they're working in the same tones. Dance music today isn't such a huge difference between what was going on in the 90's, or even the 80's. Nowadays the sound is better produced, but to me, Swedish House Mafia come from that same tradition. They play less of other people's songs and more of their own. It's more like a concert, I've heard. When I went to Sweden last Christmas, Swedish House Mafia had a gigantic show spanning two or three nights, with about 120,000 people going. That's like 10% of the entire city!"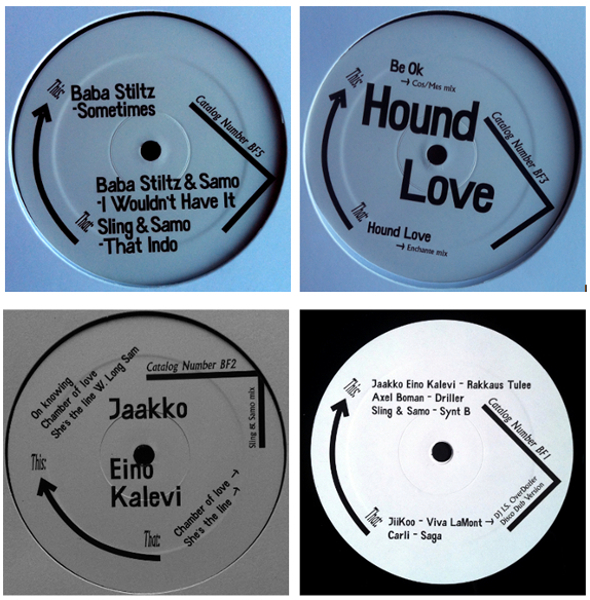 While pop samples and "all the cheesy stuff" remain inspirational sources for Sling & Samo, they can't help but credit a number of varying sources for their output – from "all the weird takes on house music that's coming out of the UK right now" to Ron Morelli's L.I.E.S label to Samo's favourite breakfast: morning milk tea with a crispy pork chop bun at the local Dai Pai Dong. Samo's strategy for productivity also includes digging through piles of source material, much of which ended up on last year's sizzling, eclectic "Tai Po Kau" EP on Morelli's L.I.E.S BLK imprint. "I find it helpful to have different records around, whatever works" Samo tells me. "Then when we are working on something, just listening to records and the song at the same time, sometimes picking out just a short sound or a loop to work around. As for "Tai Po Kau," it's more of a rework/remix/re-edit of an 80s track than an "original," and the "Mr. Butler" track features samples from a German cosmic sound record and radio jingles I borrowed from a Paul Johnson record."
More L.I.E.S material lurks on the horizon, but in a slightly different incarnation. "Eventually, there will be a release consisting of me (Samo) and one of the guys from Stockholm art collective Top Nice– we did a soundtrack for a movie script to a friend's movie – and the movie kind of takes place in Kowloon City in Hong Kong, the Walled City." Samo was inspired from walking around the town, which he recounts as extremely cinematic. "It's not really dance music, but I think its six tracks and it's coming out sometime soon." There's an outpouring of more source material from Born Free coming in the near future: "Well, now we just released three 12″s and on one of them, we have an English guy called Enchante who did a remix on Hound Love," Samo explains. "We have an EP that's going to come out with him and Speculator (Willie Burns) did a remix. That'll be out in summer, in August or September." Sling is also involved in making music with Stockholm producer Towlie, a collaborative effort that takes place weekly in her studio.
As the Born Free discography grows larger and larger, is it possible for either member to pick out a favourite record? Sling laughs at the question. "I basically don't play our music anymore, because when you do a record, you listen to it over and over and over again – before it's out you've listened to it at least a hundred times. And when it's out, sometimes I feel like "now it's finished, I don't have to listen to it anymore." Samo offers a different perspective: "I think Axel Boman's "Driller" track is really special – as you know, the first Born Free release is like five tracks, with five different people, and it's almost like five different styles – I think that's a record that you can put in your bag, and you'll be able to play at least one or two of those songs over the night, no matter where you are, it'll fit somehow."
Finally, I can't help but ask about the label's name itself, which seems to embody a certain rebelliousness. The duo credits the title to old American biker movies. "We had probably watched some biker movies that inspired it, something like Easy Rider. Those words just sounded nice together somehow" Sling tells me – "When I hear Born Free I think of… an Easy Rider kind of guy on the highway, something like that."  When I mention that the protagonists of Dennis Hopper's 1969 film met a rather gruesome death on their journey, the duo chuckle knowingly. "Yeah, who knows what the future will bring" Sling laughs.
Interview by Brendan Arnott