Steve Summers – The Outermaze EP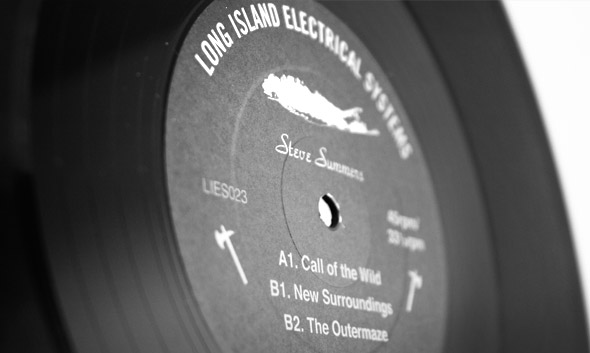 One of the biggest surprises of the recent L.I.E.S. showcase in London was Jason Letkiewicz's live hardware performance under his Steve Summers alias; while his music has always been characterised by the kind of rawness only analogue hardware can provide, there was something especially bleak about it. Steering away from the classic Chicago house inspiration he's been mining over several releases for Jack For Daze, Construction Paper and L.I.E.S, and devoid of the even sweeter melodies of his recent collaborations with Bookworms, his set had more in common with the recent crop of hardware techno coming in from the noise scene – albeit a little less severe.
Letkiewicz's uncompromising live show was almost a little too raw at times, yet the comparative lack of colour present on The Outermaze is something that has resulted in something of a rebirth for the producer, shifting from jacking analogue house to a rougher, more freeform type of techno. It's something that serves Letkiewicz well; while those earlier productions were very much rooted in their reference points, these tracks feel unshackled and full of a unique kind of energy not tied to simple house or techno structures.
Although opener "Call Of The Wild" starts off with an analogue melody that's as effervescent as a Summers production gets, it soon lives up to its name thanks to the belching bassline at its heart that roars from amidst the track's thunderclap percussion like a ravenous grizzly bear. Like the noise techno experiments of Container, there's a looseness to the whole thing that gives it a rickety charm, but with a substantial amount more weight behind it for the floor.
"New Surroundings" displays traits of the demented BDSM electro of "Eliminator", the last transmission from Summers and Ron Morelli's Two Dogs In A House project. Like that track, its component parts seem to drift in and out of focus in a pulsating psychedelic sludge; ragged, high-pitched synth tendrils wrap themselves around a ramshackle combination of taut house stabs, rattling hi-hats, noisy snares and stuttering kicks.
However, it's trumped in the teeth-clenchingly abrasive stakes by "The Outermaze". Despite the fact the track has a name that sounds like a metafictional short story, it starts off fairly straight, with linear, squared off drums and a guttural bassline that create a similarly sleazy mood to his classic "In The Mode For Love"; these are soon drowned out in a radioactive chatter of insectoid synth noise however, and Letkiewicz's use of synth strings – which previously would have brought some melodic relief – create a rising sense of panic. Those who can't quite get with the L.I.E.S. sound because of its severity will certainly not be converted, but for those who want them to go even further down the wormhole of noise and techno, The Outermaze is thrilling stuff.
Scott Wilson
Tracklisting:
A. Call Of The Wild
B1. New Surroundings
B2. The Outermaze