Various Artists – The Lifesaver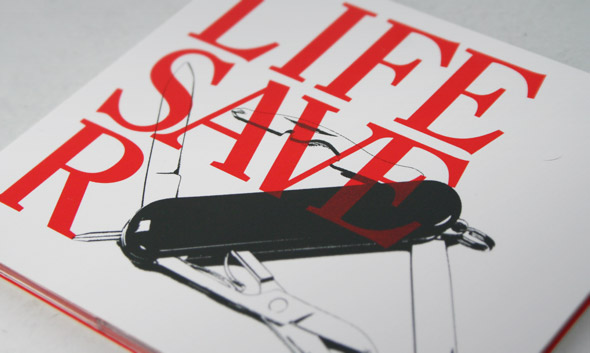 What started out as a vessel for a club mix series has grown into a fully fledged record label of high repute, serving up the finest house and techno with a European leaning. While the name Live At Robert Johnson might be a bit misleading away from recordings made at the legendary Offenbach / Frankfurt club, the music makes for a perfect continuation of what the club's policy is all about. So far artist albums and singles have appeared on LARJ from the likes of Chloé, Massimiliano Pagliara, Arto Mwambe and many more, but now the label's burgeoning identity is being crystalised through this compilation of cuts from collaborators new and old.
The first half of The Lifesaver is given over to warm, analogue 4/4 informed by the pioneering proto-house sound of the early to mid-eighties. With disco beats and delicate arrangements of synths into winsome party ballads, the tone is perfectly set for what would arguably make up the start of the night. Chinaski's opening track "Lunch" is steeped in Blade Runner romanticism, coming on with a noirish disposition while still weighted plenty for the floor. Massimiliano Pagliara is more overt in his use of boogie dynamics, as a mean bassline and crisp electro funk beat get into a flawless groove on the snappily titled "LM2-808-SH101-MP-P6-JP4-P5-SPX90".
The Citizens Band create something of a midway point for the compilation, with their strange and dubby interval "Descend" wiping the slate clean from the simmering grooves of the start of the CD. They follow up themselves with the more focused "Softest Touch", which nudges into a minimal house groove with enchanting flecks of keys and strings straight out of a fairy tale, creating a refined and yet completely magical track as you might expect of Audio Werner.
Roman Flügel is in a rougher mood, as the drums on "More Is Not Enough" will attest. While the pumped up beat might get right up in your face, the rest of the track consists of anchorless squeaks and wobbles designed to throw the groove into a jacking kind of surreality. For all that feistiness though, the mood is kept deep through a persistent chord refrain, filtered right down into the lower register so as to not get noticed by the rowdy elements up top. Breaking away from his usual rhythmic framework, Portable is in fine fettle on "Nano Flower", finding a tropical kind of broken beat that suits his macrobiotic drum programming down to the ground. Meanwhile the melodic content reaches towards a rich and developed tapestry of harmonies, with whispers of flutes and sax, or atleast synths shaped to sound like them.
The sound across The Lifesaver is predominantly a deep one, but characterised by a thirst for unusual attributes that make of these tracks memorable in their own right. While it might be a little early to tell for sure, it feels as though the curatorial arc LARJ is heading down is set to be a timeless one that stands strong years from now.
Oli Warwick
Tracklisting:
1. Chinaski – Lunch (Extended Version)
2. Massimiliano Pagliara – LM2-808-SH101-M/P-P6-JP4-P5-SPX90
3. Lauer – Hector
4. Orson Wells – At Play
5. San Laurentino – Final Landing
6. The Citizen's Band – Descend
7. The Citizen's Band – Softest Touch
8. Benedikt Frey – Sometimes
9. Roman Flügel – More Is Not Enough (Heaven Or Hell?)
10. Portable – Nano Flower (feat. Lcio)
11.Tuff City Kids – People Is A Crackhead (Tuff Hamlet Riddim)