Royal Crown of Sweden – R.E.G.A.L.I.E.R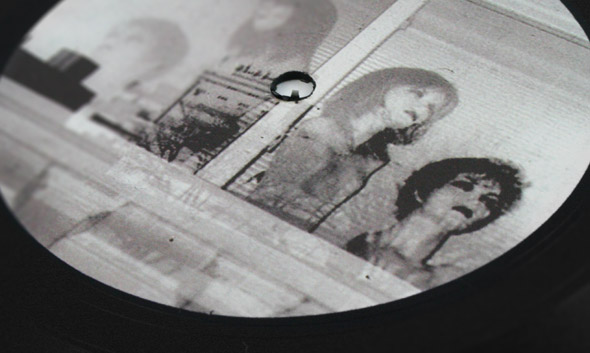 Providing the flagship release on Anthony Naples' sparkling new Proibito label is Royal Crown of Sweden, a pseudonym of Kansas dance music archaeologist Huerco S which looks towards dancefloor functionality without totally leaving behind his raw rubbed experimentalism. Fresh off a North American tour with Naples, Huerco's production style seems informed and invigorated by the club; each track on the R.E.G.A.L.I.E.R EP is laced with a distinctively floor friendly sound. Speaking with us back in January, Huerco conceded that his aliases "generally serve a very functional purpose… sometimes I just want to make a techno track, no bullshit, just something for the dancers."
Still, Huerco is also interested in the esoteric endeavour of 'unearthing artifacts,' evident in his citing of pre-Columbian Americaand ancient mound building practices as two inspirations to his music-making practices. The R.E.G.A.L.I.E.R EP's true strength lies in the way it bridges and connects these strange landscapes of noise to an immediately danceable context – Huerco's true mystic powers lie in the ability to effortlessly reconstitute weird and old into weird(er) and new.
This isn't to suggest that Huerco is stuck in the rut of retro-fetishism, however. Take the fantastic, movement inducing b-side "Malaren" as an example, which brings a surging futuristic immediacy to what could be a vintage Sound Stream record covered in thick layer of detritus, dust and glitter. Putting the rhythm through a gauntlet of filter sweeps and hiccupping understated drum machines, Royal Crown eventually tease out a hauntingly beautiful vocal line from decades past, obscured just enough in fuzzy distortion to remain implacable, unnameable. Nothing in "Malaren" sounds the least bit forced, there are no aggressive, out of place elements, and all tweaks and added layers gel together in a transcendental harmony that sounds downright cheesy on paper but is brimming with the kind of heartbreak and longing that only the best pop and soul gems can evoke. As the most floor-friendly production Huerco has created to date, it's a huge, immensely welcome surprise.
The same is true with "Vänern," which takes a gnarled, gritty bassline (which incidentally invokes mental imagery of an old broom sweeping cross a wooden floor) and sets it to a landscape of rolling and stuttering sweeps, slowly scrubbing the track with a blissed out wave of ambient beauty, evoking thunderclouds looming in the distance by an empty windswept beach in the middle of summer (perhaps it's not a coincidence that the track shares a name with the largest body of water in south western Sweden). Halfway through, "Vänern" begins to sprout some fangs as the pace quickens, the percussion intensifies and ascends higher and higher with as a chorus of intensifying claps. Still, even while the track is edging towards an aggressive jacking note, it maintains a note of order and zen, and when the escalating drums finally tops out, you're left with only the thrumming waves of Royal Crown's digitally constructed wilderness remaining.
But Vättern" pushes things back into combative territory, throwing a flurry of kung-fu style percussive slaps, kicks and punches behind a robotic metronome of a drum machine. Theo Parrish's "Any Other Styles" or Huerco's affinity for Japan may be two contributing factors to this cut, which slowly starts blossoming into a reverberating array of wailing electric strings, and incoherent chanting / cheering riding on top of the punchy rhythm. Most remarkable is  how effortlessly assembled these cuts feel, as well as how quickly one can feel at home in these strange basement beats.
The only cut that doesn't quite connect for this writer is the malfunctioning techno chug of the reworking by Lori Antenes and L.I.E.S familia Steve Summers and Bookworms. While all three show a deft ear for improvising off each other's structures, the end product comes off feeling similar to the recent Confused House one-take jam sessions,  and stands in marked contrast to the rest of the EP's tightly controlled progression. Then again, clocking in at eleven and a half minutes, it's probably not meant as a club track anyway, and perhaps resonate much more in the realm of headphone listening.
Is it hyperbolic to call Naples and Huerco the two most exciting producers of 2013? Not in the least. Both young Americans have both carved out a knack for aurally engrossing, intensely danceable, and puzzlingly layered dance tracks, and their connection through the Proibito label feels like an omen of good things to come. Weird in all the right ways, the R.E.G.A.L.I.E.R EP is the kind of record you buy for that friend of yours who stopped buying records because they thought dance music was getting boring and formulaic and hopeless, the kind of record you run over to their house with, get them to stop what they're doing, put it on, and then, wide eyed and manic, start to yell "I told you! I told you there was hope! I TOLD YOU!"
Brendan Arnott
Tracklisting:
A1. Vänern
A2. Vättern
B1. Vänern (Bookworms, Steve Summers, and Lori Antenes Remix)
B2. Mälaren