Elektron – Analog Four review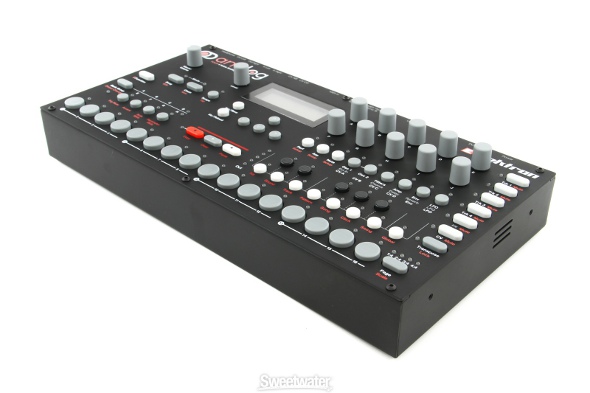 With Elektron's impressive previous offerings, their new analogue synth offering comes with some degree of expectation. Rob Lee investigates the Analog Four.
The Swedish team that comprise the Elektron brand are a group of electronic engineers, software and hardware designers and journalists from Sweden, all with varying degrees of musical ability. Elektron are a company who want to design instruments that allow the user to enjoy being creative whilst making sure that the units themselves have a high degree of functionality combined with an attractive design. It's an approach they've previously mastered with their Machinedrum drum machine, Monomachine monosynth and Octatrack sampler – all of which use their award winning sequencer – so their newest offering, the Analog Four, arrives with a significant amount of interest.
In a nutshell, the Analog Four is a six track sequencer, four tracks of which are separate analogue synths. The analogue synthesiser element of this desktop unit is incredibly deep, with each of the four voices having two oscillators, dual sub oscillators, and a noise generator. There are two filters that are wired in series, one being a four pole low pass filter and the other a two pole multi-mode filter, with an overdrive circuit for added dimension. There is a choice of three FX for each sound, allowing you to dial in varying amounts of chorus, delay and reverb. The step sequencer is no slouch either, with each track having the ability to muster up to 64 steps. The four voices can be sequenced independently from each other, with the fifth track controlling the sequence of FX and the sixth allowing you to sequencer externally using the dual CV/gate ports.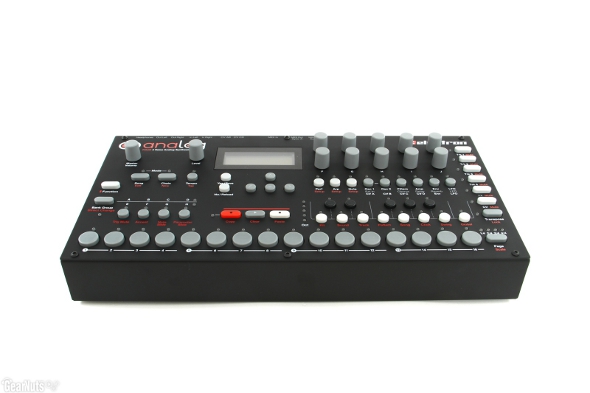 Firstly it should be noted that although the sound generation comes from analogue circuitry, it is controlled digitally, making it more of an analogue/digital hybrid than a pure analogue machine. As a piece of hardware it does have quite a steep learning curve. It's mainly because of this steep learning curve that we can be thankful that the Analog Four isn't a purely analogue unit with all the tuning issues that such a machine would involve. The unit does ship with basic instructions and in no time at all we found ourselves perusing the preset patches and tweaking the parameters using the rather small LCD screen for visual feedback and the arrow buttons to navigate. The way the program is organised is quite a complex beast at first, with each set of four voices (essentially four independent patches) organised into kits. Editing and saving sounds and kits is an easy operation. Once you have decided on your kit of sounds then you can assign a sequence from the 128 patterns stored in the sequence banks on the left side of the unit. The navigation of this bank of sequences is a little confusing, banks A-D are on a top row with E-H on the lower row, but the LED for indicating which row you are accessing is to the right making it a little awkward to read.
"Add to this a powerful arpeggiator, a generous selection of modulation options, memory for chaining your sequences into songs and you've got a very deep performance tool here indeed."
Using the pre-set sequences is a good way of feeling your way around this machine but after a while you are most definitely going to want to get creative and make some sequences of your own. There are two types of record modes for entering note information into the Analog Four's sequencer. Firstly, there is a grid mode which allows you to select a step on the 16 step rhythm grid (up to 64 steps using the active pattern page button to toggle through each set of 16 steps). There is a representation of a one octave keyboard with buttons instead of keys that allows you to choose your pitch information. Octave control (a five octave range) is achieved by using the cursor up and down buttons, and it's also possible to sequence slurred notes and accents as well as other parameter values using the trigger lock features.
Secondly, it is fully possible to play your sequence of notes into the sequencer in real time using either the on-board keyboard or a controller via the USB or MIDI connections around the back. You can quantise your creation to fix any timing issues using the global quantise functions. Further to this you can add varying degrees of swing to your creations and manipulate the pattern lengths either in a global mode, in which the lengths of all the tracks are changed at the same time, or in an advance mode where only the selected track is changed. Add to this a powerful arpeggiator, a generous selection of modulation options, memory for chaining your sequences into songs and you've got a very deep performance tool here indeed.

The build quality is impressive overall; the encoders have a satisfying click about them, even if they have a tendency to wobble, but there are no such complaints to be had from the buttons which feel particularly sturdy. Most of the buttons are reminiscent of the kind of solid controls that can be found on popular controllers such as Faderfox's offerings, and generally they have dual functions that are implemented by holding down a function key. One of the key features on this unit is the performance mode which allows you to control more than one parameter at once using macro control. Pushing the endless encoders whilst turning them speeds up the implementation, allowing you to perform quick drops and builds in a very efficient manner. Of course you can choose exactly which parameters each encoder has assigned to it, further personalising your set up and allowing you to explore more creative possibilities.
Although drums are not this unit's speciality, the sequencer does have the feel of the Tempest drum sequencer from Dave Smith Instruments, which also features synth patches and has a similarly hands on feel to it. However, the Analog Four is perhaps best used in conjunction with a drum machine with a built in sequencer, such as Elektron's own Machinedrum. Although this unit has a very steep learning curve and is quite fiddly to use, it is well featured, with an extensive battery of MIDI, DINSYNC and CV/Gate connection and clocking possibilities. Despite its multiple features, it does lack the possibility to sequence polyphonic tracks, while the lack of four separate outputs for each synth voice reduces some of the unit's flexibility in a live setting as well as in the studio.
The Analog Four from Elektron is a unit with a lot of depth, and even advanced users will find plenty inside it to keep themselves occupied for months on end. It's the kind of unit that fits both in the studio and on stage, offering many possibilities for jamming, whjile live sequencing is a welcome addition, giving more advanced musicians the option of improvising a live set. If you are looking for a comprehensive sequencer with edgy analogue sounds that has the ability to be flexible in multiple environments without being chained to a laptop then you could do worse than look at the Analog Four.
Rob Lee
Buy from Juno
Specifications:
| | |
| --- | --- |
| Power | 12V DC |
| Oscillators | 2 x analogue oscillators, 2 x subs, 1 x noise generator per voice |
| Filters | 1 x 4 pole low pass ladder, 1 x 2 pole multi-mode filter |
| Sequencer | 4 x synth tracks, 1 x fx track, 1 x CV/Gate track, 128 64 step patterns with 16 songs, 6 arpeggiators, parameter locks |
| Modulation | 2 x assignable LFO's and envelopes per voice, AM cross – modulation, osc sync, dedicated LFO's for PWM & Vibrato |
| Inputs | 2 x 1/4″ audio input jacks |
| Outputs | 1 x 1/4″ TRS headphone, 1 x stereo 1/4″ TRS outs, MIDI in/out/thru, USB, 2 x CV/Gate outs |
| Dimensions | 34cms x 18cms x 7cms |
| Weight | 2.4 kgs |