Kode9 steps up for Rinse:22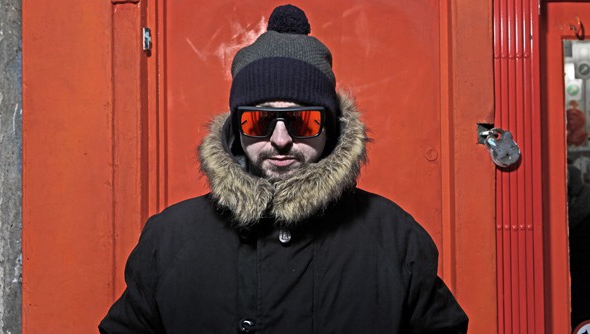 Rinse FM's commercial mix series will turn to Hyperdub founder Kode9 for its 22nd instalment, with a mix taking in house, UK funky and footwork.
Kode9 (aka Steve Goodman) is perhaps the most glaring omission of the ongoing Rinse mix series, having held down the Hyperdub show on the former pirate radio station for some years; however, he's no stranger to the art of the commercial DJ mix, having mixed the third volume of Tempa's Dubstep Allstars in 2006, as well as his entry into the DJ Kicks canon, released in 2010. Although the expected mixture of genres is present and correct on Rinse:22 in the form of tracks from Joy Orbison, Theo Parrish, DVA, Champion and The Bug, Rinse:22 sees him dipping his feet more explicitly into the world of footwork, with almost half of the mix comprised of tracks from Chicago producers such as DJ Rashad and RP Boo.
This aspect of the mix is unsurprising given Kode 9's constantly evolving interests and Hyperdub's recent move into footwork, and the press release describes the mix as a snapshot of the DJ approach Goodman has been developing recently; "This style has just emerged out of me trying to fit all the stuff I want to play into a set", he says, "Generally these sets start relatively simple rhythmically and then get more fucked-up as the mix goes on."
Rinse also describe Kode 9's contribution as marking "the beginning of a new era" for the series, while previous editions have all come from Rinse FM residents, Rinse have promised to "cast its net wider" to figures outside the station, an approach no doubt informed by the former pirate station's expansion into different genres over the past year, with the likes of Bicep, Optimo and Daniel Avery all getting their own shows in recent months.
Rinse will release Rinse:22 by Kode 9 on May 20.
Tracklist:
1. Burial – Truant
2. Theo Parrish – Kites on Pluto
3. Morgan Zarate feat. Roses Gabor – Pusher Taker
4. Titonton – Spread
5. Alex Parkinson & Chris Lorenzo – What Must I Prove 2 U
6. Joy O – Big Room Tech House DJ Tool – TIP!
7. Funkystepz – Vice Versa
8. Terror Danjah & Champion – Stone Island
9. DVA – Chilli Burrito
10. Champion – Friday 13th
11. Jam City – Her
12. Kode9 – Uh
13. Kuedo – Mirtazapine
14. Visionist – Something Old Something New
15. Dexplicit – Change Formation
16. Faze Miyake – Burciaga
17. The Bug feat. Flow Dan – Dirty
18. Dexplicit – Wave Machine
19. Cashmere Cat – Aurora
20. Rustie – Triadzz
21. Terror Danjah – Sam Cro
22. S-Type – Flyp City
23. Kode9 – Xingfu Lu
24. RP Boo – Steamidity
25. RP Boo – Red Hot
26. DJ Manny – Work That Body
27. Kode9 – Kan
28. DJ Rashad – Rollin
29. Unconventional Science – 8 Shots Up (Bleep Bloop Remix)
30. DJ Rashad feat. DJ Earl – Freshtek
31. DJ Rashad – Brighter Days
32. Addison Groove & Sam Binga – 11th
33. DJ Rashad & DJ Spinn – Last Winter
34. DJ Rashad & Freshmoon – Everybody
35. DJ Rashad & DJ Manny – Way I Feel
36. DJ Rashad & Phil – Everyday of My Life
37. DJ Rashad – Let It Go