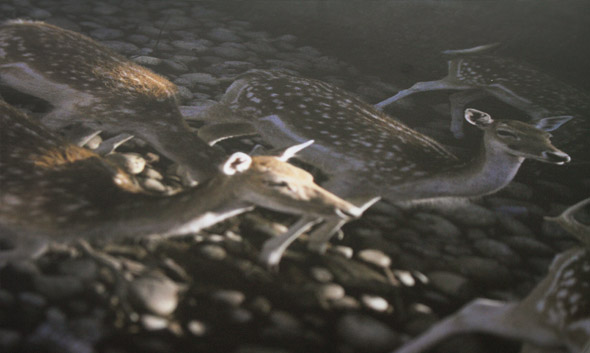 Munich label Prologue veers once again into a conceptual direction with Tiamat; like last year's Voices From The Lake album, this six-tracker from Cassegrain aka Alex Tsiridis and Hüseyin Evirgren takes techno music as a starting point but then dives into more experimental sounds and textures. Given that the duo claims that the work is inspired by Babylonian mythology, is this the latest, compelling development for conceptual electronic music or techno music's equivalent of Genesis wearing lawnmowers on their heads?
Treading this line can be risky because there is always a danger that the artist looks pretentious, unwilling to accept his lot as a techno producer, but equally unable to express a deeper side without it sounding like sixth-form gibberish. Happily, Tiamat succeeds at times in offering genuinely new possibilities for techno while satisfying Cassegrain's desire for expression.
"Tiaga" takes on the modern minimal sound, but does so in a fresh way, the bass sounding aquatic as the pared back rhythm groans under the weight of a multitude of textures and effects. It sounds like Villalobos let loose on a bog-snorkelling course. "Joule" on the other hand is more upbeat and intense, its heavy, pumping groove betraying flashes of malevolence thanks to heavy acid licks and drums that push the listener down a mist-covered wormhole.
There's a similar approach on "Turn Aside", with a pulsing bass driving the arrangement, but a sense of spaciousness means that it isn't quite as intense as "Joule". The more experimental side of the project becomes audible on the title track; clipped drums mutate into a cavernous breakdown, the filters smothering the mid-tempo arrangement like fog descending on a forest in winter. "Tiamat" never regains its poise after this invasion and for the second half remains in abstract mode. "Task" is the most conventional arrangement on the release, an early 00s minimal affair, bolstered by dense drums and the whooshes, ticks and hisses that eventually became the sound's downfall and sonically, is something of a throwback.
But just as it appears that Cassegrain are in danger of sounding conventional, they deliver "Ignite". A dense, stepping dubby groove, it sounds like an outtake from Voices from the Lake left to simmer in Mike Parker's studio, with its bleeps and shaking rhythm uncoiling with an understated sense of menace. Cassegrain probably won't be dressing up in capes any time soon, but on Tiamat they deliver an assured and articulate techno concept.
Richard Brophy
Tracklisting:
A1. Tiaga
B1. Joule
B2. Turn Aside
C1. Tiamat
D1. Task
D2. Ignite