Anthony Child – The Space Between People and Things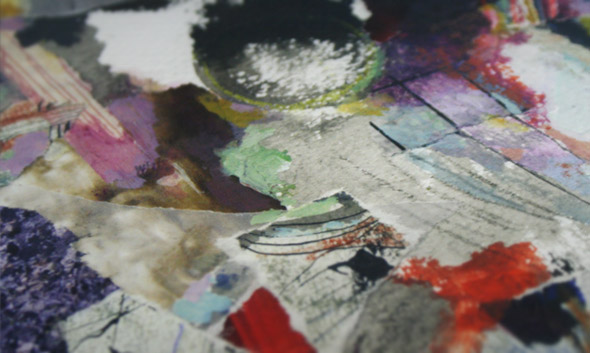 2013 has so far found Surgeon exploring new terrain. The producer recently joined the dots on two generations of UK techno in collaborating with Blawan on the Trade release for the Works The Long Nights label the newcomer founded with Pariah last year. And now, Surgeon appears on the wilfully experimental Vermont based NNA Tapes label with his first solo album under his own name.
The Birmingham producer released a long player together with Andrew Read back in 2002 under his own name, but The Space Between People and Things sees him working on his own and without his nom de plume for the first time. Child has built up a stock pile of field recordings over the past two decades and it is from this sound bank that he borrowed to create this work.
Like Force + Form, his landmark late 90s album as Surgeon, The Space Between People and Things is a sprawling work, numbering just two long form arrangements (as opposed to the four on Force + Form), and even more abstract and obtuse. The A side is the most diverse, opening with eerie, half-heard, indistinct sounds. It could be that thing that goes bump in your cellar at night or maybe it's just your mother creaking open your bedroom door to offer you a cup of cocoa as she tucks you into bed. Either way, we'll never know. Surgeon quickly moves on to serve up wave upon wave of wiry, spindly percussion that overpowers those creaky sounds. Once again, there is ambiguity – is it a shredded hi hat pattern or has the author broken into an airport as part of a protest?
The next passage features what could be jumbo airplanes lurching down a runway, ready for take off. Maybe Surgeon is an anti-war protester and is vandalising aircraft used for renditions as the next section features the sundering apart of metal sheets? Perhaps he just likes to spend time hanging around metal foundries. Before the metal clanging gets too intense, Child lets the track peter out with some tinnitus-like tingling white noise.
By contrast, the B Side has a far clearer purpose; it centres on a dusty yet blissed out synth line that allows waves of swirling, indistinct textures to well and ebb over it, just as brooding male vocals bubble to the surface. Is it Child's first vocal appearance? Given the change in direction that The Space Between People and Things represents compared to his previous releases, don't be surprised if the mumbling tones do indeed belong to him.
Richard Brophy
Tracklisting:
A. The Space Between People and Things (Side 1)
B. The Space Between People and Things (Side 2)