Various Artists – Musik For Autobahns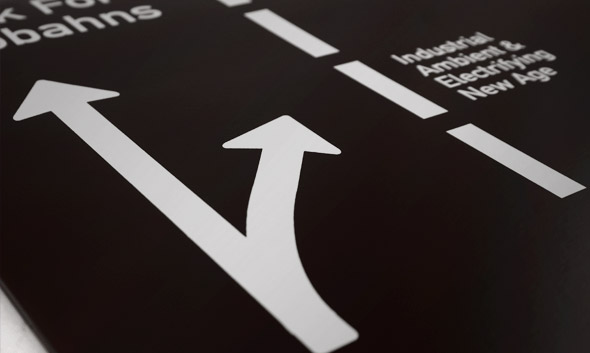 Gerd Janson is an old hand when it comes to curating interesting and worthwhile compilations. Back in the late 2000s, he impressed with two collections of odd progressive disco, synth-wave and electronic jazz-funk, Computer Incarnations For World Peace, on Sonar Kollektiv.
This Musik for Autobahns compilation for Rush Hour was initially intended as a kind of curious companion piece – a collection of similarly minded tracks from new age, ambient and electronic producers, rather than jazz-funkers and disco oddballs. In the planning stages, there were to be two compilations; one of historical tracks drawn from the '70s, '80s and '90s, and the other of new material in a similar vein.
In the end, as Jansen explains in his brief sleeve notes, only the planned second part survived. While it would have been a thrill to put these new and recent tracks from the likes of Move D, Tensnake, Ame, Young Marco and Tom Trago in some kind of historical context, Musik for Autobahns now excels on its own terms, as a collection of "Industrial ambient and electrifying new age" tracks from a group of musicians, producers and DJs largely at the top of their game.
That's not to say that these tracks don't have any historical relevance. No music can truly be isolated from the past and present, and in choosing "ambient-not-ambient, kraut pleasers and codeine house", Jansen has at least tapped into several underground trends. Firstly, there's the obvious Kraftwerk / proto-techno connection, not only inherent in the collection's title but also in the icy electronics, hypnotic rhythms and metronomic pulse that dominates throughout. Secondly, and perhaps more interestingly, is the reappraisal of late '80s and early '90s ambient and IDM. In the 20 or so years since the height of the "ambient house" phenomena, few outside a small group of enthusiasts have celebrated the style. Now a new generation is mining that period for inspiration, as well as the '70s kraut-rock, dreamy new age synth music and stoned progressive rock that inspired it.
We may be reading too much into this, but there's certainly a "now" feel to the 14 tracks that make up Musik for Autobahns. It's also true that many of the contributions wear their inspirations with pride; Ame's "Erkki", which proudly opens proceedings, sounds like Steve Reich (circa "Electric Counterpoint" and "Different Trains") after a night out with Tangerine Dream. Osborne's "Oyasumi" recalls the music box melodies of classic '80s new age music and the crystalline, after-party ambience of sadly-departed producer Pete Namlook and is as blissful a 3 minutes, 27 seconds of music as you're likely to find. The same could be said of Young Marco's delicious "In The Wind", which sounds like an unlikely collaboration between Vangelis, Thomas Neumann, Plone and the Burrell Brothers.
Of course, it's not all picturesque revivalism of a byegone new age era. There's some fuzzy, kraut-inspired new wave disco-funk from the hitherto unknown Weird Guilders, a successful exercise in hypnotic wonkiness from Maxxi and Zeus (AKA Quiet Villagers Matt Edwards and Joel Martin), and a dash of clandestine, melody-driven machine funk from Marco Passarani. Oh, and a pair of pitched-down, Detroit-inspired futurist groovers from Move D and CF & Daywalker. All impress without resorting to pastiche.
There are also some unlikely contributions worthy of note. Marcus Worgull has long held incorporated simple, looped melodies in his atmospheric deep house and stripped-back techno productions, but the same can't be said of Motor City Drum Ensemble. The collaboration between the two here, "Onassis", sits somewhere between Kraftwerk on downers and the becalmed, instrumental jazz-funk often found in expansive concept albums by grizzly British stadium rockers. That doesn't perhaps do the track justice; it's a wonderful composition, despite being reminiscent of Pink Floyd's Animals. Equally as surprising is Suzanne Kraft's contribution, a sun-fresh blast of pure, new age positivity. It's less autobahn, more Stonehenge Avenue. The druids will love it.
From listening through Musik For Autobahns, the overriding impression is one of the melodic and atmospheric possibilities of electronic music, something that drove both original new age musicians and ambient producers. Whether it achieves anything more, such as identifying new trends or celebrating old ones, is open to debate. Regardless of this, Janson has pulled together a wonderfully rewarding collection of soft-centred electronic beauties and off-kilter compositions. Sometimes that's enough.
Matt Anniss
Tracklisting:
1. Ame – Erkki
2. Maxxi & Zeus – Passion
3. Tom Trago – Next Fase
4. CF & Daywalker – 115 BPM
5. Marcus Worgull & Motor City Drum Ensemble – Onassis
6. Roman Flugel – Duck & Cover
7. Suzanne Kraft – ESL
8. Weird Guilders – Sentimental Journey
9. Marco Passarani – White Chocolate
10. Tensnake – Bliss
11. Acoustic High-End Research – Beer & Air
12. Move D – The Incorrigible Heartthrob
13. Young Marco – In The Wind
14. Osborne – Oyasumi