Numark Mixtrack Pro II DJ controller review
We offer our verdict on Numark's freshly updated DJ controller offering, the Mixtrack Pro II.
Towards the end of 2010, Numark released a simple DJ controller that allowed beginners to get to grips with two decks of computer based DJing with cue points and loops, one that also featured the added bonus of a built in soundcard. The original Mixtrack Pro combined ease of use with practicality, and featured Serato's DJ Intro software pre-mapped and ready to go at a price that made it a hit with those new to digital DJing world. However, in that time several other DJ controllers have emerged with improved features, and as a result Numark have seen fit to revisit their Mixtrack Pro DJ controller and give it a few added benefits over its predecessor.
The new slimmer look Mixtrack Pro II features two large jog wheels, heavy duty play/pause, sync, cue and stutter buttons, browse and load controls, as well as three band EQ with program faders on each side and a crossfader. Although it has all the same features of the original machine, the biggest difference at first glance, is the addition of 16 pads (eight each side) where the cue and loop controls used to be. The Mixtrack Pro II features "out of the box" mapping to Serato's DJ Intro software, which is where the pads come into their own, allowing you to use the sample slot functionality of Serato's DJ Intro software.
As well as the improvements to the integration with the software, there are a few other changes of note. As mentioned previously, Numark have trimmed down the size compared to the original controller making the new unit look a lot sleeker. However, something that has suffered a little from this slimming are the jog wheels. Although they have a much lower profile than before, they are also a touch smaller, and have a slightly light, cheap, plastic feel to them. However, their functionality is impressive; they're touch sensitive and feature dual zone control, allowing you to perform stops by manipulating the top of the platter whilst using the sides to control the pitch without having to switch modes.
The pads are also well made, being reminiscent of the high quality versions found on the MPC Renaissance or the Akai MAX49 keyboard controller, although it should be noted that they are not velocity sensitive (which isn't necessarily a huge loss for a DJ controller in this class). Also an improvement is the the addition of dual headphone ports which allow two DJs to work simultaneously; the ¼" and 1/8" jacks can also output the monitor cue mix at the same time.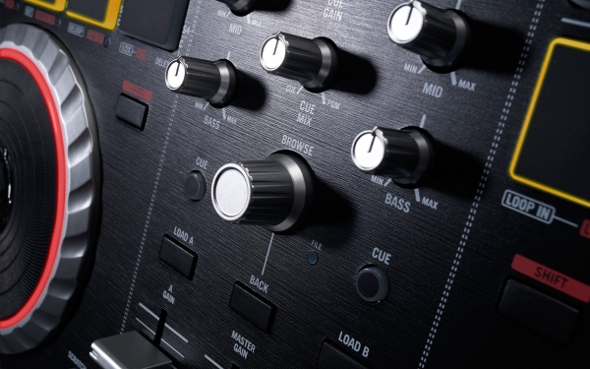 Despite the great pads, the build quality of the knobs and pots are slightly erratic. The EQ integration with DJ Intro allows for full kills across three bands and the pots that control this feature feel very solid, as do the channel and crossfaders. However, the four knobs on each side which are located above the pads don't feel quite as solid, and this loose feel is also found on the browse encoder. In addition, the original machine had two sets of RCA stereo outputs which could be used for a separate booth mixer if needed, but the new unit only features one. In all honesty though, for a controller designed for beginners playing at parties rather than clubs, this isn't such a great loss and the microphone input with level control is still intact. Of course what many people will be interested in with a unit of this type is how good the software integration is, and overall integration with DJ Intro is fairly tight; although there is perhaps a slight lag on release of the jog wheels in scratch mode, the overall consensus seems to be that communication between the new machine and DJ Intro is an improvement over that of the previous model. If you are not a fan of DJ Intro then all is not lost; being a MIDI controller over USB, it is fully possible to map this unit to your favourite DJ software.
Despite being well featured for its modest price, the Mixtrack Pro II has some sturdy competition in the entry level DJ controller field. Denon also have a simple controller in the form of the MC2000 which also features soundcard technology in a USB bus powered unit that maps out of the box to DJ Intro; it has a very sturdy build, and is well suited to DJs getting to grips with the basics of digital spinning. There's also the Hercules RMX 2 DJ controller that features similar pads, although only four on each side; although more expensive than the Numark unit, it allows you to plug in physical decks for digital integration. However, Numark always have the knack of finding something unique to offer, and with the Mixtrack Pro II they have done a good job in supplying a simple unit, practical for beginners, with enough control surfaces to keep new DJs challenged after they have mastered the basics.
Rob Lee
Buy from Juno
Specifications:
| | |
| --- | --- |
| Power | USB bus power |
| Controls | 16 backlit rubber pads, 16 knobs, 1 encoder, 2 touch sensitive jog wheels (with dual zones), 5 faders, 1 crossfader |
| Outputs | Stereo RCA, 1 1/4″ headphone, 1 1/8″ headphone |
| Inputs | 1 1/4″ mic input (with level gain) |
| Dimensions | 26.5cms x 46.5cms x 5 cms |
| Weight | 2.1 kgs |
| Software | Serato DJ Intro & most popular DJ software |
| Communication Protocol | MIDI (over USB) |