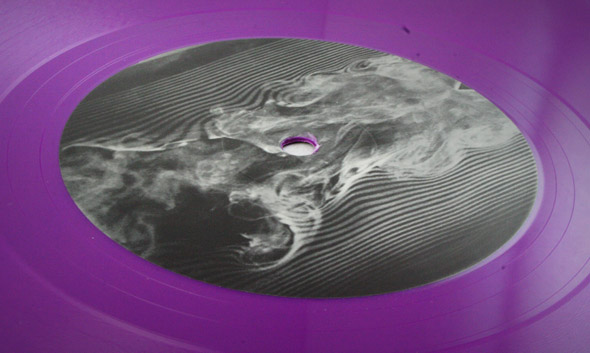 Texture counts for a lot these days in house and techno. It seems ever more difficult for credible, original tropes to be found within simple elements of drums, bass and leads, and certainly the analogue revival lends itself to swathes of abstract noise. It's hard to argue with the character that a track is given when a snarling wraith of a sound contorts itself across the duration.
Of course, such devices still need to be wielded with skill and poise, and it's abundantly clear from the earliest stages of "Sublimation" that Yør is an artist more than adept at fashioning atmospherics.
The title track from the artist's third EP for Purple Maze seems like a perfect meeting point between deep house and dub techno, matching rhythmic precision and drive with whopping great titans of distant chords and steaming reverb. While this kind of formation might provide the backbone to the track, it is in fact the aforementioned textures that elevate this tune into something special. One particularly visceral sweep comes in and out of earshot like a necromantic stock car storming past, and it adds an astounding level of intensity to the track in the process.
"Gravity" has a more palpable hook as rich but equally distant layers of melody come drifting in; subtly time-shifting piano chords and strings falling over each other in a glorious, eyes-half-closed loop of smudged-out euphoria. The beat falls with a rugged intent, fully primed to keep your feet glued to the spot after far too many hours spent dancing, while those musical qualities lift you up on high. It's a wonderful kind of duality that sets dance music of this calibre apart from simple body-pleasure music.
In another curious adaptation of common dub techno manoeuvres, "Parallels" brings a meaty industrial crunch to bear on a spacious and chugging template. Underneath the chaos, the track could almost have been released on Echocord or some such label, but Yør has done a magnificent job of caking any shred of ambience in nightmarish electronic noise fit for a Skynet office party.
"Trust" cools things off somewhat with a more melodic slant as informed by the lead synth, but still there is a predilection for unruly elements that leave your brain scrambling for a foothold. The beat stays steadfast throughout, but in terms of sonic information there's a lot to take in. Some might argue that approach leaves a sense of dissatisfaction and uncertainty when trying to emotionally respond to the track, but if you delight in the bewilderment that can be afforded by electronic music, you're sure to find wondrous abandon in the disorientating spell Yør conjures with his utterly unique approach.
Oli Warwick
A1. Sublimation
A2. Gravity
B1. Parallels
B2. Trust