Various Artists – Change The Beat: The Celluloid Records Story 1980-87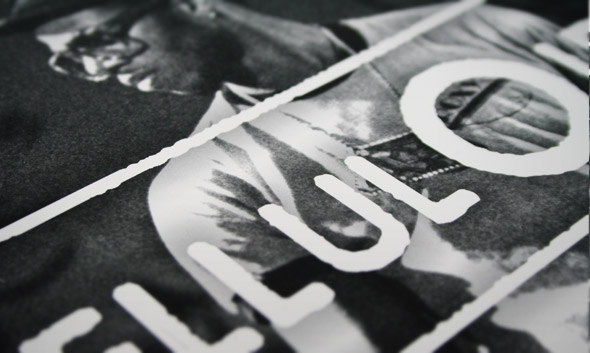 In recent years, there has been much re-evaluation of New York's thriving music scene in the years following the punk revolution in the mid-to-late 1970s. Much has been written the musical melting pot that produced the far-sighted, left-of-centre sounds made most famous by labels such as ZE Records and key artists like Talking Heads, Arthur Russell, ESG and others.
Many have previously attempted to join the dots between the discordant rock posturing and art-school attitude of the City's most inspired musicians, and their adoption of native New York dance styles such as disco, hip-hop, electro and freestyle – not to mention the influence of jazz, dub and reggae on these now legendary institutions. Yet throughout this period of reappraisal, few have delved deeply into the catalogue of Celluloid Records, an imprint that arguably summed up the 'anything goes' ethos of the era better than any other.
Originally founded in Paris in 1977 as a partnership between music entrepreneurs Jean Krakos, Jean Francois Bizot and Gilbert Castro, the label really came into its own when Krakos took the reins in 1980. On a sales trip to New York, Krakos met a 22 year-old musician and record fanatic called Bill Laswell. The latter was a fan of the free-jazz Krakos had released on previous label BYG in the late '60s and early '70s. He suggested that the French businessman should move to New York. Krakos did just that, selling his 10,000-strong record collection and heading to the Big Apple – much to the disgust of his Celluloid business partners.
It was an inspired move. With Laswell on board and the open-minded Krakos at the helm, Celluloid began to sign up some of the most fascinating, out-there and exciting music emerging from the New York scene. Krakos' attitude – pretty much anything goes, as long as it's good – struck a chord, not just with Laswell but many other members of the extended scene. Meanwhile, his links into the jazz, World music and blues scenes, initially established during his time in France, were used to good effect. Cream drummer and African music enthusiast Ginger Baker and Herbie Hancock were amongst those attracted to Celluloid for curious and unlikely side projects.
As this beautifully compiled and expertly researched label retrospective from Strut proves, Celluloid's output during the early 1980s was schizophrenic, to say the least. Within the space of a few months, it could veer from the wide-eyed surf-rockabilly madness of Shockabilly's insane Beatles cover, "Day Tripper", to Time Zone's Afrika Bambaata-produced electro jam "The Wildstyle". In between, you might find a dose of West African beauty from Toure Kundra, or the World Music-meets-freestyle brilliance of Beside (check out their "Odeon", featuring NYC Peech Boys' own Bernard Fowler).
Change The Beat: The Celluloid Records Story tells the label's story well because it's full of these quirky and unusual juxtapositions. Sapho's Parisian New Wave oddity "Carmel (12" Mix)" nestles up against Ginger Baker's decidedly Balearic 1986 cut "Dust To Dust", while Lightnin' Rod's blaxploitation jam "Sport" segues into Futura 2000's post-punk dub-funk-meets-hip-hop track "The Escapades of Futura" (recorded, amazingly, with the Clash). In most cases, such stylistic jumps wouldn't work but Celluloid's reputation was built on such free-spirited thinking. It's refreshing, too, to find a collection that revels in the qurikiness of its contents, and the quality of the material is such that we could have picked out another nine or ten tracks as highlights (for the record, check out the 11-minute makossa-meets-freestyle-meets jazz-funk wig-out of Deadline's "Makossa Rock" and Snakefinger's pleasingly dark, early Joy Division-ish "Living in Vain").
A sticker adorning this compilation proudly calls it definitive, and like most Strut releases the bumper booklet included ensures this is no hollow claim. Extensive liner notes feature that not only tell the label's story, but also put it in context –parallels are drawn between the economic and cultural conditions of 1980 and 2013. This sprawling but fascinating text includes plenty of quotes from Krakos and Laswell, who seem as enthusiastic about the music as they were back in Celluloid's heyday. Krakos at one point describes Laswell as someone who "lives for music". The same could easily be said about him.
If all this leads to a re-appraisal of Celluloid's place in post-punk history, Strut should be applauded. Certainly, it's about time the label's story was a bit better known. Few before or since have done leftfield eclecticism so well.
Matt Anniss
CD 1
1. Shockabilly – Day Tripper
2. Massacre – Killing Time
3. Ferdinand – Tele, Apres La Meteo
4. Mathematiques Modernes – Disco Rough (Long Version)
5. Thomas Leer & Robert Rental – Day Breaks, Night Heals
6. Snakefinger – Living In Vain
7. Winston Edwards & Blackbeard – Downing Street Rock
8. Lightnin' Rod – Sport
9. Futura 2000 (Ft The Clash) – The Escapades Of Futura 2000
10. Timezone – Wildstyle (12″ Vocal)
11. Deadline – Makossa Rock
12. Bobongo Stars – Koteja
13. Toure Kunda – Amadou Tilo
CD 2
1. Nini Raviolette – Suis-Je Normale
2. Richard Hell & The Voidoids – Destiny Street
3. Sapho – Carmel (12" Mix)
4. Ginger Baker – Dust To Dust
5. Last Exit – Big Boss Man
6. Mandingo – Harima
7. Manu Dibango – Abele Dance ('85 Remix)
8. Timezone – World Destruction (Original 12″ Mix)
9. Material – I'm The One (Dance Version)
10. Grandmixer D.St – Home Of Hip Hop
11. B Side With Bernard Fowler – Odeon (Dance Mix)
12. Fab 5 Freddy – Change The Beat (Male Version)
13. The Last Poets – Mean Machine Chant / Mean Machine
Digital Only:
Jimi Hendrix, Buddy Miles & Lightnin' Rod – Doriella Du Fontaine (Single Edit)
Grandmixer D.St – Crazy Cuts
Shango – Shango Message
Modern Guy – Electrique Sylvie (Full Length Version)
B Side – So Hot (Feat. Tony Allen)